Eight Hopes for BC's Next Government
Come May 15, what should political winners do with their mandate? The Tyee sought a range of perspectives.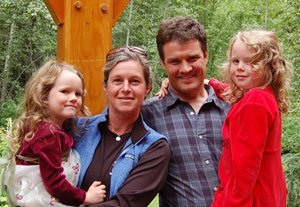 With just a few months to go before the May 12 British Columbia election, political parties are drawing up their platforms and people are talking about what they'd like to see given attention.
The Environmental Law Centre at the University of Victoria, for example, wants a thorough rewriting of the province's environmental laws. Seth Klein at the Canadian Centre for Policy Alternatives is looking for courageous leadership on climate change and inequality.
Over the holidays The Tyee checked in with eight people with something to say about provincial politics and policies, asking what they'd like to see either in the NDP's supposedly hidden agenda or from whoever forms the government after the election.
1. Access to justice. "Our primary focus is going to be legal aid," said Laura Track, the legal director for the West Coast Legal Education and Action Fund. "We want to see the government reinvest in the legal aid system in British Columbia ... It will be neccesary to assess the need and work with the Legal Services Society to determine what level of funding is needed to provide critical access to justice."
Family law cases, which disproportionately affect women, particularly need support through legal aid, she said. "That is the area that's seen the largest cuts over 10 years."
Other priorities include support for women's centres, transition houses and childcare, she said. The organization supports the campaign calling for $10 per day childcare. "It's such an important issue for women's equality and poverty alleviation in general," she said. "We need an anti-poverty plan in this provice that tackles the roots of poverty including low social assistance rates and affordable housing."
2. Saving old growth forests. Ken Wu of the Ancient Forest Alliance said his top priority will be an old growth protection strategy. While running for leader of the NDP, Dix promised a strategy to address old growth forests and transition to using second growth areas.
"There's no details and he hasn't repeated it since he became the leader, but we're going to hold him to it, and all his MLAs and candidates," said Wu.
3. Raising welfare rates. For Kelly Newhook, the executive director of the Together Against Poverty Society in Victoria, the top priority is more money for people needing assistance from the government. "I'm hoping they're going to raise the rates both for people on income assistance and disability assistance," she said. "If they raise the rates, life would be a little, tiny bit more affordable."
Rates have been stagnant, she said. "They haven't raised the rates in six years and it's we all know how the cost of living has increased."
4. Public transit in rural B.C. Among the priorities for Smithers Mayor Taylor Bachrach is regular bus service between his and neighbouring communities. "We need an affordable, reliable way for people to move between communities in the region," he said. "For the most part there isn't the level of connectivity along the corridor that meets the existing needs of people."
As the smaller communities lose essential services to the larger centres there needs to be a way for people to get to them, whether or not they have a vehicle, he said. It's also a safety question, especially for the young women who continue to hitchhike, and would improve the entire region's liveability, he said.
The region can't do it on its own though, he said. "To pull it off in an affordable way requires a lot of parties coming to the table ... It's a surmountable challenge."
5. Open up government, shore up personal privacy. "I'd like to see the commitment to fix things that are demonstrably wrong with the current Freedom of Information and Protection of Privacy Act," said Vincent Gogolek, the executive director of the advocacy group freedom of information and privacy association.
Referring to specific sections of the act public bodies use to withhold or censor records, he said, "Twelve, 13 and 25 are the obvious ones, the ones that have the biggest problems. Thirteen has been reduced to a joke."
Section 12 applies to "cabinet and local public body confidences," ans Section 13 is for "policy advice or recommendations." Section 25, generally ignored, says that the head of a public body must without delay disclose information whenever its clearly in the public interest to do so.
Gogolek also called for an inquiry into the "completely screwed up" integrated case management system and for the introduction of whistleblower protection laws.
6. Inventory B.C.'s natural resources. For Bob Simpson, who sits as the independent MLA for Cariboo North having fallen out with the NDP in 2010, the list is a long one. It includes "A comprehensive, truthful and up-to-date appraisal of the state of natural resources and what's real about our expectation to continue to be able to live off them."
Forestry, in particular, is a sector where the inventory figures for B.C.'s publicly owned lands are too unreliable to make sound decisions about how much to log, he has long argued.
There also needs to be a concerted effort to fight poverty, he said. Wages are too low and so are income assistance rates for people who are out of work, he said. "They should at least give a lift [to income assistance rates] and signal they understand they have to move in that direction."
It's insufficient to offer jobs and education as the only responses to poverty, he said. Despite already being one of the best educated societies in the world, he added, "We still have all the problems."
7. Infrastructure upgrades. The Union of B.C. Municipalities is the umbrella group for local governments in the province. President Mary Sjostrom stressed the organization is non-partisan but will have the same requests regardless of who wins the May election.
"Certainly infrastructure for our members is our number one priority," said Sjostrom. There is a new federal plan coming in 2014 which will bring together the three levels of government and it needs to have dedicated funds for local infrastructure, she said.
There is also a need for local governments to have the ability to raise money for all the things they now do, she said. "You've heard us many times say services have been increased beyond the traditional utilities and roads," she said.
Ways the province allows local governments to raise money have not, however, changed, she said. "The revenue today we rely on has remained the same over the last 50 years."
8. Clarify public finances, overhaul elections act. "Top of our agenda is financial reform followed by an overhaul of the elections act for provincial and local government elections," said Dermod Travis, the executive director of the advocacy group Integrity B.C.
The province's definition of "election advertising" should be changed so that advocates and members of the public can raise issues during an election without fear of being accused of breaking the law, he said. And advertising spending limits should be applied the way they are in New Brunswick where there's a limit per elector, rather than the inequitable per constituency and province-wide limits B.C. now has, he said.
These might seem like small details, he added, but "these policy wonk type issues do ultimately go to public cynicism and the process."
He said he'll also be looking to the next government to bring in whistleblower legislation and finding ways to address voter cynicism, pointing out it's a problem when only half the population votes.
This is the first of an occasional series leading to the provincial election in which The Tyee seeks a variety of perspectives on what should be on politicians' agendas. If you have suggestions of people whose views we should solicit, send an email here with the subject line: Agenda items for B.C. Thanks!
comments powered by

Disqus