Nikiforuk to Enviro Ministers: What Are You Guys Drinking?
Seems to be Kool-Aid from the tar sands lobby, as Renner and Prentice shrug off a key study.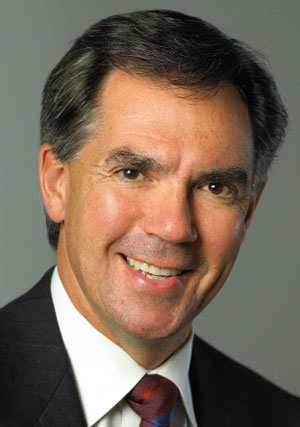 Alberta's Environment Minister Rob Renner and Canada's Environment Minister Jim Prentice just drank a gallon of Kool-Aid this week.
In fact the two fanatical bitumen salesmen became a more dangerous threat to the tar sands industry than any error-ridden billboard erected by U.S. environmentalists.
Presented with a blunt scientific study showing heavy-metal pollution coming directly from the tar sands industry (and how could four city-sized mining projects and assorted upgraders not create a bit of a mess) both Renner and Prentice, two radicals, raised their glasses and drank heartily like giddy members of some faith-based petroleum sect.
Without so much as reading the peer reviewed paper by Erin Kelly and David Schindler in the Proceeding of the National Academy of Sciences, Renner calmly asserted that pollution is naturally occurring and will always be there, with or without a $200 billion engineering project in the neighborhood.
"My scientists are telling me that the amount of compounds that can be detected in the Athabasca River at this point in time are not a concern and are of insignificant levels," Renner told the Edmonton Journal. "The fact remains that there are naturally occurring substances in the water. And if we had never set foot in the region those kinds of results would still be there."
Prentice's echo effect
Environment Minister Jim Prentice said exactly the same damn thing as if reading from the same propaganda sheet. He said that his federal scientists told him that any contaminants such as lead or mercury appearing in the Athabasca River all come from Mother Nature and not from the oil sands industry.
"That has consistently been what I've been told as minister by the federal scientists," said the scripted Prentice from Saint-Jean-sur-Richelieu, Que.
Now Renner and Prentice, who claim to be responsible developers of the oil sands, are at least being consistent. They drank the same Kool-Aid when Erin Kelly and Schindler published an ever more damning 2009 PNAS study documenting that air pollution deposited enough bitumen particulates on the snow over a four month period to create an annual 5,000 barrel oil spill in the Athabasca watershed. Astoundingly, Prentice then called the evidence an "allegation."
RAMPed up
So why would two environment ministers destroy their reputations, demean the credibility of their respective governments, misrepresent their employees, insult common sense and endanger an important industry by ignoring documented and peer review findings of pollution from the tar sands?
Upton Sinclair, the U.S. novelist and muckracker, has one answer: "It is difficult to get a man to understand something when his job depends on not understanding it."
For the record, both Renner and Prentice receive a portion of their salaries from either tar sands royalties or taxes. Because neither Canada nor Alberta separate bitumen dollars from general revenue or put oil money in sovereign funds like accountable governments such as Norway, Renner and Prentice tend to speak for their paycheques.
But that's only part of the story. Renner and Prentice have also placed their faith in an industry monitoring group called the Regional Aquatic Monitoring Program (RAMP). Since 1997, a group funded and administered by Suncor, Syncrude, Shell and other tar sands companies, has monitored water quality, fish, cumulative effects, acid rain and shellfish health on the Athabasca River.
But nothing about RAMP seems terribly balanced or fair. The head of RAMP's steering committee works for Suncor. Its spokesman, Fred Kuzmic, an engineer, works for Shell. RAMP doesn't produce any peer-reviewed papers, just industry-based, trust-me documents. Nor is its data public.
To get access to RAMP's "licensed property" scientists have to sign an agreement that gives RAMP "the right to inspect the premises of the person to ensure the terms and condition of the agreement are being observed." Environmental data on fish and mussels also has to be "stored in a proper manner so no third party can have access to it."
Monitoring 'lacks scientific process'
But most third parties don't think much about the quality of the data. Here's what more than a dozen top federal scientists including G. Burton Ayles, then director general of the Central and Arctic Region, had to say about the integrity of RAMP in 2004.
On water quality, the scientists concluded that the number of monitoring sites was inadequate and that RAMP was not designed to register "development-related change locally or in a cumulative way." The fish program suffered from "inconsistencies in study design, study area, sampling methods and quality control practices." And on it went.
Overall, they found it "alarming that the main monitoring program for the area significantly lacks strategic direction and scientific process."
Now if a group of independent analysts had produced a similar performance review on ,say, the finance or production department of Syncrude or Suncor, executives such as Marcel Coutu and Rick George would have responded in a logical and calm fashion. They would have corrected the problems and even fired incompetent staff.
But not RAMP. Even though a 2005 RAMP technical report agreed with many of the federal findings ("The suitability of RAMP design for monitoring regional effects is uncertain.") RAMP motored on. This week Fred Kuzmic claimed that RAMP actually responded to 62 of 64 recommendations from the federal review. But there is no evidence anything has changed on RAMP's website.
"It's still the same incompetent stuff," notes Kevin Timoney, a independent research scientist. "It's a cookie cutter. Every year they change the numbers but not the text."
If this were the real world
So here's the deal. Two environment ministers have officially rejected real science that questions their bizarre faith that the tar sands does not pollute. They drank the Kool-Aid.
In doing so, two politicians have chosen to champion private industry science arguably designed to find no problem with tar sands pollution. Moreover Canada's best federal scientists gave this program a failing grade in 2004. RAMP has yet to disclose the damning review on its website.
Nevertheless, Renner says that RAMP has done "an admirable job" and that there is no problem. As a result neither government nor RAMP has any weight, authority and credibility and that's dangerous.
In a sane and responsible world, a normal government would have reacted to real evidence of pollution by acknowledging the problem. It then would create a credible monitoring program run by government (not industry) with public oversight to restore faith in both government and industry. That's how the U.S. government handled the BP mess. And then life would go on.
But not in Alberta.
Kool-Aid anyone?
comments powered by

Disqus