Design the Next Vancouver
'FormShift Vancouver' contest invites new ideas for a vibrant, greener, denser city.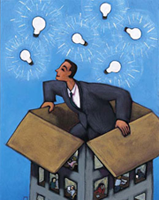 A new competition invites the world to help Vancouver imagine itself as not only a denser city, but one more green, livable and exciting to the eye.
And though the contest welcomes entries from the best architects in B.C. and beyond, you don't have to be in the business of designing buildings or neighbourhoods to enter and win.
FormShift Vancouver is an "open ideas competition" say its joint primary sponsors, the Architectural Institute of British Columbia (AIBC) and the City of Vancouver.
What will the highly decorated panel of jurors be looking for? FormShift's website lays it out this way:
"The City of Vancouver has developed Climate Change Action Plans as well as EcoDensity Charter -- policies and principles to guide greener and denser development, improve building performance, reduce carbon emissions, and improve the city's overall livability. Vancouver was the first city in Canada to adopt the 2030_Challenge for greenhouse gas reduction, committing each of us to reducing our collective environmental impact. Vancouver City Council has taken that commitment a step further with the stated goal of becoming 'the greenest city in the world.'
"FormShift Vancouver challenges you to give shape to these goals through ideas and design solutions that will help shape the future of the city. Be it by expanding upon Vancouver's traditional design solutions or offering an entirely new perspective, this is your chance to build a hypothetical neighbourhood of the future, one that is in keeping with the vibrant, ecologically-friendly and sustainable city to which we aspire."
Entrants can choose among three categories:
1. A mixed-use site along a major Vancouver street that includes a rapid transit station. ($6,000 to the winner.)
2. A small residential site in an established Vancouver neighbourhood near public transit. ($4,000 prize.)
3. A 'wild card' design that pushes the envelope of sustainable design and community building for Vancouver. "This may be an aggressively imaginative, speculative and/or futuristic concept that suggests a radically new model of sustainable design for Vancouver, even not currently viable. Solutions that are adaptable to other sites are strongly encouraged," says the FormShift website. ($2,000 to the winner.)
(Aspiring entrants should head to the FormShift website this Thursday, Feb. 26, to download the complete competition package containing three-dimensional site models, plans dimensions and other requirements.)
Toward EcoDensity 2.0
The contest arrives after a frenzied boom of building in Vancouver, little of it world calibre in its design or execution, according to some critics.
In his award-winning book Dream City, urban planner Lance Berelowitz argues that B.C.'s cities are boring because so much urban building is mandated by provincial and federal bean counters. "This strikingly hierarchical, condescending power structure has severely limited local governments, Vancouver's included, from playing a more activist role in shaping their cities," writes Berelowitz.
The last major design competition in Vancouver was for Library Square. Unlike this one, that contest included a public poll that helped yield architect Moshe Safdie's controversial neo-Roman design.
Some say organizers of the 2010 Olympics missed a chance to wow the world when they opted, for the first time in half a century, not to create an architectural competition for at least one of its venues.
FormShift's professional advisor, architect Walter Francl, is hoping this competition will draw out new ways of thinking about densification: "This is a marvelous opportunity to cross-fertilize the ideas of designers here with architects and urban planners from elsewhere.
"There have already been a lot of examples of densification in Vancouver, around the Expo lands, for instance, but much of that densification is not particularly exciting or designed with sustainability in mind. We're excited about the new possibilities we might find in the submissions. I'm especially looking forward to submissions from other cities like London or Berlin or Vienna -- or cities in China or India -- cities that have had to grapple with density issues and sustainability in a more urgent way," says Francl.
Creative stimulus in lean times
This could be a way to deepen the conversation around EcoDensity, agrees jury facilitator Gordon Price, who runs Simon Fraser University's City Program. Price expects FormShift Vancouver "will show people all the choices and nuances you can have" with denser building. Architectural writer Adele Weder, who's on the FormShift organizing committee, says a surge of new ideas might even impress those traditionalists nervous about the oft-murky concept of density. "Some people associate the very word 'density' with 'boring' or 'crowded,' which it definitely does not have to be."
But given the slide in the real estate market, isn't this a strange time to seek new ideas for building out Vancouver? To the contrary, argue the contest's organizers. The lull offers time to focus for idle architects and designers and other creative minds. In architectural circles it's known as a "recession renaissance." Some of the best ideas and small projects happen during busts, not booms.
"Mies van der Rohe, Le Corbusier and a generation of European modernists used the austere period after World War I to invent new ideas of low cost housing, bold cities, never seen before details. With this city's architectural talent, why can't it happen here?" asks architectural critic and curator Trevor Boddy, also on the FormShift organizing committee.
Star-studded jury
The FormShift jury is headed by architect Peter Busby, who is not a voting member. Voting jurors include Ian Chodikoff, architect and editor of Canadian Architect; Stan Douglas, photo-based artist; David Miller, principal of Miller Hull Architects and chair of the University of Washington Department of Architecture; Nancy Knight, vice president campus and community planning, University of British Columbia; Brent Toderian, director of planning, City of Vancouver.
Top submissions will be showcased in April here on The Tyee, the media sponsor of FormShift Vancouver.
Other supporting sponsors include The Grosvenor Group, ParkLane Homes and MGB (MacFarlance/Green/Biggar).
The official launch date for FormShift Vancouver is this Thursday, Feb. 26, when the complete entry package will be available for downloading on the FormShift website. Entrants must register by March 13 and make their submissions by April 3. Winners will be announced on April 15, 2009.
The competition will include a public exhibit of the best entries, and a chance for everyone to vote for a "people's choice" winner.
AIBC executive director Dorothy Barkley is hoping the competition will kick start a new round of creative thinking about Vancouver's future -- not just the fast changing city's form, but its feel.
"The architects and the city have a history of collaboration that has produced some of the most exciting urban design in the world," Barkley notes. "That isn't to say that both of us couldn't do our tasks better a little better. And we'd like not to rest on our laurels, but rather see what the future holds for new innovative approaches for sustainability -- socially, environmentally and culturally."
Related Tyee stories:
comments powered by

Disqus