Why I Shop on Buy Nothing Day
This kind of activism is the problem, not the solution.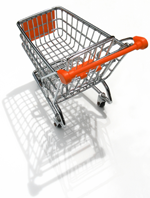 As a society, we sure spend a lot of money on crap. Yep, we get into debt buying stuff that becomes quickly obsolete but first drains the planet's resources and pollutes it. My own collection of lip glosses is a fine example.
So this Friday, on Buy Nothing Day, many people across North America (and worldwide on Nov. 25) will refrain from making any purchases in an effort to increase awareness of overspending and remind people that they are more than simply consumers.
If anyone needs me, I'll be out shopping.
Buy Nothing Day facts:
The first BND was organized in Vancouver in September 1992, an idea by artist Ted Dave, as a day for society to examine the issue of over-consumption.
In 1997, it was moved to the Friday after American Thanksgiving, which is the busiest shopping pre-Christmas weekend in the U.S. Outside of North America, BND is usually celebrated on the following Saturday.
Soon, campaigns started appearing in the U.S., U.K., Israel, Germany, New Zealand, Japan, the Netherlands and Norway. Participation now spans over 65 nations.
(From the
Buy Nothing Day
website)
While I agree in principle with the noble aims behind Buy Nothing Day, I use the day to throw some cash around. Other than plain pigheadedness and hating being told what to do, I have a number of reasons.
Buy Nothing Day's biggest proponents must be the well educated and well fed, who can certainly afford to take a day off from their conspicuous consumption. While it's laudable to want to do something about the problem, I question the potential influence of a bunch of people standing in front of a suburban Wal-Mart and harassing some mother of three who just wants to get in there and buy some darned detergent. Don't lecture her about over-consumption and globalization -- she just wants to get a load of the baby's sleepers through the wash while supper's cooking.
Hoi polloi politics
As a mom myself, and at one point, a single welfare mom, I can't help but remember my own "buy nothing" days all too well. Lots of them were strung together in the week before cheque-issue day, when I just kept eating from a bag of rice and saved the few remaining bananas and carrots for my kid. Good times. Now that I actually earn some money and creep ever closer to the happy side of the poverty line, I'm beyond grateful that I'm able to buy something every day if I need to. I don't ever want to go back to diluting the milk for my cereal with water, thanks very much.
So who is Buy Nothing Day really for? It's certainly not for most wealthy, high consumers, who largely couldn't give a toot what the hoi polloi are protesting about now. And it's not for those who are already not buying anything and long to escape those circumstances. So that leaves Whitey McPrivileged, who can check to make sure he's got enough toilet paper and tea bags in the house before the big day. And while the campaign ostensibly acts as a springboard to creating more lasting change, I bet a lot of participants breathe a sigh of relief the next morning, when they can get back to business as usual. Remind me again how this changes anything?
That's why I use Buy Nothing Day for what I think are better ends. I buy "consciously" all day long -- from getting a fair trade coffee at a locally owned shop in the morning, to picking up a few Christmas gifts made by independent artists and crafters in the afternoon. Rather than take my money out of the marketplace for the day, I'll put it in the hands of people who operate in line with what I believe are ethical business practices. And whatever's left over gets split between panhandlers and charity donation boxes. It's not much, but I hope it'll do more good than "nothing."
And don't even get me started on Buy Nothing Christmas.
Related Tyee stories:
comments powered by

Disqus