Alberta Still Wears Pollution Blinders: Report
Yet another study finds oil sands environmental monitoring isn't remotely up to the job.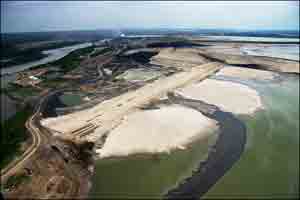 "In science you need to understand the world; in business you need others to misunderstand it." Nassim Nicholas Taleb
Denial is a river that runs deep in the petro state of Alberta, and a new scientific report on oil sands environmental monitoring shows how deep these corrupt currents have become in the province's psyche.
For more than a decade now, industry and government have claimed that the world's largest energy project and one of Canada's largest sources of cancer makers, such as polycyclic aromatic hydrocarbons, have had no impact on the Athabasca River.
The deniers all based their claims on industry reporting provided by the Regional Aquatic Monitoring Program (RAMP).
But as a new scientific review makes clear, it's a bogus claim based on a lie, built on a fantasy, originally designed by incompetence.
The 160-page report simply concluded that RAMP is incompetent. Moreover, it has failed to meet seven out of nine basic scientific objectives.
Failure of accountability
Established in 1997, the industry funded "stakeholder" group was supposed to keep tabs on cumulative impacts, fish health, water quality and acid rain downstream of the Canada's so-called economic engine.
Yet the scientific review discovered that the only real monitoring objective that RAMP ever honored was a peer review of its failure to measure cumulative impacts, fish health, water quality and acid rain.
Any bank or corporation showing such a fundamental failure of accountability would have to close its doors.
The report, which echoes criticism's of RAMP's effectiveness by the Oil Sands Advisory Panel, Canada's Commissioner of the Environment and two studies by Erin Kelly and Dr. David Schindler, makes it clear that government claims that the oil sands don't pollute or have any significant impact on a region the size of Tasmania are about as reliable as press briefings by Tunisian dictator, Behlhassen Tribelsi.
Record of negligence
Moreover RAMP, which is funded by powerful oil companies, has steadily maintained a record of negligence. In fact, the 2010 review reads much like a sister 2004 technical review, which also gave RAMP a failing grade for "lack of scientific leadership."
Now the scientific peer review of RAMP's effectiveness, which was conducted by nine prominent Canadian scientists, starts off by asking straightforward questions. It then provides nine surprising answers.
Question: Can RAMP's monitoring network "detect and assess cumulative effects and regional trends" in the tar sands?
Answer: "The RAMP program has not met this objective."
Question: Has RAMP "collected adequate baseline data" in the tar sands?
Answer: "The RAMP program has not met this objective."
Question: "Does RAMP collect data that satisfies the monitoring required" by so-called industry regulators?
Answer: Based on information provided, "it cannot be determined" RAMP is serving the lowest common denominator.
Science doesn't make the grade
But the most damning revelations appear within the text of the report, where individual scientists scrutinize RAMP's dysfunctional monitoring empire.
Take, for example, University of Waterloo's Donald Burn's examination of how RAMP meters changes in climate and hydrology: "It is not clear that the monitoring and analysis strategy currently in place will lead to an accurate determination of any long term trends or changes that may be occurring."
Burn also found the lack of groundwater monitoring in RAMP "a serious limitation" given that "related groundwater monitoring withdrawal... can be expected to have an impact on the surface and subsurface water levels in the area."
Burn added that the "monitoring network needs to be revised based on a long-term vision of anticipated oil sands development, rather than a reactive approach based on development as it occurs."
An analysis of RAMP's water quality measurements showed that they didn't pass the quality test either. Monique Dube, a topnotch water scientist and one of RAMP's 2004 technical reviewers, reported "inconsistency in sampling sites and parameters measured" as well as a failure to identify "key water quality indicators."
Moreover, Dube was simply astounded at the number of malfunctions and failures documented at regional monitoring stations or what industry calls "surprise attrition." In one year alone, one or more water monitoring stations reported a total of 296 days of lost data. "The level of malfunction is unacceptable for a program of this magnitude... if you can mine then you can measure."
'Likely biased towards concluding no effect'
The sampling program on the health of water creatures such as snails failed miserably too.
"The entire purpose of long term monitoring is to detect changes before damage is large or difficult to reverse," noted Kelly Munkittrick at the University of News Brunswick. "This program seems to go out of its way to only detect changes outside of natural variability."
John Post, a respected fish biologist at the University of Calgary, found that the fish monitoring program was well, fishy: "It is likely the current monitoring program is biased towards concluding no effect, even if one is present."
Winnipeg-based fish biologist William Franzin also found that RAMP wasn't even doing the proper science "that would be effective in identifying toxicology or stress in fish samples collected."
In a witty appendix, Franzin then compared the evolution of the industry-monitoring program to a chaotic boomtown. Initially started to chart the impacts of two mines, it grew topsy turvey "to its present form incrementally somewhat like a rapidly growing city without a planning department and no city plan. I am sure all of you have seen the result of poorly planned urban sprawl: greater Phoenix comes to mind."
Nothing new here
Shaun Watmough at Trent University found RAMP's ability to monitor acid rain severely acidic. "The sampling design is clearly not a representative survey of the lakes and the data cannot be used to assess the potential impact of acid deposition on a regional basis."
Overall the scientists concluded that RAMP needed more monitoring stations; more funding and an independent team of scientists to immediately "modify the existing RAMP program to enable it to meet its objectives."
Not surprisingly, the last scientific peer review on RAMP came to the same damning conclusions in 2004. Three senior federal scientists not only reported a raft of "serious concerns" with the monitoring but a lack of scientific leadership and effective design.
In fact, the review found that most of RAMP's responsibilities, such as its acid rain program, was "unlikely to achieve its stated objectives." (RAMP, an agency seemingly committed to "continuous disimprovement", still hasn't posted a copy of this review on its website.)
But keeping the 2004 review under wraps served the greater cause of industrial deception and misinformation. It allowed Marcel Coutu, the CEO of Syncrude, to fly around the country and say RAMP "has not detected any measurable impacts to the Athabasca ecosystem."
It permitted the Oil Sands Developers Group to falsely proclaim, "there has been no significant impact from oil sands development on the Athabasca River."
It allowed Premier Ed Stelmach, a long-time faith-based RAMP believer, to perform his own special newspeak: "All our data has shown no long-term effects to water quality from oil sands development."
And it gave Greg Stringham, vice president of the Canadian Petroleum Producers, permission to say that the oil sands "are being developed in parallel with continuous improvement of environment performance." (All the RAMP reviews and critiques found the exact opposite.)
Time to get real about monitoring
Will the lies and deception now end? William Donahue, an Edmonton-based water specialist and advisor to Water Matters, hopes the 2010 review might force industry and government to finally acknowledge the truth and get on with a smart monitoring program.
The review proved that RAMP "has continued to fail to meet its primary scientific objectives," said Donahue. "If industry or government continue to suggest that development is sustainable and that there have been and will be no long-term environmental impacts, then it will be nothing more than an exercise in deception."
Any way you read the embarrassing RAMP review, Alberta's one-party rule state has officially bought industry 13 years of free pollution on the Athabasca River. Call it another bitumen subsidy.
Together with the shocking findings of Oilsands Advisory Panel and other groups, the review is but another shameful indictment of Canada's environmental record. We can measure dirty bitumen but we don't want to monitor water. Let alone keep it clean.
"By my count this is the eighth report that has said the same thing about RAMP," noted University of Alberta ecologist David Schindler. "Don't they get it?"
It's unlikely a petro state can accommodate much truth. Here's what a state-employed propagandist e-mailed to Hanneke Brooymans, a reporter at the Edmonton Journal.
"The recommendations are a valuable source of information for the Government of Alberta, as we move forward with the creation of a world-class province wide monitoring system for air, land, water and biodiversity. We welcome input that contributes to a better overall understanding of the potential cumulative effects of resource development."
Crises, and how to avert them
In true petro-state form, Alberta has now put Hal Kvisle, the former CEO of bitumen pipeline giant Trans Canada, in charge of reforming oil sands monitoring. Kvisle, of course, believes that environmental pollution in the oil sands is all overblown because, well, RAMP has never found any problems.
Last month, the U.S. government released a report on 2008 economic crash called the Financial Crisis Inquiry. It concluded that dramatic failures in government governance, regulation, risk management and lack of transparency put the financial system in crisis.
The inquiry also found a "systematic breakdown in accountability and ethics."
Given the tone and content of the RAMP review, investors might well ask if Canada won't soon be forced to hold an Environmental Crisis Inquiry on the oil sands?
comments powered by

Disqus