Series of Reports Blacken Oil Sands Managers
Oilsands Advisory Panel backs previous studies blasting reckless ways of world's largest energy project.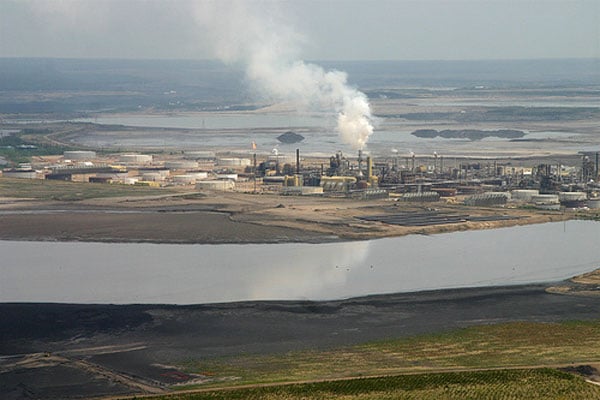 NIKIFORUK SOUNDED ALARMS THAT REPORTS NOW VERIFY
When Andrew Nikiforuk signed on to be The Tyee's writer in residence, he had his work cut out for him, as he saw it. His own research for his award-winning book Tar Sands: Dirty Oil and the Future of a Continent had told him that the Alberta oil sands were being mined with dangerously inadequate regard for water quality and other toxic effects.
His first article as writer-in-residence for The Tyee, "What Those Who Killed the Tar Sands Report Don't Want You to Know" painstakingly resurrected the testimony and scientific findings pointing to an environmental disaster in the making that the Harper government tried to bury. That was published on July 15, 2010, and it was one of The Tyee's most read pieces of the year.
In the past two months, the spate of independent reports validating Nikiforuk's reporting for The Tyee are gratifying to see. You can find all of Nikiforuk's pieces for The Tyee here. -- David Beers
"We do not err because truth is difficult to see. It is visible at a glance. We err because this is more comfortable." -- Alexander Solzhenitsyn
It's been a mirthless month of truth and consequences for the tar sands, the world's largest energy project, and its careless government servants.
Environment Canada's Oilsands Advisory Panel, the Royal Society of Canada and Ottawa's commissioner of the environment all took a hard look at the quality of water monitoring on the mighty Athabasca River and declared the obvious: that it was disorganized, incoherent, third rate, and lacked scientific leadership. In short, it was neither credible nor ethical.
These ugly truths, long evident to aboriginal elders and many scientists, have sent industry propagandists and government falsifiers back to their rooms for a long Christmas sulk. Yes, Virginia, there is a hell for liars.
Alberta's incompetent environment minister, Rob Renner, can no longer say all pollution on the Athabasca River is as natural as Santa Claus. And Premier Ed Stelmach, Canada's Daft Bitumen Monarch, can no longer carol about "environmental responsibility" or the sweetness of the air in Fort McMurray.
Moreover, the Canadian Association of Petroleum Producers will have to remove a sentence in their glossy 2010 brochure that says "Canada's oil sands industry operates within some of the most stringent and comprehensive regulations for resource development anywhere in the world." It's simply a crude fabrication.
And members of Alberta Health, Health Canada and the Soviet-minded Alberta College of Physicians and Surgeons can no longer get away with accusing a good doctor of causing "undue alarm" because the real truth is indeed alarming.
Catching up with top scientists
And here's why. After two peer-reviewed studies by Erin Kelly and David Schindler in 2009 and 2010 documented that bitumen production contaminated the Athabasca River with heavy metals and cancer-makers, Ottawa reluctantly appointed an Oilsands Advisory Panel last October to review and assess the adequacy of scientific monitoring downstream of the open pit mines and natural gas guzzling steam plants. The panel consisted of some of Canada's finest scientists including John Smol, Peter Dillon and Andrew Miall.
After documenting a plethora of organizations and groups working in an ad hoc way with little or no direction on water monitoring, the panel came to six damning conclusions:
1. A holistic monitoring program with clear set of objectives and "statistically sound decision making process that can allow for adaptive management in rapidly changing oil sands environment does not exist."
2. The industry funded Regional Aquatic Monitoring Program (RAMP) suffers from a lack of leadership, is not effects based, and "is not producing world-class scientific output in a transparent, peer reviewed format and it is not adequately communicating its results to the scientific community or the public."
3. The level of monitoring and research activity in the oil sands is "dwarfed," by the scientific effort summoned to deal with acid rain in eastern Canada in the 1980s.
4. Baseline data on predevelopment water conditions is not only poor but development is proceeding so quickly that it is actually destroying water sampling locations designed to establish what an undisturbed area looks like.
5. Climate change and rapid development have yet to catalyze "thinking and action" in government circles.
6. Until these shortcomings are addressed, "there will continue to be uncertainty and public distrust in the environmental performance of the oil sands industry and government oversight."
The final nail
Now add these sobering conclusions to the truths unearthed by Scott Vaughan, commissioner of the Environment and Sustainable Development. They appeared in a disturbing 2010 fall report released in the first week of December. As an auditor (and journalists love these integrity brokers), Vaughan can't publish anything unless it's 100 per cent verifiable.
He disclosed that Environment Canada identified toxic pollutants such as heavy metals and polycyclic aromatic hydrocarbons (many are cancer makers) from the tar sands as potential threats to water quality as early as 2001.
Now, just one of the government's 456 national water quality stations sits 150 kilometres downstream of the mega-project. But as of June 2010 "it didn't have the capability to monitor many of the toxic pollutants associated with the oil sands production," Vaughan later explained to an audience at the Program On Water Issues at the University of Toronto's Munk Centre.
Vaughan's report also identified water neglect as a sort of demonic national pastime. Environment Canada, for example, has insufficient data to monitor Lake Winnipeg pollution and "insufficient data" to "monitor threats related to population growth and economic development." And "insufficient data" for the oil sands, too. How Third World is that?
Given that the federal government has chosen not to stand on guard for fish or First Nations downstream from 91 oil sands projects, it should come as no surprise that 61 pe rcent of the nation's water stations scandalously report "sub optimal water quality." Most developed countries would regard such callus disregard for water as outright criminal activity.
Thumbs down from the Royal Society
Last comes the flawed Royal Society of Canada report on the environmental impacts of the industry. Although incomplete and often inaccurate (it was a volunteer effort), the report gave a resounding thumbs down to regulatory performance in the tar sands: "It does not appear to have kept pace with the rapid growth of the oil sands industry over the past decade" and has "severe deficiencies."
The Royal Society also noted that the Alberta government gives away water to oil companies for "a price of zero." As a result "incentives for water conservation" let alone technological improvements "will be less effective under current arrangements than if water were priced at levels closer to its opportunity cost."
None of these findings will shock Americans, our observant bitumen buyers. Unlike certain Canadians, our U.S. cousins recognize liars when they hear them. In a 2009 oil sands report by the non-partisan Council on Foreign Relations, author Michael Levi accurately described the Progressive Conservative Party of Alberta, an oily entity in power since 1971, as "skeptical of environmental regulation."
The consequences, of course, are as a black of as bitumen. In order to restore integrity and credibility, the government needs an independent scientific panel with representation from people downwind (Saskatchewan) and the folks downstream (the Northwest Territories and First Nations).
Water monitoring a must
As recommended by the Oilsands Advisory Panel, a shared national water-monitoring program for the project must also be comprehensive, adaptive, peer reviewed and transparent or everything the current mess is not.
Industry leaders such as Marcel Coutu of Syncrude and Bruce March of Imperial Oil must demand that this new monitoring program have the same panache and class as the Northern Rivers Basins Study, the Great Lakes Water Quality Program or the US Geological Survey National Water Quality Assessment Program. The executives should also recognize that such quality will slow down development and that such prudence is now in the nation's best economic and reputational interest.
Visionary leadership will be required too. That means that neither Renner nor Stelmach should have anything to do with the restoration of science and integrity on the Athabasca River. (Alberta's Tories have demonstrated that there is nothing in the world more dangerous than "sincere ignorance and conscientious stupidity.")
So the job of leadership should go to the critics and the truth seekers, Erin Kelly and David Schindler. These two water scientists braved calumny, insults and government attacks to defend Canada's least appreciated resource: water.
[Editor's Note: As per Tyee tradition in recent years, we've closed the comment section for the holidays. Thank you all for creating such a thoughtful, alive and insightful conversation this year. We look forward to more of the same in the next. To you and yours, a heartfelt happy holidays!]