Deborah Drever's Unlikely Road from 'Oops' Candidate to Star Legislator
Welcomed back to Alberta's NDP caucus, young MLA stands up for abuse victims.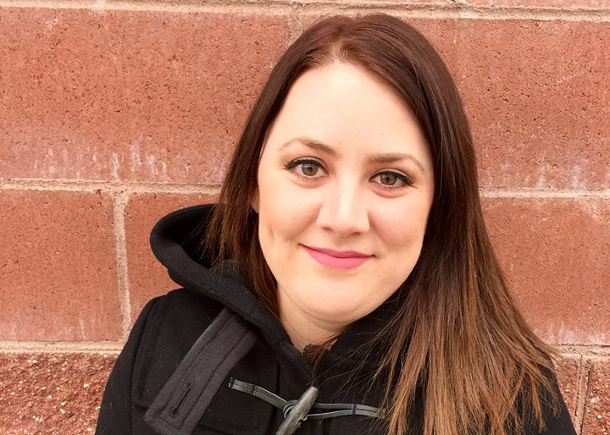 Redemption in political life is a rare and difficult road. The court of public opinion can turn on one moment, one wrong choice. For many, that's the end of the story.
But MLA for Calgary Bow Deborah Drever didn't accept her expulsion from the New Democrat caucus as her final act. Branded an "oops" candidate with a controversial social media history, she faced the challenge with her own rare achievement: all-party consensus on a piece of legislation.
Drever's much-publicized gaffes included posing with a marijuana t-shirt, appearing on heavy metal album cover depicting sexual assault, and doodling homophobic comments over Jim Prentice's photo. Premier Rachel Notley told the 26-year-old to pursue projects to help prevent violence against women, especially vulnerable young women.
But abuse was an issue Drever knew too well, and her work to protect victims exceeded Notley's expectation. Seven months after being told to leave caucus, Drever is once again an NDP MLA in the Alberta Legislature.
"My bill was just a small step forward," says Drever. "Now that I'm back in caucus I can talk with the status of women (department). We can talk about ways we can work together in coming up with ideas."
Drever's bill will allow victims of domestic violence to break housing rental leases without penalty.
"The bill is an outstanding piece of legislation," says House Leader Brian Mason. "The fact that a brand new MLA sitting as an independent could get their bill passed unanimously by the assembly is a tremendous accomplishment. Certainly more than I could accomplish in my first year."
Outsider on a mission
For Drever, the bill was getting down to the work she had always wanted to do -- something that seemed near-impossible seven months ago when her social media posts first came under fire.
She took on domestic violence in part because of her own experience living with an abuser, and because she and her sisters spent time in foster care and with different family members throughout their youth.
In making her decision to run, child and family services was one of her top concerns.
"She truly wants Alberta to be a better place to grow up in," says Jenn Prosser, Drever's sister. "Her own experiences, and our experiences growing up in the foster care system, she doesn't want that to be the norm for families."
Politics was not the field Drever thought this work would lead to. As a third-year sociology student she looked to become a social worker or a counsellor, but when the spring election was called the NDP was looking for strong candidates. And Prosser suggested Drever's name as a young woman with strong politics and a desire to help.
Of course running as a New Democrat in Alberta, the prospect of winning is not often seen as a reality. And Drever's riding of Calgary Bow has been Progressive Conservative since the party swept to power in the '70s.
"She worked really hard in the campaign because she wanted people to feel like they legitimately had a reason to vote for the NDP and not just a paper candidate," says Prosser.
'It wasn't representative of her'
From the beginning Drever faced the same uphill battle many of the younger New Democrat candidates did: they don't look like traditional politicians. Her controversial social media profile only intensified criticism against her, something many young candidates continue to face.
Prosser says media coverage of the gaffes and suspension created a narrative "that I felt wasn't representative of her, but also wasn't representative of young people entering politics right now."
She also recalls feeling disappointed by people within the progressive community who didn't attempt to understand where the images might have come from. "I was deeply uncomfortable with seeing progressive people I counted as friends and feminists lining up to discount somebody because they didn't look like or they didn't come from the places they expect politicians to come from," she says.
Prosser has worked in politics both with the New Democrats and other groups for years and has witnessed a demographic change. She sees the intense scrutiny in a social media environment as an obstacle for would-be representatives outside established political circles. "When a very narrow, one-dimensional discussion is happening about political representation, we are taking away the voices of the millions of people who would never have access to those halls of power."
As for Drever, she agrees that controversial album cover is not representative of who she is. The topic of the cover wasn't known to Drever until the shoot, and she knew it was a mistake immediately. Drever says she asked the band not to use the images and do a reshoot, but they didn't listen.
But Drever skillfully steers talk about that controversy toward the work she wants to do. On her suspension, she sees the benefit being an independent gave her to represent her constituency above everything else. As an independent she had more member statements and questions in question period.
"I had a bit more freedom and time that I could do all the consultation work for my bill as well," says Drever. Now she has regular caucus meetings.
Calling out bullying
Today, Drever's feeling the strength of returning to a 54 member caucus.
"I definitely feel like the new kid in school," she says. "But now that I'm back in caucus it gives me a bit more of a voice that we can work as a team."
But while many allies have shown support, Drever remains an easy target for opponents interested in shouting youth and inexperience at every opportunity.
For example, she recently came under attack for a publishing error on the part of a community newspaper, which published another MLA's holiday greetings under Drever's name. The attacks grew into accusations about Drever's expenses as an MLA, until House Leader Brian Mason stepped in with a conversation-ending response:
"Her expenses are entirely reasonable. The finance critic for the Wildrose had higher expenses and nobody was going after him," says Mason. "I wanted to point that out and call the online bullying for what it was."
Women in Alberta's government have seen a surge of online attacks with violent and abusive language. Threats of violence have been made against the Premier and left to stand on the leader of the official opposition's page for days, while other government members have seen their home addresses publicized.
"I've not seen this kind of thing before," says Mason, who has been an elected member since 2000.
Drever, like many NDP MLAs, has posted and enforced online standards of conduct -- guidelines that spell out why people will be removed.
Mason says the aggressiveness is bleeding into House proceedings.
"The kind of wall of noise and yelling that happens every time the Premier stand to speak is unacceptable." He adds he'd like to see police action when online negativity becomes violent and abusive.
Drever would like to facilitate more inclusive, thoughtful dialogue in the Legislature and online. Fortunately, she sees the narrow conversation around her public debut being countered by her bill and the broad space for conversation it opened. MLA Maria Fitzpatrick stood up to tell her personal experience of domestic violence at the hands of an abuser.
"Victims are coming forward and getting help," says Drever. "I've been getting a lot of phone calls from people in various situations so I'm so happy I can help people."
It's exactly why Drever got into politics.
"I never would have said my sister will become an MLA one day," says Prosser. "But I realize she's so perfectly suited to this. It feels like the right thing for her to be doing."
comments powered by

Disqus