BC Hydro's $825 Million Dam Deal
Price seems way too high to NDP critic, who questions Lib donor tie.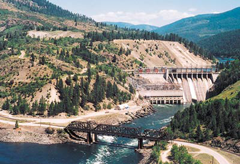 Representatives of both B.C. Hydro and Teck Resources Ltd. say they are happy with the $825-million price they negotiated for B.C. Hydro to take one-third ownership in the Waneta Dam, near Trail in southern B.C.
But that price is significantly more than what stock analysts thought Teck might get, leading New Democratic Party energy critic John Horgan to wonder if the publicly-owned company was bailing out a big B.C. Liberal Party donor.
"That's where they met," said B.C. Hydro spokesperson Susan Danard while explaining the price was reached after weeks of negotiations. "For us, we feel it's a good value to our ratepayers."
"We obviously arrived at a price both parties are happy with, that we think is fair," said Greg Waller, the Vice-President Investor Relations and Strategic Analysis for Teck. "We think it's a very good transaction for the people of B.C.," he said, adding the company did well too. "It's a good transaction for us."
But John Hughes at Desjardins Securities was quoted in early May saying Teck might get $500 million for a stake in Waneta.
And Tony Robson at BMO Research had the value even lower, at about $425 million.
As a BMO research note on the sale put it, "B.C. Hydro's price for the asset is well above BMO Research's C$425M valuation of the available excess power." BMO is using a 10 per cent nominal discount rate, the research note said, "which may well be higher than [the rate] used by utilities in valuing assets, hence resulting in a higher transaction price."
Only Hydro and Teck know worth: Teck VP
"The analysts who are commenting are mining analysts," said Teck's Waller. "It doesn't surprise me they wouldn't recognize the full value of an asset like this with some of the attributes it has."
It is rare for assets like dams to sell, so it is hard to know their worth until they change hands, he said. "The people who'd know the value best would be B.C. Hydro and ourselves."
B.C. Hydro's Danard said the utility calculated what it could pay based on what it would cost per megawatt hour of energy. After everything's accounted for, power from the Waneta Dam will cost about $75 per megawatt hour, she said.
That's comparable to other recent B.C. Hydro deals, she added, including the 2006 tender for power from private energy companies and a recent deal to buy power from Alcan. The rate is much lower than what it would cost B.C. Hydro to start a new project of that size.
In 2006, The Tyee reported the result of the tender was a B.C. Hydro commitment to buy power at rougly double the market rate. The same article noted the utility said building the Site C dam would generate power at $42 per megawatt hour.
Price sounds high: Horgan
"It sounds like a premium price," said the NDP's Horgan. "Almost a billion for an old piece of infrastructure." The dam, on the Pend d'Oreille River, opened in 1954.
There are many unknowns about the sale, Horgan said, but "On the surface it doesn't appear to me to be a good deal for ratepayers to pay that much for power they could have had on the open market for a better price."
The deal may result in B.C. Hydro acquiring relatively cheap power, he said, but it is possible they could have had the same power for even cheaper, without the burden of looking after the dam.
There are a number of reasons B.C. Hydro could have driven the price down, he said. Teck is in financial trouble, the economy is in a downturn and there were only a few potential buyers. "My understanding is there was only one bid and it was B.C. Hydro's."
Besides, for years Teck has been selling about a third of the power the dam produces, the amount beyond what it needs to run the Trail smelter.
"Hydro has always had the option to purchase Cominco power surplus to their smelting needs. They've never done that," said Horgan. "Why would you pay a premium to then be responsible for operation and maintenance?"
He plans to ask energy, mines and petroleum resources minister Blair Lekstrom about the sale when the budget is debated in the fall, he said. "They better have some dam good answers during budget estimates."
Teck's Liberal donations
A look at Teck's most recent quarterly report appears to back Horgan's suspicion. In the first three months of 2008, the company sold the surplus power from Waneta Dam for $75 US per megawatt hour, roughly the same as what B.C. Hydro says it calculates it will be paying for power once it owns a share of the dam.
But in the first three months of this year, the price of power from the dam was much lower at just $37 US, or about $44 Canadian, per megawatt hour.
Horgan said when he first heard about the sale, he wondered if the government-owned power utility was paying a high price to bail out a private company that has been a big backer of Premier Gordon Campbell's B.C. Liberal Party.
Since 2005, according to Elections B.C.'s database, companies listed as Teck Cominco Limited, Teck Cominco Ltd. and Teck Cominco Metals Ltd. have given over $478,000 to the Liberals. That includes a pair of donations worth $160,000 in January, 2005, just four months ahead of a provincial election.
Teck chairman Normal Keevil's name also appears alongside a $70,000 donation the Quintette Operating Corporation, at one time a Teck subsidiary, made to the Liberals before the 2005 election.
Minister Lekstrom was unavailable for an interview, though he has reportedly said the sale was a "great deal" for B.C. Hydro ratepayers.
A ministry spokesperson asked for questions to be submitted by e-mail. After receiving them, he wrote to say Lekstrom would be unavailable for an interview.
Review, due diligence coming
The sale needs approval from the B.C. Utilities Commission to go through.
B.C. Hydro's Danard said the Crown corporation will file the required documents with the BCUC within the next couple weeks, and much more detail will be available.
The BCUC will take a rigorous look at whether B.C. Hydro got the best possible deal for the power, she said.
B.C. Hydro will also take a closer look at the 55-year-old dam, she said. "We believe the facility's in pretty good shape," she said. In calculating an appropriate price, she said, the utility assumes a well maintained dam will last forever.
For B.C. Hydro the sale would mean a new source of low-emission energy produced within the province, she said. "It's almost like acquiring another heritage asset."
No doubt it's also good for Teck, she added. "It strengthens their balance sheet, which gives their employees job security."
Related Tyee stories:
comments powered by

Disqus