He Supplied Dead Eagles to a Lucrative Black Market
James Joseph, found guilty this week, tells his story.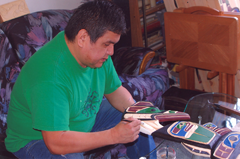 James Carl Joseph stood in court Wednesday in Surrey, and heard a provincial court judge declare him guilty of illegally possessing and trafficking in bald eagle carcasses.
Joseph's lawyer plans to challenge the verdict by applying for Joseph's right, as an Aboriginal, to possess eagle parts or feathers. Which means the legal saga of Joseph -- a native wood carver who claims to draw inspiration from nature but also admits to dealing in slaughtered bald eagles -- may or may not have come to a close.
But an interview Joseph granted this reporter last year shed light on his traumatic childhood, how he got into the market for eagle parts, and his justification for allowing mutilated eagle carcasses to rot in plain view.
The story begins on February 2, 2005, when 40 dead bald eagles were discovered in North Vancouver. According to Lance Sundquist, regional manager of the B.C. Conservation Officer Service, the birds had been dismembered: "The beaks were missing and parts were removed from the carcasses."
When the details of the killings became public, there was outrage from the community and from the Tsleil-Waututh Nation located on the coast of the Burrard Inlet, where the eagle carcasses were discovered.  
A month later, a story in the First Nations Drum newspaper indicated a native man living in Vancouver likely was connected to the killings. Revered as sacred spirits by some native cultures, eagles are on Canada's Protected Species list and protected under the B.C. Wildlife Act. No one can possess a dead eagle or eagle parts unless authorized by officials.
The penalty for poaching or trafficking eagle parts under B.C. law can be a fine as high as $50,000 for a first offence.
After a thorough investigation by the Department of Conservation, 12 people were initially charged, a number that would grow to 15.
At the centre of the case stood James Carl Joseph, an Aboriginal from the Kwakuitl Nation living in Vancouver, charged with 21 counts of trafficking in dead wildlife, possessing dead wildlife without authorization, and exporting an animal or part of an animal without authorization or permit. The charges dated back to January 2003.
On Wednesday he was found guilty of six charges of possessing and one count of trafficking in dead wildlife without authorization.
A childhood filled with sadness
Joseph is a well-known, gifted Kwakuitl artist and carver. His works are on display in galleries in Vancouver and many of his carvings are owned by private collectors in the United States.
In November of last year, Joseph agreed to talk to this reporter, and though he refused to say whether he was the one who killed the eagles, he was willing and appeared relieved to talk about other aspects of his case.
He spoke of a childhood filled with tears. Joseph was born in Alert Bay, B.C. in January 1957. At six-years-old, after the breakup of his parent's marriage, Joseph was sent to an Alert Bay residential school. "I remember you couldn't talk Indian or have anything to do with being Indian, which was really weird because I was brought up traditional," said Joseph.
Bedtime, every night, was torment, he recalled. "It was almost like a chorus line. One person would start crying and then the second person and then the next person. There was a lot of sadness there." The boy thought often about his mom and if she was ever going to come and take him home. Joseph remained in residential school for three years and although that was 45 years ago, his face reflected pain as he summoned the memories.
At 15, Joseph's mother died and his life changed once again. He described how he ran away from group homes and ended up locked up at the age of 15. He had no parents and those around him were living a life of alcoholism.
Escape into the art of carving
Joseph's story is of a young person given direction only by his late grandfather.
Throughout his life, Joseph has always carved, a gift passed on to him from his grandfather. "My dad and then my great-grandfather George Nelson carved and then my grandfather Harry Bee and then my dad and then me. I'm fourth generation," he said.
After witnessing many of his relatives die from alcoholism, Joseph said, he spent time giving back to his people as a drug and alcohol counsellor.
"I worked as a counsellor with hard core street kids. I did that for six years, but then I burnt out. It was dealing with the bottom of the barrel that nobody wanted," said Joseph.
Today Joseph is living a life of sobriety in Vancouver and making a living as a carver. He carves poles, cedar plaques, Sun masks, jewellery boxes, and recently he has begun carving coffee tables.
'I don't do this for money'
So how did he enter into the web of eagle poachers?
Joseph said when conservation officers first approached him, he considered himself an artist unmotivated by profit.
"I said I'm a carver. I don't do this (involvement with eagles) for money. You know, to get out there and to pursue this as a job or sales or thing like that. Well, people asked. For some reason [they] chose me. I didn't apply for anything. I didn't go anywhere and go, oh geez, I want to do this, I want to venture off into this area..."
But there are people who want eagle feathers, many of them Aboriginals who use them for medicinal and ritual purposes, Joseph said. He would try to help these people, he said, because he believes conservation authorities make it too difficult to get eagle feathers. In one case, he phoned the Vancouver Game Farm and signed up to obtain an eagle feather but, according to Joseph, he never received any. That was more than two years ago and Joseph said he is still waiting.
Over time, Joseph said, he developed a reputation as a source for eagle parts. The investigation that nabbed him and others yielded thousands of dollars worth of eagle parts destined for the illegal market. In that hidden world, a Golden Eagle wing can fetch $500, a pow-wow dancing stick topped by an eagle's head can sell for over $1,000, and other eagle parts can fetch up to $1,500 each, according to a story published three years ago in the Vancouver Province. The article estimated 1,000 bald eagles are killed annually for the black market.
As if to minimize the significance of such statistics, Joseph said that eagles die every day because of human actions other than poaching. "There's companies poisoning the waters, companies are electrocuting them, toxic things that eagles are eating. A lot of them are being killed on that level. There's no outcry because nobody hears it, nobody sees it. But it is still happening," he said.
But his justification is far from the common view among Aboriginals. Chief Marilyn Gabriel of the Kwantlen Nation said the eagle is considered a sacred spirit in native culture "because when we pray, we pray to the eagle because he is close to the creator and he delivers our messages. Our messages then get answered."
A measure of respect
Some people have been shocked that a person would leave a dead eagle to decompose in the open, as were the 40 eagle carcasses discovered in North Vancouver.
Joseph said that letting nature take its course that way, rather than burying a dead animal, is more respectful.
The 40 eagle carcasses, he said "could have been put in a garbage can or bag but you can't do that to them. If you go to that level of throwing them into the garbage, that's total disrespect. There's no way you can do that. They were going back to mother nature."
Joseph said he would never toss dead eagles in the garbage.
"One guy came to me and said, 'Jimmy, you threw these eagles in the garbage.' I looked up at him and said if I did that I wouldn't have been standing here talking to you about it now. That's one of the cultural ways... You can also burn them, too. I said if you look at it in hindsight, if I had thrown these eagles in the garbage, if I had done that, I would never ever have been charged, never ever," said Joseph.
The stories in the media were distressing to Joseph. "When they found [the dead eagles], they made it out to be some horrendous, ugly thing. All they seen was this carcass that was all cut up and destroyed. You look at those stories in the papers: mentally deranged, insane, you name it. When I talked to Conservation, I just told them, this was all done in a cultural, traditional way," said Joseph.
'It's going to put a damper on it'
When asked if he believed if anything positive would result from the charges laid against himself and others for poaching eagles, Joseph hesitated briefly, then answered, "On a scale there's ones doing it for alcohol and drugs, and there's medium scale, which is doing it more [for] the extra cash and then there's some traditional people that will do the trades," said Joseph.
He hesitated again, and was asked if the publicity around this case might help put a stop to eagle poaching. "Oh sure, it's going to put a damper on it because of the outcry from society."
On April 25 of this year, a mutilated bald eagle carcass was discovered on Iona beach in Richmond, B.C. Its beak and talons were missing.
Joseph's next court appearance is scheduled for August 17.
Related Tyee stories:
comments powered by

Disqus