BC's Liberals Deserve Prize for Climate of Secrecy
Give Campbell's global warming team a Code of Silence Award!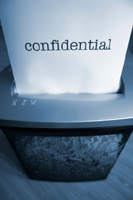 Later this month, the Canadian Association of Journalists will announce the winner of its annual Code of Silence Award -- recognizing the most secretive government department in Canada. And, this year, 24 Hours, The Tyee and Public Eye are proud to nominate British Columbia's climate action secretariat for that award.
We know the competition is going to be tough. After all, since taking office, the Harper administration has been repeatedly criticized as "unnecessarily secretive."
But the Campbell administration was elected in 2001 with the promise of running the most open and accountable government in the country. And nowhere has the breaking of that promise been more apparent than at the climate action secretariat -- which reports directly to the premier's office and is responsible for achieving the province's greenhouse gas reduction targets.
Indeed, according to The Vancouver Sun's Vaughn Palmer "no quality has been more lacking in the Campbell approach to fighting climate change" than transparency. Let us count the ways:
What's up with Whitmarsh? The government has refused to say whether the secretariat's head -- Graham Whitmarsh -- has any environmental credentials. But Internet and newspaper database searches show no reference to Mr. Whitmarsh being involved in any carbon trading or climate action work. Although, according to news releases and trade publications, the ex-British submariner has extensive experience in the airline information technology and aerospace industries. And he also worked at Harmony Airways -- the now defunct airline once run by former Campbell administration finance minister Gary Collins.
177 talks to whom? Cabinet's climate action committee boasts it has had at least 177 presentations from scientists, public servants, environmental organizations, academics and industry sectors. The government has refused to reveal the contents of those presentations. Although, Premier Gordon Campbell did say in November he was "surprised" his administration hadn't yet released a list identifying those stakeholders. But, 162 days later, the press gallery is still waiting for that list -- despite reminding the premier of his earlier statement.
Closed doors. Meetings of the provincial government's climate action team -- which will be making recommendations on how the Liberals can meet their greenhouse gas reduction targets -- are happening behind closed doors. And the government has been reluctant to open them. On Dec. 16, 2007, a freedom of information request was filed for minutes from the team's first meeting, which had occurred two days earlier. The legal deadline for responding to that request was Jan. 31, 2008. But the government didn't release the two-pages of meeting minutes until March 20.
Ethics concerns? Go away. One of British Columbia's leading business ethicists has said measures should be taken to prevent a possible conflict of interest between Cheryl Slusarchuk, the climate action team's chair, and former Campbell administration deputy minister Andrew Wilkinson. The reason: Mr. Wilkinson, who works as a partner at the same law firm as Ms. Slusarchuk, recently registered to lobby the government on behalf of Covanta Energy Corp. -- an American renewable energy company that could conceivably be affected by the team's recommendations. The government hasn't responded to repeated requests for comment regarding the issue.
Mysterious math. Opposition environment critic Shane Simpson says the New Democrats "haven't seen any information on where the Campbell government has gotten their climate change figures from, despite repeated requests through FOI, which, of course, come back blank or 'no records'."
More closed doors. The government has held sectoral symposiums to discuss greenhouse gas emission strategies with stakeholders in the forestry, mining, energy, waste and landfills and agriculture industries. But those symposiums have also happened behind closed doors.
Fishy firing. The government has repeatedly refused to say why it fired Louise Comeau, one of the premier's key climate action advisors, after just eight months on the job. Ms. Comeau, the climate action secretariat's public outreach and strategic engagement director, was the former president of the Sierra Club of Canada and the Federation of Canadian Municipalities' sustainable communities and environmental policy advisor.
'Cone of silence'. In April 2007, The Vancouver Sun's Miro Cernetig reported Premier Campbell "signed-off on a little-noticed changed to the Freedom of Information Act," putting everything members of cabinet's climate action committee "discuss under an official cone of silence." At the time, information and privacy commissioner David Loukidelis said it was "the first time I can remember that we weren't consulted on an amendment of the FOI act."
Black budget. In October, Mr. Palmer reported the premier's office had "rebuffed several attempts to get" basic information about the secretariat. And the secretariat's communications office hadn't been any more helpful, failing "to respond to requests going back to the beginning of summer." Indeed, it was the finance ministry that finally provided Mr. Palmer with that information -- including the secretariat's spending and staff levels, although specifics about its budget haven't been forthcoming. In a subsequent column, Mr. Palmer noted the climate action secretariat -- which had an initial budget of $4 million for fiscal 2007/08 -- would be receiving an additional $46 million over three years, as well as $62 million in contingency funding. But the initiatives that will be bankrolled by that contingency fund haven't been determined, prompting Mr. Palmer to wonder "if the BC Liberals could possibly have been more vague about their plans for disposing" of those monies.
'Fill-in-the-blank powers'. The government recently introduced legislation that will make British Columbia the "first province to legislate cap and trade." But that legislation, according to Mr. Palmer, leaves citizens "almost completely in the dark about what kind of carbon trading system the Liberals are contemplating and how it would work." Indeed, the bill "contains almost nothing in the way of specifics. No word on what the caps will be, to whom they will apply or how. No indication which sectors of the economy will be covered, what level of emissions will bring companies into the system, how the allowances will be allocated, what offsetting credits will qualify, what is tradable and what is not." Instead, cabinet will answer those questions via regulation, "using the fill-in-the-blank powers under Bill 18. By then it will be too late for British Columbia to do more than live with a backroom fait accompli."
Out of the loop. In January, Mr. Palmer reported, "members of the premier's own caucus have begun to complain quietly (and not so quietly) about being left out of the loop" on the government's action plan. After all, at the time, the MLAs had "not yet been granted a proper briefing on emissions trading, carbon taxes and other aspects of the plan."
We could go on. But let's let the government have the final word . . . or lack thereof. The secretariat's two senior communication staffers -- David Haslam and Kirk Smith -- didn't respond to a request for comment.
Related Tyee stories:
comments powered by

Disqus