Drying up the Okanagan
Thirsty region is 'canary in coal mine' for BC and water.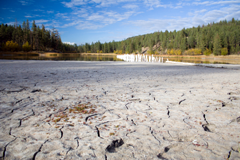 [Editor's note: "Rough Weather Ahead," Chris Wood's series on what British Columbians can expect from global warming, is funded by a Tyee Investigative Reporting Fellowship. Today we publish the third of his reports, with two more to appear on consecutive Thursdays. To learn more about Wood, his series and Tyee fellowships, go here.]
On the hottest day of the year, Deana Machin meets me in the welcome air-conditioned coolness of a converted house in Westbank that serves as an office for the Okanagan Nation Alliance. Deana is fisheries program manager for the Alliance, which represents seven First Nations bands whose traditional territories stretch from north of Vernon, south to the U.S. border and west into the Similkameen Valley. If the beleaguered native coho, kokanee, cutthroat trout and other species struggling to survive in this interior Eden have a voice, Deana is it. And she is worried.
"We've been here forever," Deana says, leaning forward across a dark wooden table. "We'll be here forever. You hear elders speak about our 'grand-children's children.' And I'm very concerned about how rapidly development is happening. People aren't thinking very far ahead. Water is one of the big issues: water for food, water for people, water for fish, and fish seem to be on the losing end."
There are competing views of course. Orchardists and vineyard owners have their own feelings of entitlement: it was their predecessors who turned much of the arid Okanagan green, damming small lakes above the valley and piping water down to irrigate the lower benches and flatlands. An expanding high-tech sector asserts its importance to the region's prosperity. Then there all those active retirees, for whom a condo near the golf course represents the "golden years" dream come true. To say nothing of vacationers who annually flock to hotels and campgrounds to soak up sun, sip the local vintages and frolic in the lakes that lace the 180 km valley.
The Okanagan, in short, is a microcosm of British Columbia: lovely, productive, a magnet to immigrants, hedonistic -- and heedless of the climate threat hanging over its lifestyle.
"We're in a crisis," says Kim Stephens. "That hasn't sunk in yet." A second-generation water engineer and self-described "son of a dam builder," Kim now spends his days as sustainability coordinator for the B.C. Water and Waste Association trying to undo the myth of the "wet coast."
"We all think we're water rich," he observes. "But it's all time and place." Last winter's record stretch of rainy days, that is, does not rule out water shortages during this hot, dry summer -- or outright droughts next year.
Shrinking snowpacks
The reason, Stephens explains, is that here in British Columbia, "we're snowpack dependent." It is the water captured in snow on our fabled white-capped peaks that keeps our rivers flowing and valleys green through July, August and September. But even as our enviable environment attracts more and more people, and British Columbians waste more water per capita than almost anyone else on the planet, a warming climate is tending to deliver less and less winter snow. As a result, Kim says, "The safety factor now is pretty thin."
And, he adds, "The Okanagan is the canary in the coal mine for British Columbia and water." Nowhere are explosive growth and soaring water use in the face of higher temperatures on a more direct collision course with vanishing snow.
That's something Bob Campbell understands well. He's another water engineer, with the particular task of keeping the water flowing in Vernon. He manages a century-old water system that collects each spring's snowmelt in a series of artificial lakes above the town, then distributes it to homes, businesses and a few remaining farms. Two dates dominate his calendar: the last day in spring when melting snow overflows the dams on Aberdeen, Haddo and Grizzly lakes, and the day the first autumn rain arrives. Between those two dates, whatever is in the reservoirs when the dams stop "spilling" is all there is to maintain the wildlife in downstream creeks, satisfy lowland farmers and ensure that Vernon's taps and fire hydrants don't run dry. "Our money in the bank," Bob calls it.
Each year, it seems the first date comes sooner -- three weeks earlier than it did in the 1950s -- and the second later. That means Bob's water "in the bank" has to last longer too. And that's not all: as early summers get warmer, farmers and lawn-owners turn their sprinklers on earlier.
"That goes with what the climatologists are telling us," Bob tells me, as we bump down the rugged track back from Aberdeen Lake in his Jeep. "They're telling us to expect longer growing seasons. You're looking at the demand for water starting earlier and extending later into the fall. So when you start taking [water] out earlier, and your users are wanting it longer, you've got a real potential for shortages."
Thirsty developments
Meanwhile, developments marketed under names meant to evoke the region's natural beauty keep popping up. "Lakeshore Gardens," "Pinnacle Point" and "Greata Ranch Vineyard Estates" are among those currently signing up new residents. "Housing starts in Kelowna have more than doubled this year from the same seven-month period last year," the city's real-estate board boasted on Aug. 2. The valley's population of 300,000 is predicted to grow by a third by 2020.
Deana Machin isn't the only one worried about where the water will come from for all the new en-suites, gardens and golf courses to keep the condo-dwellers occupied. "It's a horror show," snorts Lorraine Bennest. Petite, grey-haired and salty in speech, Lorraine's a second-generation orchardist whose lovingly tended high-end apple trees occupy a hillside overlooking Summerland. She's proud of the computer in her small barn and the pipes buried along each tree row that dispense programmed sips of water and fertilizer, making the most of each litre. "We're spoon-feeding our plants," she says.
That parsimony didn't stop her from taking sides in the dry summer of 2003. That was the year fire crested Okanagan Mountain and destroyed more than 200 Kelowna homes. As Summerland's upland reservoir neared the bone-dry stage, growers like Lorraine faced off with federal biologists and First Nations over whether to save the last water for fish or keep crops alive. Acrimonious bargaining hammered out a tense compromise then.
Ten years to 'tipping point'?
Lorraine believes it's only a matter of time before the next crisis. Summer is getting longer and hotter; as temperatures rise, crops demand more water. And Summerland, like everywhere else in the valley, is adding homes. "My community has added users in anticipation of more water being available. Now they're looking at a golf course. The thinking is, 'It'll all be OK in the future.' Why will it be OK in the future? It's not OK now. I don't know what we're going to do. The areas that irrigate are in trouble."
Experts agree. Geographer Stewart Cohen is one of North America's top climate scientists -- a lead researcher for Environment Canada's Adaptation and Impacts Research Group and an adjunct professor at UBC. His latest study of the Okanagan's water future may be the most thorough look at how climate change will affect any region in Canada.
The bottom line? "If we don't do anything, demand will outstrip supply by the 2050s." That's in normal years and across the entire Okanagan. For individual communities, or for the whole valley in dry years, "that tipping point would happen a lot sooner. We could be passing that balance in the next ten years."
'We're in trouble'
The water that flows through Lorraine's orchard, like that spilled from Vernon's reservoir and flushing Kelowna toilets, ends up eventually in Okanagan Lake. A hundred kilometres long and 250 metres deep, it constitutes the region's ultimate reservoir. That makes Brian Symonds, a provincial Environment Ministry employee based in Penticton, Bob Campbell's counterpart for the whole valley. "I'm the guy with his hand on the tap," he jokes when we meet. Make that several "taps" -- there are control structures at the exit of each of the valley's five lakes, although the last is south of the 49th parallel and under U.S. control.
"A system like this is managed for multiple objectives," Symonds explains. The first is to contain flooding. But he also answers to agricultural users and municipal utilities, like Kelowna's, that draw water from the lakes. Owners of expensive shorefront property, meanwhile, want the lake level kept within steps of their docks. Looming behind all of these is the likelihood that the Okanagan Alliance or its member bands will increasingly assert title to a larger share of the water originating on their territories.
Those diverse demands "are often in competition with each other," Symonds says. It's hard to keep everyone happy all the time. And if the critical upland snowpacks continue to shrink, as Bob Campbell has observed them doing, as Lorraine Bennest fears and as Stewart Cohen predicts? "We're in trouble."
Hard choices
The Okanagan, Symonds and others believe, faces some hard choices. A few long-time residents would like to "close the door" -- stop development in its tracks. Most accept that's not in the cards. But other measures may be. They include:
Stricter control on who can build what, and where.
Universal water metering -- for agriculture as well as homes and businesses, within and beyond municipal limits.
Separated water systems, so that only drinking water gets fully disinfected, and so "grey" water (waste that doesn't include human waste) can be recycled for irrigation, a technique already practiced in Vernon and Oliver.
Penalties for planting certain kinds of thirsty shrubbery.
At the extreme, augmenting the Okanagan system with water diverted from neighbouring watersheds.
The valley has already taken a cautious but promising first step. Earlier this year, its three municipal districts augmented the resources of the Okanagan Basin Water Board, a hitherto rather toothless vestige of a campaign to rid the lakes of a nuisance milfoil infestation in the 1980s. They also established a new Water Stewardship Council, to consult widely with residents, farmers, experts and other interests and advise the board. The council's objective, says its chairman, former federal cabinet minister and now Okanagan retiree Tom Siddon, is to determine, "How can we sustain this paradise?" All options, he says, are on the table.
Deana Machin is encouraged -- up to a point. The new council, on which she sits, reflects a dawning awareness that things must change and those changes must involve the whole valley. "Everybody's really talking a good game," she says. "But we still don't get any consensus. People are still coming to the table with positions rather than solutions."
I ask for hers. She's silent a while. "It's tough," she says at last. "Let me think."
At least in the Okanagan, thinking has begun. That is more than is true for most British Columbians. And even thinking must not be an excuse for inaction. The weather is changing -- on a timetable that cannot be entirely predicted, but that also will not be stayed merely by our wish to avoid hard choices.
Veteran journalist Chris Wood is recipient of a Tyee Fellowship for Investigative Reporting, which provided the funds necessary to do the in-depth reporting in this series. Tyee Fellowships for Investigative and Solutions-oriented Reporting are supported by donations from Tyee readers and intended to support independent journalism to educate the public about critical issues facing British Columbia. If you are interested in making a tax-deductible donation, please go here. If you are interested in applying for a fellowship, please go here. Wood is working on a book, Dry Spring: When the Water Runs Out, forthcoming from Raincoast Books.
comments powered by

Disqus