Squamish Closure Latest in Grim Trend
Amidst 'BC boom', pulp and saw mill jobs vanishing.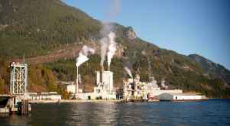 Just as a deal between pulp workers and a new corporate investor reopened the mill in Port Alice, yet another mill has announced it is shutting down at a cost of over 300 jobs.
The giant Woodfibre operation in Squamish, owned by Western Forest Products, will close on March 9, and 323 full-time union workers will lose their jobs.
Actual pulp production will stop in early January, with permanent shutdown procedures winding up in time for the March deadline, according to company boss spokesperson Gary Ley.
"We realize the timing of this is terrible," he said. "We couldn't wait any longer to let the union know. This way they can prepare for the closure."
He said the shutdown is part of a deal reached secretly earlier this year between company bosses and those in charge of Canfor. After March, Western's pulping chips will be sent to Canfor's Howe Sound Mill and in return Western will take over Canfor's logging operation at the northern end of Vancouver Island.
Spokespersons for the Communications Energy and Paperworkers Union reportedly called the layoff and closure announcement just before Christmas "simply unconscionable."
22 mills shut down
The union workers are now in meetings to discuss how to deal with the closure and how to save those jobs and incomes. No decisions of any strategy have yet been announced.
The CEP reports that 22 mills across the country have either shut down or drastically downsized operations in the last year. Currently, the union is involved in a possible worker-buyout strategy at the pulp mill in Prince Albert, Saskatchewan. CEP members have successfully reopened several mills and similar operations across the country as worker cooperative ventures.
The Squamish closure is the latest in a series that indicates the pulp, paper and milling industries are in tough times. Both union and corporate sources site huge increased energy costs, due to rising fuel and utility prices, as key factors in the shut downs.
Despite a logging binge in BC to try to salvage fibre from the growing pine beetle infestation, forestry firms are announcing pulp and saw mill closures in BC and across the country, according to the CEP. While the union is having a tough time supplying labour to the booming oil and gas industries, over 10,000 of its members in the pulp sector have lost work.
'Bit of a paradox'
"It's a bit of a paradox," says CEP Western Region President Dave Coles. "Our members in the Alberta tar sands, mines, drill rigs and refineries are working huge amounts of overtime as there is a shortage of skilled workers to do these types of work. Yet others are suffering due to mill closures-partly because many mills can't afford the high cost of energy in order to stay in business."
In addition to the Woodfibre closure, BC is at risk of losing more mills in Port Alberni, Mackenzie and Crofton. The mill in Prince Albert, one of the largest in the country, annourced it would be shut down next year. Meanwhile, saw mills are closing due to energy costs and the removal of appurtenance requirements by the BC Liberal regime.
"Up to 30 percent of revenues for many saw mills comes from selling wood chips and other wood waste to pulp mills," Coles said. "There may be a lot more mill closures in the near future."
Marco Procaccini is a Vancouver journalist.
comments powered by

Disqus