War and the Dual-Citizen Soldier
Why Bill C-425 deserves far more scrutiny than media have given it.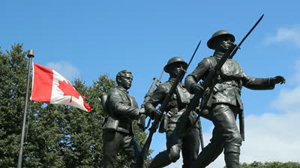 Last spring, Conservative backbencher Devinder Shory (Calgary Northeast) introduced Bill C-425, a private member's bill amending the Citizenship Act. It stirred a brief flurry of debate in Parliament and the media a couple of weeks ago, but an odd silence has now fallen over it. The bill, and the ideas behind it, deserve much more careful scrutiny.
Bill C-425 is admirably concise, with its terms (in both languages) filling only about a page. It has two parts: One gives a permanent resident the opportunity to become a citizen in just two years instead of three if that person has a three-year contract with the Canadian Forces and has finished basic training.
The second says that a Canadian citizen who is also a citizen of another country (or a legal resident of some other country) "is deemed to have made an application for renunciation of their Canadian citizenship if they engage in an act of war against the Canadian Armed Forces."
As a private member's bill, Bill C-425's real purpose is as a trial balloon, testing the political winds. But it also gives us insight into the thinking of Shory and his government. If they think these ideas are worth discussing, that in itself deserves discussion.
Let's take the first point: "Fast-tracking" citizenship is an attractive idea. In the days of the draft in the U.S., young male non-citizens were as draftable as everyone else (unless they'd already served in a NATO military force). As I recall from my own U.S. Army days, noncitizen draftees did indeed get U.S. citizenship earlier.
But as NDP MP Jinny Sims noted in responding to C-425, "the Canadian Forces website and a call by my office to the Ottawa recruitment centre have made it clear that a permanent resident may not enrol in the Canadian Forces. It appears that the only way for a permanent resident to serve is if he or she is authorized by the chief of the defence staff to fill a special need or it is in the national interest."
So the first part of Shory's bill is pointless unless several other laws are also revised. And if they were, we would then have to debate whether recruiting non-citizens into the military was really just a way to hire foreign mercenaries.
What is an act of war?
C-425's second part is far more complicated. First of all, it's phrased in a passive-aggressive form: throw a grenade at Canadian Forces members, and (if you're a dual citizen) you automatically generate the paperwork to renounce your citizenship. One would expect that massive return fire would make the paperwork irrelevant. Or is it still an act of war if the grenade comes through the window of an empty Canadian Forces recruiting office at 3 a.m.?
And what, exactly, is an "act of war"? C-425 doesn't define it. It's hard to find a definition anywhere in Canadian or international law, except as the action of one state against another state. While the 9/11 attacks by a non-state group are also considered acts of war, responding with still more acts of war (especially against Iraq) did not work out very well.
Why limit this undefined act of war to an attack on the Canadian Armed Forces? Canada went into Afghanistan as a member of NATO, coming to the aid of its injured NATO ally the United States. Canadian citizen Omar Khadr reportedly killed a U.S. soldier, not a fellow-Canadian. Surely he would deserve to have his citizenship stripped from him -- except that he was born in Scarborough.
Who decides it's an act of war?
And how are we to be sure that an act of war, however defined, has indeed been committed by a Canadian dual citizen against the Canadian Forces, however defined? Jinny Sims nailed this also:
"The bill is not clear that due process before the law is necessary to determine whether someone has committed an act of war, nor is it clear who would make such a determination. Perhaps this is not surprising, given that the members of the government seem fond of stripping due process with very little accountability.
"Additionally, some key terms are not defined. The terms 'acts of war' and 'legal resident' are not defined anywhere in Canadian law.
"Without a definition for what would constitute a legal resident of another country, the bill would pose a serious risk of rendering Canadian citizens stateless, in contravention of the UN Convention on the Reduction of Statelessness, to which Canada is a signatory."
When are we at war?
Here is where C-425 reflects and expresses a very dangerous muddiness of thought in Canadian politics. If we can't define an act of war, how do we know when to go to war at all?
The United States has launched 297 drone strikes on Pakistan, a country with which it is not at war, but Pakistan (a nuclear power) has not declared itself at war with the United States. Nor did the U.S. go to war against Saudi Arabia after 9/11, though that attack was conducted largely by Saudi citizens.
Recall that in the 2006 war between Israel and Lebanon, a Canadian peacekeeper, Major Paeta Hess-von Kruedener was killed by Israeli artillery fire. Stephen Harper shrugged off his death by saying the major should have abandoned his post "during what is now, more or less, a war."
But suppose one of the Israeli artillerymen in that event had also been a Canadian dual citizen. Should that soldier have been stripped of his Canadian citizenship? Was he committing an act of war against the Canadian Armed Forces, or just the boring old United Nations?
These are not rhetorical questions. We went to war in Afghanistan, and declined to go to war in Iraq, because our treaty obligations required the first but not the second. Devinder Shory's C-425 ignores both Canadian and international law. It defines war and peace, citizen and enemy, as political expediency requires.
So C-425 is a way for the Harper government to see which way the wind blows: Can we stigmatize our Muslim Canadian citizens, make them feel more alienated? Can we make other Canadians more suspicious and fearful of their fellow citizens? Can we go back to Sept. 12, 2001, when any crime against anyone, breaking any law, was justifiable because of the crime of Sept. 11?
Might we even go to the transcendent point where the prime minister, or some senior bureaucrat, could order the assassination of obnoxious Canadian citizens without trial, as Barack Obama and his government do with Americans?
It may seem a consummation devoutly to be wished by some in Ottawa, though it won't happen just yet. But the passage of Bill C-425 would bring that day much closer than most Canadians can now imagine.
comments powered by

Disqus