The Death of the Reverend
Andrew Nikiforuk wrote the book on Wiebo Ludwig. Now he writes his obituary.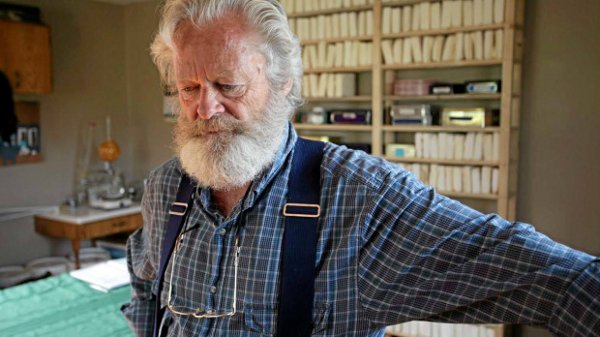 Wiebo Ludwig, the man that the mainstream media labelled an "eco-terrorist" and "convicted bomber" died the way he lived: in an uncompromising manner and surrounded by his large and resourceful family.
Struck by esophageal cancer several months ago, the fundamentalist Christian and Dutch immigrant declined modern chemotherapy. He then made his own coffin with the deliberation of a man who feared nobody except God.
Like some Old Testament prophet Ludwig lived his life in the eyes of several storms. He enjoyed explosive rhetoric, challenged atheists, mocked authorities, disparaged modern life, relished political theatre and rarely lost his footing in most conflicts. He raged against the machine long before it became fashionable.
After splitting a Dutch Reformed Church congregation in Goderich, Ontario with an adulterous affair and his extreme views on the role of women in the 1980s, Ludwig fled with his children and friends to the wilds of northern Alberta near Grand Prairie.
Here his large and extended family regrouped from "the troubles" and lived apart from the local community. They earned cash by drywalling local homes and slowly learned how to become as self-sufficient and generous as a 19th century Dutch family. In a fit of rage Ludwig once shaved the head of his wife, Mamie, and sent her off packing to her family in Iowa for some indiscretion. She forgave him.
Ludwig's industrious community later became the centre of two multi-million dollar RCMP investigations on oil patch sabotage. Over the last 16 years the police have searched and occupied the family farm on five separate occasions.
A bloody and messy conflict
Contrary to expectations Ludwig did not pick this particular battle. For years he civilly tried to get authorities in Alberta to recognize the dangers and risks that the sour gas industry routinely imposes on rural people.
Sour gas, a potent neurotoxin, has left a legacy of death and destruction as disquieting as Ludwig's inflammatory oratory throughout western Canada.
After several oil and gas companies trespassed on his land and two sour gas leaks poisoned members of his family and livestock in 1996, Ludwig formally declared war against the industry. The caustic preacher wasn't kidding.
It was a bloody and messy conflict that involved an unprecedented volume of industrial sabotage ($12 million worth of monkey wrenching at hundreds of indefensible well sites), death threats, shootings and several bombings.
In order to establish the credentials of a police informant in Ludwig's community, the RCMP and EnCana Corporation, under the leadership of Gwyn Morgan, added to the general state of fear in the region by setting off their own planned explosion at a well site.
They also parachuted in a Toronto-based terrorist expert into Beaverlodge, Alberta. He fanned the flames by characterizing Ludwig as cult leader and a fanatic. The federal government quietly considered sending in the army supported by tanks and armoured carriers.
Meanwhile Ludwig played with the RCMP, a dysfunctional organization, the way his father, a member of the Dutch resistance, once danced around the Gestapo during the Second World War.
Ludwig's war came with casualties too. The extreme actions of Ludwig, the RCMP and EnCana Corporation all played a role in the tragic death of 16-year-old Karman Willis. She was one of several joy-riding teenagers who drove onto Ludwig's property in June 1999 in two separate trucks at four o'clock in the morning.
The Death of the Reverend: Page 1 of 2
comments powered by

Disqus