Authorities 'Caught Flatfooted' on Alberta Flood Disaster: Expert
Hydrologist finds prediction efforts crippled by poor monitoring systems.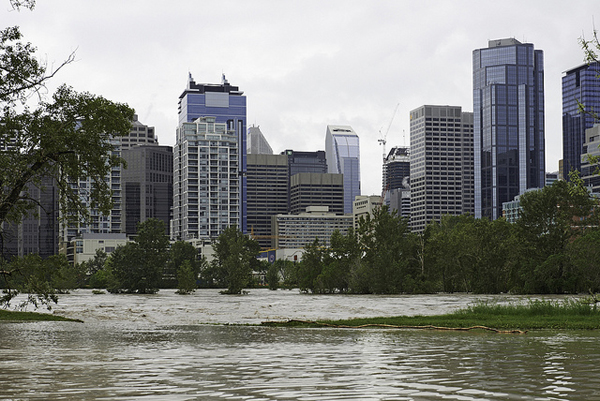 Canada's greatest flood, which has severely crippled Alberta's infrastructure and forced the evacuation of more than 100,000 homes, caught flood prediction authorities unprepared, says one of the country's top hydrologists.
"We were caught flatfooted on this," says John Pomeroy, the Canada Research Chair in Water Resources and Climate at the University of Saskatchewan and a resident of Canmore.
In the Rocky Mountain town, creeks overflowed their banks, destroying scores of homes and parts of the TransCanada highway before a flood warning was even issued.
The extreme weather event, a signature of man-made climate change, poured three times more water onto the landscape than that measured during the so-called record flood of 2005.
"The upper Bow River basin didn't get a flood warning advisory until about six hours after the evacuation in Canmore. When you can see the water, you don't need a flood warning," says the 53-year-old hydrologist.  
The historic deluge re-arranged much geography in the Rocky Mountains, shut down Canada's fourth largest city, destroyed the Calgary Zoo, crippled the city's light rapid transit system, flooded scores of neighbourhoods and turned several Aboriginal communities and towns such as High River into full scale disaster zones.
Damages to bridges, roads, towns and homes could exceed $5 billion.
When the best monitors fail
Pomeroy is a highly respected climate change expert who has studied changing water flows in the mountains and prairies for 30 years. He is also director of the Centre for Hydrology at the University of Saskatchewan.  
"If this had been the U.S., we would have had predictions on stream flow and measurement near real time. Here, we get measurements six hours behind and a few quantitative predictions."  
A fair amount of stream flow monitoring takes place in some parts of the country, but the upper Bow River Basin supports just four monitoring stations at the Bow, Lake Louise, Pipestone and Spray River. "And that's it," he says.
"We don't have enough stream flow measurements," says Pomeroy. Many waterways such as Cougar Creek, which caused the most damage, aren't gauged.
A Water Survey of Canada station, along with four isotopic sampling stations maintained by Pomeroy and university students at Marmot Creek, were destroyed in the flooding.
Flood prediction also failed to capture the scale and breadth of the event, says Pomeroy.
"The weather forecast for the event was good. It was clear there was going to be heavy precipitation. But I don't know what kind of flood prediction modelling was being run by Alberta Environment… they are the best in the country, and if they can't do it right we are in trouble."
On June 20, the day preceding some of worst flooding in Calgary, Alberta Environment still hadn't listed a flood warning for either the Bow River or the Elbow at 6:30 in the morning.
Flood prediction not only involves stream measurements, but determines how big and how wide the flood will be.
"It's fine to run a model, but you also need detailed floodplain mapping that shows where the buildings and trees are. They will slow down the water and force it higher.
"The flood forecasts came in after evacuations and the damage had already begun. That is a serious problem and untenable," adds Pomeroy.
Substandard water measuring systems
In the 1970s, the federal government set up the Inland Waters Directorate, in part to map and stop development on flood plains in the prairies.
But the Liberal government of Jean Chretien dismantled the program in 1992. Governments since then, such as the Conservative government of Stephen Harper, have systemically reduced the role and functions of Environment Canada.
As a consequence Canada is one of the few developed countries in the world to have a substandard network of stations to gauge water flows. Saskatchewan, for example, is one of the few jurisdictions in North America without a working hydrological model.
The only other place in the world that had such a large reduction in its capability to measure water flows as Canada is the former Soviet Union, explains Pomeroy, and that's because the union fell apart in 1992.
The Inland Waters Directorate of Environment Canada led a joint federal and provincial program flood damage reduction program but Alberta was always a reluctant participant.
At the time, the program recommended restrictions on flood plains near downtown Calgary.
After record flooding in 2005, a provincial government report recommended better flood mapping as well as a halt to selling Crown land on floodplains. The 2006 document was not made public until 2012.
Loss of predictability
Canada not only needs more weather and stream flow monitoring stations, but better support for the provinces for an integrated basin-wide flood forecasting and flow prediction system, adds Pomeroy.  
Water basins such as the Bow, South Saskatchewan and Mackenzie need to be managed as interconnected entities with a coordinated interprovincial focus. 
"We haven't even begun to think about the impact of this event on Lake Winnipeg, yet that's where it's all heading."
A 2012 study by Pomeroy and Kevin Shook found that 24 long-term weather stations on the prairies were now recording dramatic changes in rainfall patterns on the prairies over the last century.
Rainfall used to occur in scattered storms in parts of a river basin throughout the summer. But in recent decades it has been falling in longer and more dramatic events over an entire basin during the summer.
These prolonged storms, which drop huge volumes of water on the plains, have increased the potential to create wide-scale "runoff events," such as what happened in Manitoba three years ago and the Alberta foothills last week.  
Pomeroy says the shift is but another example of how climate change has unhinged the regularity of snow melt, summer river flows, as well as evaporation rates on the prairies.  
"This loss of predictability has important consequences for water resources management techniques that have relied on stationarity."
Residents of the Canadian prairies, where flood waters drain slowly, need to be asking more questions about the adequacy of water measurement and basin wide river management, adds Pomeroy.
comments powered by

Disqus