Hertzman's Work for Children Will Carry Forward
How BC researchers are continuing groundbreaking early childhood development investigations.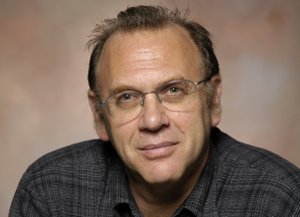 Faculty and staff at the University of British Columbia's Human Early Learning Partnership (HELP) are still reeling from the unexpected passing of the partnership's founder and director Dr. Clyde Hertzman earlier this month.
"We're trying to put one foot in front of the other and being together. We have a strong group of staff, but as you can well imagine it's a profound shock for all of us," Joanne Schroeder, HELP's deputy director, told The Tyee on Tuesday, Feb. 12.
But the people behind the man whose groundbreaking early childhood development research changed the way the world thinks about environmental effects on children's development are determined to continue his work.
"We'll go down in a heap for a while, but not for very long because he wouldn't tolerate that, and we'll be back at the work," Schroeder said.
Research spans political spectrum
Dr. Hertzman, just a month shy of his 60th birthday, passed away suddenly and unexpectedly in London, England, on Friday, Feb. 8.
In addition to his 10 years as director of HELP, Dr. Hertzman also served as a Canada Research Chair in Population Health and Human Development and as a professor in the University of British Columbia's (UBC) School of Population and Public Health. He was awarded the Canadian Institute of Health Research's 2010 Researcher of the Year award, and received the Order of Canada last month.
Although his work is renowned both nationally and internationally, Hertzman was most famous in British Columbia for using data from the Early Development Instrument (EDI) questionnaire to map where the most vulnerable children live in the province.
The questionnaire, developed by researchers in the Offord Centre for Child Studies at McMaster University, asks questions to measure the five core areas of early childhood development. Filled out by kindergarten teachers for every student in their class, the data provides a complex and comprehensive snapshot of the school-readiness, and is a good predictor of health, social and educational outcomes in adulthood, if children's situations remain the same.
Heralded as integral to early childhood development policy and as solid proof the province needs a provincial poverty plan, Hertzman's work was applauded by both sides of the political spectrum. Premier Christy Clark issued a statement on Family Day, Feb. 10, expressing condolences to Dr. Hertzman's family. The Government of B.C. supplies core funding to HELP, and in an emailed statement to The Tyee, Premier Clark said, "The team Dr. Hertzman assembled at HELP and UBC are recognized as world leaders in early childhood development. I certainly hope they continue with his vision and work."
While government makes use of HELP's research to inform policy, First Call: BC Child and Youth Advocacy Coalition relies on HELP's data to push government to create universal early childhood education, implement a provincial poverty reduction strategy, and provide extra academic and social support to children with developmental issues or who live in poverty.
"We've used the EDI data from the earliest time it first started coming out," said Adrienne Montani, First Call's provincial co-ordinator, adding First Call has worked with Dr. Hertzman individually in the past on child poverty campaigns.
"I thought Clyde and HELP have always been really helpful in saying every kid has a right, needs this support, and needs investments in their early years in a universal system that catches everybody. And then when special needs are identified, or socio-economic disadvantage is identified, then we front-end load or enrich that program to make up for special challenges."
Teachers also relied on EDI statistics to push for more services for their students. Carol Johns, a full-time kindergarten teacher in Cranbrook, was sent by the BC Teachers' Federation (BCTF) to see Dr. Hertzman speak when he began advocating for the use of EDIs. Then president of the B.C. Primary Teachers Association, Johns was so impressed with Dr. Hertzman's work she brought it back to her district, which began using the EDIs that year. She also played a part in convincing the BCTF that EDI was a useful test.
"It's actually given us lots of good information: we were able to, before there was Strong Starts, (have) two early learning centres at two schools that we had identified through EDI results," Johns told The Tyee.
"One of the areas that we were identified early on is as weak in the physical development area because we have a long winter. So (the Southeast Kootenay district) did gymnastic programs for children before they came to school in schools, and also they did some more work on playgrounds."
Looking for a new director
But despite the sudden nature of his death, faculty and staff weren't completely unprepared for work without Dr. Hertzman. Schroeder says the director had already started talking about moving on to other work and there were plans to start looking internationally for another director.
"We're looking for someone who has obviously a commitment to the importance of early childhood development and an extensive scientific background in the early biology of human development and population health and national and international policy," she said, adding a senior faculty member will serve as interim director until a new director can start, hopefully by fall.
"Those are all the key things that Clyde brought. It's very much someone who's used to working in an interdisciplinary way and who brings a breadth of those kinds of things to the job."
In addition to the EDI research, Dr. Hertzman was working on a number of different projects before he passed that HELP plans to continue. These include working with other universities to map EDI results for the entire country, more work on epigenetics, the study of how experiences can physically change children's genes, and developing a tool to monitor countries' compliance with the United Nations Convention on the Rights of the Child.
HELP has just started the pilot convention monitoring program for Canada, which was criticized last year by Marta Maurás, head of the UN's Committee on the Rights of the Child, for not meeting its convention obligations.
Dr. Hertzman was also making use of the 1958 National Child Development Study, an ongoing population health study that follows the lives of 17,000 people born in England, Scotland and Wales in a single week in 1958. Hertzman, who was interested in how early childhood development affects adult life, was in England to continue this research when he passed away.
Research will 'honour his legacy'
Schroeder says HELP will continue all this research, and they have funding from the Government of British Columbia, the Canadian Institute of Health Research, the Social Sciences and Humanities Research Council of Canada and many private foundations to do it.
In fact Schroeder believes Dr. Hertzman's passing has actually strengthened funders' dedication to their work.
"I have received upwards from 400 emails from people this weekend, many of them people who want to do things to support Clyde's legacy and support the work of HELP," said Schroeder.
Despite all the good work HELP's data has done identifying the needs of children in the province, teachers say their continued research is important for identifying where children are vulnerable. Communities and economies change for better and for worse, which can affect children's development. Johns says from what she sees in Cranbrook developmental needs haven't gone away, and may actually be getting worse.
"There's more need and there's more need for support. I think that it's critical that we continue to be part of this project and continue to advocate for it to be done," she said.
"(Dr. Hertzman's) got a legacy of a lot of us who he's worked with and we're firm believers in it. That was one of the first things that I said to my friend who had phoned to say Clyde had died, 'All the more reason to continue to do EDI.' "
HELP staff and faculty will likely feel the loss for a long time, but Schroeder says continuing the research is important for them, too.
"Primarily because it makes a difference for children and families around the world, and obviously because Clyde was so committed to the work and he worked tirelessly in support of the cause, and through that work has really built a community of likeminded souls and people around the world that want to continue to do the work," she said.
"So it's to honour his legacy, of course, but it's because it is what he would have wanted us to do, and because we all want to do it. We all worked with Clyde because we shared his vision. It's the values that he espoused we espouse, so it makes it easier to keep on with it."
comments powered by

Disqus