Do Kids Really Need Summers Off?
BC just began allowing all schools to go year-round. What it's like for students and teachers who've already made the shift. First in a series.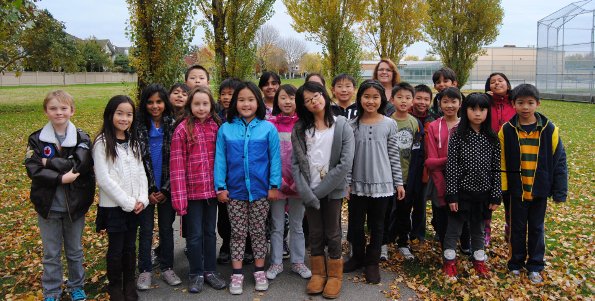 Now that British Columbia's Ministry of Education last week changed the School Act to allow school boards to switch to year-round calendars, a lot more people are going to be having the debate that happens every year in the Fetigan household.
What the Fetigans keep arguing about is how valuable, really, is a summer vacation for their two children?
For the Fetigans, it's no abstract matter. Their two children attend one of Richmond, B.C.'s highest-scoring schools, which already happens to run on a year-round calendar. For the first few years of their children's schooling, the couple couldn't find common ground. Lesley Fetigan believes the school's alternative calendar benefits her kids -- both academically and socially.
Her husband, partially nostalgic for the lazy, hazy summer days of his childhood, wants all kids to be free to enjoy the West Coast's best weather in July and August.
Despite the endless discussions, they haven't switched schools -- yet.
Eventually, Lesley's husband (who prefers not to give his first name) gave in. "I'm a big believer in sticking to my knitting," he says. "I know what I do and I do it well. And, Lesley knows what she does and she does it well." What she does is teach, though she is on sabbatical this year for personal reasons. Before that, she taught first grade at one of Surrey's inner-city schools -- and came to believe that summer's long break was making it harder for many of her students to learn.
So the couple's children, Liam, 9, and Emma, 7, attend Spul'u'kwuks Elementary. It's the Richmond district's first school with a balanced calendar. The kids and staff trade the typical, two-month summer vacation for shorter, more frequent breaks -- three-month terms conclude with one-month breaks in December, April and August. The Spul'u'kwuks balanced calendar started as a pilot project in 2004. Three years later, the school community voted to turn it into a permanent system. Lesley happily lets her kids attend the modified calendar school, believing that a long summer is detrimental to certain types of kids, and the balanced calendar can help students and teachers.
For example, over half of Spul'u'kwuks' 400 or so students are enrolled in the English as a Second Language program, according to the B.C. Ministry of Education. Eleanor McInenly, a woman with 20 years of teaching on her resume, works with this high population of English language learners. When the board introduced the balanced calendar, she was excited. Her intuition told her the shorter breaks would greatly benefit her students' needs.
About 70 per cent of Spul'u'kwuks students don't speak English at home. Outside of school, most speak Mandarin, Cantonese or other Chinese dialects, according to ministry statistics. In a two-month summer, those students can lose a lot of their English skills, she thought. But with just a one-month break, they could retain far more knowledge. "We need to make sure their exposure to English is the maximum that we can get," explains McInenly. She doesn't have any statistics to back up her claims -- only anecdotes.
No big academic improvements proven
Convincing statistics are hard to come by, since scholarly research on academic achievement in year-round schools is mostly inconclusive. It's almost impossible for a study to isolate the school calendar from other factors like curriculum, technology or teachers. Special interest groups make the academic research even harder to navigate. The National Association for Year-Round Education (NAYRE) exists solely to promote the balanced calendar. It is frequently attacked for producing biased research. But NAYRE doesn't conduct its own studies, says Charles Ballinger, the association's executive director emeritus. Regardless, most respected studies show only small academic improvements in year-round schools or none at all.
It's a highly contested point in education circles. Charlie Naylor, one of the British Columbia Teachers' Federation's (BCTF) senior researchers, remembers being accosted by a former NAYRE president at an international conference about a year after he published his research finding fault with year-round education. "He basically stood in front of me, glared at me and said, 'Are you still publishing that crap about attacking year-round schools?' " says Naylor. "It's normal for people to be able to disagree on research without coming up calling the stuff they do crap and kind of being very belligerent."
Despite the lack of research data, Eleanor McInenly believes the balanced calendar helps her English-language learners. They don't lose as much of their English skills over the shorter breaks. So she reviews less vocabulary at the start of a new term and can move straight to building on prior knowledge. And it wasn't just her language learners who the calendar helped.
Saved by the year-round bell?
Lesley Fetigan serves on the school's Parent Advisory Council (PAC). She and the other PAC mothers are all good friends. They meet at the Starbucks around the corner from the school frequently enough to know each other's regular drink orders. Diane Lincoln, the council's secretary, moved her family here from South Africa three years ago, uprooting her two young children. Her daughter, Kayla, was nine years old and doctors had already diagnosed her with a cognitive learning disability. Before the move, a corporate relocator tipped off the family about the balanced calendar school. They chose their house because it was within the school's catchment boundary. But Diane had no idea how much it would help her daughter. "She's actually blossomed. She's changed completely," says Diane. "And we've only been here for three years."
Do Kids Really Need Summers Off?: Page 1 of 2
comments powered by

Disqus