Site C, Yes or No? Gov't Never Directly Asked Locals
An $8 million consultation with the public danced around main issue say critics.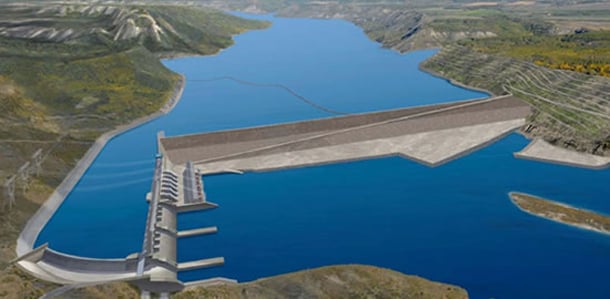 When the Site C dam is finally built, $7.9 billion of taxpayer money will have been spent, more than 5,000 hectares will have been flooded and First Nations say their rights will have been violated.
But, despite those impacts, BC Hydro Corp. never appears to have outright asked Peace River region residents whether that project should go ahead during a year-long, $8-million public consultation process, which some participants have accused of being biased.
Dam without a name
The dam, which would generate enough electricity to power more than 450,000 homes, has been started and stopped three times since it was first proposed in the 1950s -- each time because it was deemed unnecessary.
Nevertheless, Gordon Campbell's government deemed that project necessary in 2004, a position his successor Christy Clark reaffirmed in mid-August. After that decision was made by Campbell, BC Hydro launched a consultation process in 2007 to seek public input on everything from access roadways to air quality.
But the three rounds of feedback forms distributed by BC Hydro as part of that process never directly asked about the level of support for the Site C. Instead, one form asked about the level of support for a "major hydroelectric dam."
Almost half -- 45 per cent -- of respondents registered their lack of support for such a project, even though it wasn't identified as being Site C.
'Straight up question' lacking
Another form asked participants to indicate whether they'd support Site C "if" hypothetical conservation efforts, equipment upgrades and development of new power sources failed to meet the province's energy needs.
Yet again, 40 per cent of respondents opposed Site C anyway.
"Obviously, if they're still getting opposition even when they're nuancing the question so significantly then they would have gotten an even worse result if they asked it straight up," commented pollster Bob Penner.
As for why BC Hydro didn't ask a "straight up" question, a spokesperson for the Crown corporation said a "what if" question was used because the company "does not look at resources in isolation and instead looks at a portfolio of options and scenarios."
"This is because there are many combinations of resource options that could be used to fill the gap between future demand and current supply."
The spokesperson said members of the public also had an opportunity to voice their opinion on the dam during a separate consultation process for BC Hydro's 2011 integrated resource plan.
Nevertheless, Penner -- the president and chief executive officer of Vancouver-based Strategic Communications Inc. -- said, "If you're just doing research, if you just want to know, you would ask a straight up question" during the Site C consultation process.
'Capital crime on nature': local resident
In its absence, some Peace River residents tried to give a "straight up" no to BC Hydro's dam proposal. For example, when a feedback form asked them how they planned to use the Peace River Valley and reservoir for recreation if Site C were completed, 42 per cent of respondents ignored that open-ended question and simply indicated they didn't want the project built.
That sentiment also came out at BC Hydro's public meetings on the hydroelectric project. Some demonstrated outside those gatherings while others directly voiced their concerns to the Crown corporation's consultation team.
For example, minutes taken by the team show, during an Oct. 2008 meeting in Fort St. John, Peace River resident Axel Zalbock said it would be a "capital crime on nature" to build the dam, given that there were other ways of meeting the province's energy needs.
Indeed, it's likely Peace River residents would have preferred BC Hydro to pursue those alternatives rather than Site C. According to the feedback forms, upgrading the province's existing energy assets and investing in wind, solar and biomass power received more support than building a "major hydroelectric dam" -- with 98 per cent, 90 per cent and 89 per cent respectively backing those ideas.
Moreover, the perception that Site C is a foregone conclusion led to accusations of bias during the public consultation process.
'Are you trying to be neutral?': councilor
"Are you trying to be neutral or are you trying to sell Site C?" questioned Hudson's Hope councilor Terry Webster in minutes of a meeting in his community in Oct. 2008.
At one point, BC Hydro representatives tried to allay those concerns by stating that independent regulatory bodies would also have an opportunity to review the dam. But, when the Clean Energy Act received royal assent last year, one of those bodies -- the BC Utilities Commission -- was stripped of its oversight role over Site C.
That means the Canadian and British Columbia environmental assessment offices' stamps of approval are the only major regulatory hurdles left for the dam to clear before it is built.
Meanwhile, BC Hydro is continuing to consult with the public about that project -- having already launched a third round of consultations. But what's unclear is whether anything the public says about Site C will stop it from being built.
comments powered by

Disqus