Liberals All Now Believe in Listening
Jockeying for positions begins as hopefuls enter leadership race.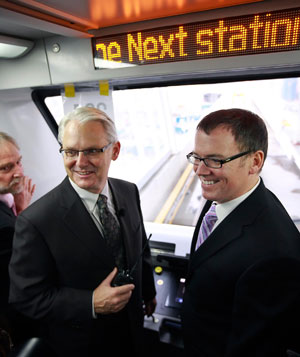 The field of contenders to become leader of the British Columbia Liberal party and replace Gordon Campbell as premier is becoming more crowded by the day.
Attorney General Michael de Jong, a lawyer and former Junior B hockey player who is one of the province's scrappier cabinet ministers, is set to enter the race today with a 10 a.m. "significant announcement" to be made at the Abbotsford airport.
He joins former Health Services Minister Kevin Falcon who jumped into the race Tuesday, as well as former cabinet ministers George Abbott and Moira Stilwell, who announced their candidacies last week.
Radio talk show host and former MLA Christy Clark has said she is thinking about entering the race, and Solicitor General Rich Coleman announced today he'd planned to enter this week, but decided not to.*
A poll circulated by Clark's supporters suggests she would make the most popular leader and have the best shot at defeating the NDP in an election, but with the leadership vote not until Feb. 26, there remains plenty of room for movement among the candidates.
The race becomes a question of how the various candidates distinguish themselves from each other, something not altogether easy when most have sat around the same cabinet table and voted the same way on major issues, including the adoption of the harmonized sales tax.
Various positions
First into the race was Moira Stilwell, a rookie MLA who was made minister of advanced education, who few seem to see as a serious contender. While she has little experience in politics, she has a career as a doctor to draw on.
My CFAX co-panelists on Public Eye radio, David Cubberley and Sheila Orr, implied on the weekend that she in fact had little else to offer.
And being a doctor may even be a liability, if Stilwell keeps talking like she does on her Facebook page: "As a doctor, one of the first questions I asked patients was, 'where does it hurt?' and then I would try to take away the pain. So now, as BC Liberal leadership candidate, I'm asking British Columbians, 'where does it hurt?' Let me know so that I can try to make it better."
She did say she supported raising the minimum wage to $10 an hour, a break with nine years of Liberal government policy keeping it at $8 an hour.
Abbott and Falcon each also said the minimum wage may need to be increased. Abbott suggested a consultative review of it, similar to what the government happened to launch last week. Falcon also said he agrees with raising the minimum wage, in consultation with business. "If we were smart, we should have adjusted it to inflation," he said.
They also hit similar notes about building a free enterprise economy, supporting families and bringing rural and urban communities together. Both support moving up the date for the vote on the HST to June 2011. Falcon, though, mused about reducing the HST to 10 per cent.
Falcon said he would, "Listen to people, learn from people and then lead... and lead decisively."
Abbott said his leadership would involve listening and consultation. "Divisions won't be healed by any one decision out of Victoria... The only enduring change is collaborative change."
Competing endorsements
Cabinet ministers at Falcon's launch were Labour Minister Iain Black, Children and Family Development Minister Mary Polak, Community, Sport and Cultural Development Minister Stephanie Cadieux and Minister of State for Climate Action John Yap.
Other MLAs in attendance were Dave Hayer (Surrey-Tynehead), Rob Howard (Richmond Centre), Douglas Horne (Coquitlam-Burke Mountain), John Les (Chilliwack), Joan McIntyre (West Vancouver-Sea to Sky) and Ron Cantelon (Parksville-Qualicum).
"I've seen Kevin emerge from being a feisty young man to a passionate leader in our caucus," said Cantelon.
Cadieux said it was Falcon who got her into politics, and he has shown by example how to be a great MLA. "We are going to have an exciting future with Kevin Falcon."
Supporters attending Abbott's announcement in Vancouver included Environment Minister Murray Coell and MLAs Gordon Hogg, John Van Dongen, Richard Lee, John Rustad and Don McRae. Wanting to come but unable to make it were MLAs Kash Heed, Norm Letnick and John Slater, according to Hogg, who introduced Abbott. Several small town mayors and two First Nation's chiefs also attended.
Hogg said Abbott is "a man who will bring a new collaborative style of leadership" to the party and the province.
And while Falcon is selling himself as a "new generation" of leadership, Abbott already has the support of several key B.C. Young Liberal executives.
Cabinet ministers yet to announce an endorsement are Colin Hansen, Ben Stewart, Mary McNeil, Ida Chong, Pat Bell, Kevin Krueger, Barry Penner, Shirley Bond, Margaret MacDiarmid, Steve Thomson, Naomi Yamamoto and Rich Coleman.
Attorney General de Jong's announcement will be made in Abbotsford at the same time as the provincial cabinet is meeting in Victoria.
Polling popularity
And while Clark is yet to announce she will enter the race -- she's taking a week off from her CKNW radio talk gig to think about it, she said -- her supporters circulated a poll to media suggesting she would be the public's favourite.
Asked whom they would prefer as Liberal leader, 40 per cent chose Clark from a list, putting her well ahead of Kevin Falcon (15 per cent), Michael de Jong (12 per cent), Blair Lekstrom (12 per cent), George Abbott (10 per cent) and Rich Coleman (10 per cent).
Conducted between Nov. 19 and 22, the poll did not include Stilwell, whose Nov. 22 entry was a surprise to many.
Those who would "definitely vote Liberal" still preferred Clark. She got the support of 35 per cent of respondents, again ahead of Falcon (21 per cent), Coleman (13 per cent), Abbott (12 per cent) de Jong (10 per cent) and Lekstrom (nine per cent).
The poll also found Clark would beat a Carole James led NDP by a margin of 38 per cent to 27 per cent, with 12 per cent undecided.
Gandalf Group surveyed 800 B.C. adults by telephone and the poll had a margin of error of plus or minus 3.45 per cent, 19 times out of 20.
Asked about Clark entering the race, Falcon said he welcomes her but gave some indication of where she's likely to be vulnerable. "We want her to commit to staying, win or lose," he said.
And as an observer in one of the other candidates' camps noted, the poll was of the public, not Liberal party members. Ultimately, it's those members who in February will decide who replaces Campbell as leader and becomes premier. Popularity with the public will just be one of many factors in how they decide.
*Story updated Dec. 1 at 11:20 a.m.
comments powered by

Disqus