A Musical Commute in Mumbai
How India's 'bhajan' groups, mostly male office workers, make joy out of daily, hours-long train trips.
We start our journey without fanfare at exactly 6:01 p.m. We're 16 minutes late leaving the third-floor office in Lower Parel, and Sunil is tense. He checks the time on his phone twice as he hurriedly shrugs his backpack onto his front, over his neatly pressed grey-and-black collared shirt, gives me a firm nod, and swings towards the door without a word. As we scamper down the stairs and out into the street, Sunil a confident 10 paces ahead of me, I skirt behind him, trying desperately to keep my eyes on his head bobbing through the crowd while not losing sight of my lifeline -- my friend Sourav who has offered to come along to translate for me, and to live for himself what may possibly be the most quintessentially Mumbai experience: a long-distance commute by train.
Sunil doesn't say anything, but I can tell we've reached the platform at Lower Parel in good time when, after glancing nervously at the LED display board, his brow relaxes and he gives a little sideways nod of his head, a satisfied smile curling the corners of his mouth. Trains to his home in Virar, the suburb farthest to the north of Mumbai, leave every 15 minutes, but there is one specific train we need to catch. For the five years he's been commuting north after being turfed from his home in Lower Parel by skyrocketing rent prices, Sunil has been part of one of Mumbai's famous, mystifying bhajan groups -- a group of men, mostly office workers, who meet each other in the same train compartment every day, morning and night, and pass the hours of their commute singing devotional songs together. Some of these groups have been commuting together for more than 25 years. Sunil's was founded about 10 years ago by a few men who kept seeing the same faces in the train, and has since grown into a staple institution. Sunil does everything in his power to never miss the train. But we're not safe yet: we still have a transfer ahead of us.
The platform is packed. Voracious commercial development in the former mill zone has brought thousands of new commuters to the area over the past several years, but the station has not expanded. Neither has the service. This becomes immediately apparent when the train chugs up to the platform, so full that men are literally clinging to the train's exterior with their fingernails. Before it has even stopped, a crush of bodies spills wildly out of the train's open doors onto the platform, propelled by the pressure of people behind them pushing to get out. The crowd on the platform surges forward as if drawn by the vacuum that's been left in the compartments, and the platform fills with shouts as hundreds cram and battle their way through the doors at once. I see Sunil vault forward and I brace myself, the advice of Sunil's office mates echoing in my ears: "Forget your Canadian 'pleases' and 'sorrys' and just PUSH!" I lower my head, and launch myself into the swarm.
Clawing my way forward and lifted by the crowd, I finally feel the train's metal floor come under my feet. But I'm blinded by the crush of bodies around me, and my backpack is caught somewhere behind me. As I thrash to release it and push my way further into the compartment, I feel the back of my kurta tear. I'm still jostling my backpack free as the train starts to move, and I look up, scanning the faces in the compartment. A few bodies away, I locate Sunil, but I panic when I realize that Sourav is nowhere to be seen.
Then, to my horror, I catch a flash of his yellow T-shirt. It's outside the train. He is hanging from the doorframe, and his thick black-framed glasses are gone. He looks focused and slightly terrified. It hadn't really occurred to me until this moment that this little adventure -- something we were doing by choice, but that many do daily, with no alternative -- could actually be life-threatening. I've read the statistics, of course: in the first three months of 2012 alone more than 800 Mumbaikers lost their lives to these trains. If it's a normal year, by the end of December that number will have jumped to around 3,000 -- about 10 deaths per day, and thousands more injured. I find myself wondering how I'd ever forgive myself if Sourav were to join those ranks on my behalf.
My heart is still pounding as I crash onto the platform at Dadar. I check myself over. Aside from the tear, I've now also lost a button, but am otherwise unscathed. Sourav's glasses have been miraculously saved, returned by another commuter. We look at each other and anxiously laugh, but Sunil is already pressing forward to the next platform.
Long before our awaited train eases to a stop in front of us, we can hear which compartment is Sunil's. I am overtaken by a wave of joyful sounds as we step aboard: the rhythmic clang of manjira chimes; deep tenor voices belting verses in unison in Marathi; and calls of welcome as the men, who take up an entire side of the train compartment, and all wear well-pressed collared shirts, see that we've arrived and beckon us in, beaming. Sunil looks me in the eyes for the first time since we've met and grins. We have arrived.
Communal commute
The music is enchanting. It strikes me as a kind of ramped up version of the hypnotizing hum one hears drifting from candle-lit temples through the winding, smoky lanes of Varanasi, or at other holy sites at evening prayer time. One man plays a flimsy-looking tambourine as if it were a drum; it resonates deeply through the train with unbelievable substance. The hands of the manjira players are spinning with such velocity that they blur in my camera lens, and the men purse their faces to bellow their rhythmic yet melodic call-and-response so it can be heard over the ring of their instruments.
And there is an undeniable air of community to it all. As they sing, the men take turns sitting in the seats, staying just long enough to give their feet a little rest before passing the privilege to someone else. They tear open packets of sweet biscuits and crackers, taking one for themselves, and sending the rest into the crowd to whatever hands might need a little kick to get through the final push.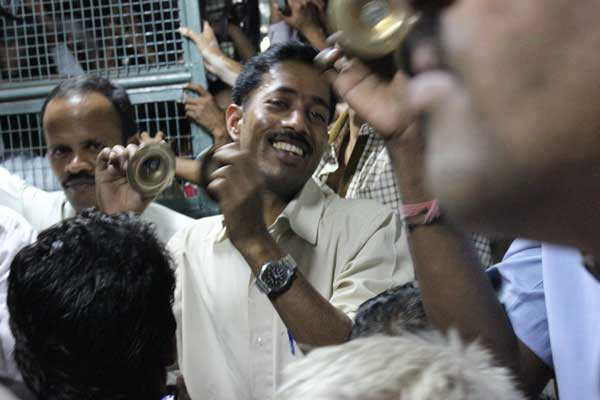 Despite the unusual sight of a foreigner -- a woman, at that -- on board this train, no one seems much interested in talking to me. The answers I get to my questions are by no means unfriendly, but simple, distracted even, and without embellishment: Why do you do this? "To pass the time." Do you know each other's names? "Of course." Are you friends? "Yes, but not weekend friends." Why not? "When you commute six hours a day, weekends are for family."
And as the train presses forward into the night, 30, 40, 60 kilometres due north, an hour-and-a-half slips away without my really noticing how much time has passed. The later it gets, the louder and more joyful the singing, drumming, and clanging becomes, until suddenly, as if by some unspoken cue, instruments begin disappearing into bags, handshakes are passed around, and the last song ends just in time for us to glide gracefully into Virar station.
There is a unique type of fortitude amongst many Mumbaikers that manifests itself more beautifully and poignantly than I have seen in other cultures. The human power to endure is generally an awe-inspiring phenomenon, no matter how it manifests itself, but here it often takes on a face of such cheerful congeniality that I am left dumbstruck. I've often imagined to myself that, at some point in the past, all of Mumbai convened a general meeting of sorts and collectively decided that the only way to survive living with so many million people in such a small space, and in a city that can be so ruthlessly cruel to its citizens, is to be ridiculously good to one another, and simply make the best of it. But nowhere have I been so overwhelmed by this sensation as in this train compartment, in this crush of hundreds of men singing from their bellies and hearts with all their might and with a genuine gleam in their eyes.
As Sunil, Sourav and I walk side by side away from the station toward Sunil's house in the relative quiet of the night, I glance at the clock on my phone: 8:57. We have been under way for nearly three hours. And tomorrow, Sunil will wake up in time to walk the half hour to the station and leave enough of a buffer to ensure he will catch the 7:30 a.m. train, where he and his weekday friends will sing, clang, drum, and smile their way into the embrace of just another day.
comments powered by

Disqus