Ji Won Park May Yet Speak
Six years after a crippling assault, she's working to strengthen muscles, and better communicate.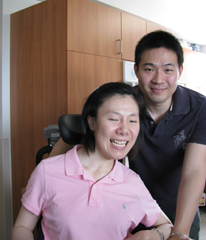 Last month saw the sixth anniversary of the attack that disabled Ji Won Park. I visited her that day, May 27.
The previous time I'd seen her, she'd been in pain from an operation to straighten the toes on her left foot. Otherwise, she wouldn't be able to work on learning how to stand again.
That was just one of her problems. Another problem was the turnover of personal-care attendants hired through an agency. In two years, her mother Jackie Lim says, around 150 attendants turned up, took hours to be trained, and then disappeared.
This was all the result of Ji Won's being attacked in Stanley Park by a psychologically disturbed young man. He choked her almost to death, and when she emerged from a long coma, she had suffered brain damage.
Her mind was as good as ever. She could still understand Korean, English, and Turkish. But she could not speak, or stand, or uncurl her hands.
Cortical blindness left her able to see in three dimensions, but not in two. So she can't read or write.
Gaining a measure of control
Ji Won and her family have begun to take control of their lives. After two years of effort, in January they established a "microboard" to administer the funds Ji Won receives as a victim of crime.
This enabled them to do their own hiring, and Ji Won now has two excellent attendants who look after her from early morning until late in the evening, seven days a week.
Ji Won also took part in the latest Sun Run: 10 supporters took turns pushing her in a special "running" chair, while 30 more ran alongside. I asked Ji Won if people on the sidewalks had recognized her; she smiled a big yes.
The money raised in the Sun Run was enough to pay for a year of physiotherapy, starting now. David says the first goal will be for Ji Won to gain more strength and flexibility in her upper body.
Ji Won is an attentive and responsive listener in conversations, but it can be hard to take part. When she wanted to ask me a question, her mother and brother had to start by guessing the first letter of the topic: "A, B, C, D?" Eventually we learned that she wanted to know how one of her former teachers had got in touch with me. But it was a slow, frustrating process.
Learning to communicate by computer
So she's also trying out a new means of communication: a small, specialized computer that recites words she might want to string into statements.
It's really designed to be used by people who can see and touch an icon on the screen. Ji Won has to press a button when she hears the word she wants, and if she misses it, she has to wait for the whole series to repeat. The computer also has some personalized statements: "My name is Ji Won. My brother is David." It's far from perfect, but it's a start.
The family gets on with life. David takes courses in financial management at BCIT, and plans to go into accounting. He's starting a summer job to help pay for his education. Jackie studies English and runs the household. Sometimes they go on holidays to Vancouver Island or Washington State, and they're thinking about visiting someplace within an hour's flying time.
But it's a life dominated by caring for Ji Won: visits to a neurotherapist, to a swimming pool for hydrotherapy, and now three visits a week by a physiotherapist.
Their efforts, and those of their friends and supporters, are beginning to be rewarded. Ji Won, now 28, looks happy and healthy, and her new computer offers the hope of expressing what is on her mind.
When she begins to communicate with us, we will learn something new and important about the human experience.
Related Tyee stories:
comments powered by

Disqus