Budget Battlers Ready to Rumble
It's been five years since a muscular opposition swung hard at a BC budget.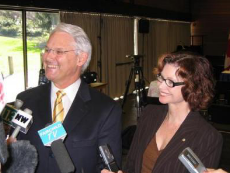 Gordon Campbell's BC Liberal government intends to spend a record $32.9 billion during the current fiscal year, according to the 2005-06 budget estimates introduced today by finance minister Carole Taylor.
The bulk of those expenditures, $27 billion, will flow out of the Consolidated Revenue Fund (CRF) - the province's main operating account - to finance government ministries, various legislative entities, and service the public debt.
And in a week or two, British Columbia's newly-elected 38th parliament will begin a process not seen in this province for more than five years: a thorough, department-by-department examination of CRF expenditures. Day after day, opposition critics will interrogate cabinet ministers, critiquing their policies and priorities, and forcing them to defend their departmental budgets.
(The portion of budget expenditures not subject to legislative scrutiny, about $6 billion this year, will be spent mainly by the so-called SUCH sector - schools, universities, colleges and hospital authorities - Crown corporations and other arms-length public agencies.)
The last time such scrutiny occurred in BC was in the spring of 2000, soon after Ujjal Dosanjh became leader of the governing New Democratic Party and premier. The 35-member opposition (34 BC Liberals and one Reform MLA turned Independent) spent months quizzing NDP ministers about their departmental operations.
But there was no legislative audit the following spring. Anxious to go to the hustings, the high-flying BC Liberals declined to participate in time-consuming debate, and the New Democrats obliged with an interim-supply bill to fund government operations through the general election. The 36th Parliament dissolved without passing the 2001-02 estimates. After the election, the 37th Parliament featured a massive, 77-seat BC Liberal majority against a tiny opposition of just two New Democrats. Joy MacPhail and Jenny Kwan doggedly struggled to hold the government to account, but it was nigh impossible for a couple of lonely MLAs - on top of debating government bills and participating in question period - to annually conduct an exhaustive examination of each department's expenditures.
And then this past spring, thumbing their collective noses at parliamentary niceties and their party's commitment to legislative reform, the BC Liberals simply refused to subject the fiscal 2005-06 estimates to pre-election legislative analysis. Instead, the Campbell government enacted a block-busting $16-billion interim-supply bill which allowed BC Liberal MLAs to hit the hustings and then enjoy a leisurely summer.
So, the inaugural session of B.C.'s 38th parliament will be devoted to tidying-up unfinished business. Although Taylor's budget boasts of soaring government revenues, a tax cut for corporations, and a handful of new spending initiatives aimed at seniors and First Nations, the main activity between today and the scheduled recess on November 24 will be passing the estimates for a half-completed fiscal year.
NDP chomping at the bit
Campbell's Liberals my soon wish they had finished the 2005-06 estimates debate months ago, because they now face a much-strengthened 33-member opposition. And although the fall session will be relatively short - just 31 scheduled days over an 11-week period - there is plenty of time for legislative fireworks to erupt. (Not all 31 legislative days will be allocated to the budget estimates, however; six days are set aside for debate on the speech from the throne, and another six to Taylor's budget speech.) Under our parliamentary system of government, the executive must obtain yearly consent from taxpayers - through their elected representatives - before expending public monies. Each annual budget, therefore, segments or divides the Consolidated Revenue Fund into numerous items of expenditure, notably government departments, various operations, legislative offices, and other functions.
These spending items, called 'votes,' are debated individually. That is, a vote is called for debate, and opposition MLAs (government backbenchers also may participate) fire question after question at the cabinet minister responsible for the expenditure. Days or even weeks may pass before exhausted legislators decide that the vote has been thoroughly canvassed.
The debate concluded the legislature votes in favour of, or against, the item of expenditure. Government ministers and backbenchers with very rare exception do the former; opposition members nearly always do the latter.
Interestingly, while CRF spending has risen significantly in recent years, the number of budget-votes has declined dramatically. In 1985-86, for example, $9 billion in planned spending was divided into 84 separate votes. Twenty years later, spending is up three-fold to $27 billion, but the number of votes has fallen nearly in half, to 47.
Below are 10 'votes' which may spark fireworks during the current session of BC's Legislative Assembly.
1.) Vote 8, Office of the Premier - $10.6 million.
Ten years ago, when then-opposition leader Gordon Campbell took part in his first estimates debate, NDP premier Mike Harcourt derided the newcomer's line of questioning as 'puerile' - that is, childish and silly. Does Campbell remember that humbling experience? NDP leader Carole James, a legislative neophyte, will try to score a few points.
2.) Vote 18, Ministry of Children and Family Development, Ministry Operations - $1.1 billion.
Adrian Dix, one-time aide to former NDP premier Glen Clark, now critic for children and family development, laid waste to an entire forest over the summer issuing news releases castigating Stan Hagen and his ministry. He is certain to have a full quiver of barbed questions this fall, while Hagen, a veteran cabinet minister, can be expected to be equally well-prepared. Childcare critic Diane Thorne will try to get in a few licks.
3.) Vote 34, Ministry of Health, Ministry Operations - $11.3 billion.
This gargantuan department will consume 42% of the entire CRF budget in 2005-06. New minister George Abbott, one of the government's brighter intellects, goes up against a trio of NDP newcomers. Leading the charge will be David Cubberley,, with assistance from mental health critic Charlie Wyse and seniors' health critic Katrine Conroy.
4.) Vote 23, Ministry of Education, Ministry Operations - $5.1 billion.
Shirley Bond, the deputy premier, oversees the government's second-largest item of expenditure. She was capable but lacklustre in advanced education after entering cabinet four years ago, but got an ill-advised promotion to the giant and difficult health portfolio. Now at a less-demanding post, Bond - an ex-school trustee - faces John Horgan, former chief-of-staff to NDP premier Dan Miller and education critic. Horgan likely will score a few points before the session's end.
5.) Vote 10, Ministry of Advanced Education, Ministry Operations - $1.9 billion.
A sigh of relief was probably how Murray Coell reacted to his shift to this portfolio. Coell, whose lengthy political career includes terms as mayor of Saanich, will be quizzed by NDP newcomer Gregor Robertson. A 'star' candidate for his party in the May election, Robertson defeated a high-profile BC Liberal recruit and may continue his upward trajectory in the legislature. He is, however, a political neophyte and should find it difficult to bruise Coell in the current session.
6.) Vote 29, Ministry of Finance, Ministry Operations - $46.6 million.
The BC Liberals' biggest "star," Carole Taylor landed in the often-difficult finance department with sky-high commodity prices pushing government revenues heavenward. A lengthy list of predecessors probably grumble about how she has all the luck. It will be New Democrat critic Jenny Kwan's responsibility to critique Taylor's portfolio management and fiscal policies. A 10-year legislative veteran, Kwan is not known for her interest or knowledge of fiscal issues, but she now has an opportunity to shine. Taylor's decision to cut the corporation income tax might offer some ammunition.
7.) Vote 30, Public Affairs Bureau - $34.4 million.
PAB has a relatively tiny budget, but it's very "political" since it includes government advertising and communications. The bureau is part of finance minister Taylor's bailiwick, and Kwan will lead the charge, but other New Democrats - maybe the entire opposition caucus - can be expected to take a few easy shots at the BC Liberals' spin machine.
8.) Vote 14, Ministry of Attorney General, Ministry Operations - $369 million.
Former BC Supreme Court justice Wally Oppal will be challenged by attorney general critic Leonard Krog, as well as human rights and multiculturalism critic Raj Chouhan. Oppal and Krog have been known to suffer from the dreaded, self-inflicted foot-in-mouth malady. Each speaks his mind, occasionally before thinking. The legislature could charge admission to watch these two engage in verbal combat.
9.) Vote 40, Ministry of Transportation, Ministry Operations - $829 million.
Transportation minister Kevin Falcon arguably is the most right-wing member of the Campbell government. Facing him is newcomer David Chudnovsky, perhaps the most left-wing MLA in the NDP caucus. Their estimates debate might focus on transportation issues; then again, it might be more fun if it did not. NDP ferries critic Gary Coons will take many shots at the increasingly-dismal performance of the province's 'privatized' ferry services.
10.) Vote 22, Ministry of Economic Development, Ministry Operations - $444 million.
Colin Hansen was sure-footed when he headed the health ministry, but turned in a shaky performance during a brief spell at the challenging finance department. Economic development will be much easier, and he likely will excel. Mike Farnworth, a NDP veteran, is a cut above most of his colleagues and may have something to prove after a forced interregnum away from the legislature. Olympics critic Harry Bains will join the fray.
comments powered by

Disqus