When Jack Johnson Fought in Vancouver
The new world boxing champ, black and reviled, couldn't get a room here 95 years ago. Now U.S. luminaries want to restore his honour.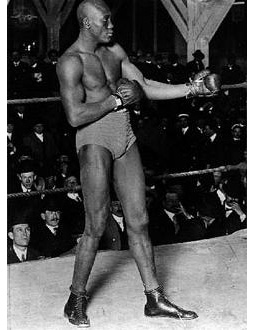 Part one of two
[Read second part: Johnson Dispatches His Vancouver Victim]
At 4 p.m. on March 9, 1909, the grand Australian liner RMS Makura berthed at the Canadian Pacific Railway dock on the Vancouver waterfront. The year-old turbine steamship had left Sydney 22 days earlier, stopping at Brisbane, Suva, Honolulu and, in the early morning hours that day, Victoria. The hold contained bags of coffee, boxes of butter, crates of onions, barrels of coconut oil and such exotica as hides, pelts, legs of mutton and bales of sheepskins. The eight crates of Eucalyptus oil were unobtainable here, not so the 5,268 pieces of timber arriving as a coals-to-Newcastle shipment.
The Makura had also ferried 367 passengers across the Pacific, many of them returning from a holiday in Hawaii. A large crowd gathered at the pier, eager for a glimpse of a giant of a man about whom they had read so much. He was not hard to spot, standing 6-foot, one-quarter inch, weighing 211 pounds, a broad-shouldered man of elegant dress who towered over his wife. His smile was memorable, not the least for the gold-capped teeth he displayed.
John Arthur (Jack) Johnson was heavyweight boxing champion of the world, a title he had won in Australia the previous Boxing Day by beating Tommy Burns, a Canadian. Johnson nearly killed Burns and their bout was ended in the 14th round by police who feared such an outcome. The Canadian had taunted the Texan about his race and, though he was the first white champion willing to face a black man, he paid dearly.
Move to pardon vice conviction
Johnson, known as L'il Arthur and the Galveston Giant, after his hometown, had demanded for years to have his shot at holding boxing's greatest title. White supremacists were incensed by his triumph and a search was immediately conducted for a Caucasian fighter to wrest the crown. Some still seek that elusive Great White Hope.
As champion, Johnson was baited, taunted and persecuted. He was convicted under a vice law known as the Mann Act for having transported a white woman across state lines for immoral purposes; she married him after they were questioned by police. Johnson skipped bond and fled to Canada to avoid jail, as though this land once again was the terminus of an underground railway for a runaway. He would up in prison after returning from a seven-year exile in Europe.
Now, the documentary filmmaker Ken Burns is leading a campaign demanding Johnson receive a posthumous presidential pardon. Burns filed papers with the U.S. Justice Department last month. Among those lending support are U.S. Senators John McCain, Ted Kennedy, and Orrin Hatch; Congressmen Charles Rangel and Jesse Jackson Jr.; retired boxer Sugar Ray Leonard and boxing historian Bert Sugar; rapper Chuck D and the actor Samuel L. Jackson.
Proud and hated
Johnson was "the most despised pugilist of modern times" the Los Angeles Times wrote in 1912. He was proud, arrogant, provocative. Johnson taunted his challengers before administering a beating in the ring. He also demanded -- and received -- a lion's share of prizefighting purses.
But it was his behaviour outside the ring that even more challenged the racial status quo -- Johnson dressed in the finest clothes; played classicial music; read Shakespeare; flirted with, romanced and married white women. Newspapers were obsessed with the racial aspects of his love affairs, the more so by adopting a tone of racial and moral superiority when his wife committed suicide in a room above his Cafe de Champion in Chicago.
Johnson's 15th-round knockout of former champion Jim Jeffries in 1910 caused jubilation in black neighbourhoods around the country, celebrations often quelled by violent whites. At least eight died. Texas banned the showing of films of the fight.
Hounded by authorities, living in exile, jailed for three years on a racially-motivated charge of white slavery, the champion's riches were exhausted both by necessity and by luxury. He ended his career appearing in traveling sideshows and at such venues as Hubert's Museum on W. 42nd St. in Manhattan, where he would lecture about the pugilistic arts and tell tales about the old days of the fight game.
Arriving in Vancouver
That sad end to a glorious ring career was far in the future when the Makura docked in Vancouver that chill March afternoon in 1909. The steamship brought him to North America for the first time since becoming world champion 10 weeks earlier.
As Johnson walked down the gangplank, an eager crowd pressed forward to shake his hand. He wore a heavy black overcoat over a dark grey suit, carrying in one hand a small walking stick which he had been presented in Australia. Several messenger boys squeezed through the crowds to deliver a stack of telegrams, which the champion read briefly before stuffing into a pocket.
"Camera fiends were in evidence everywhere," wrote a reporter for the Daily News-Advertiser, "as the smiling Ethiopian wended his way down the steamer's plank, with Mrs. Johnson, a handsome white woman, clinging to his arm."
Turned away
The former Nelly O'Brien of Philadelphia was a dashing figure, wearing a flower-bedecked hat the size of a platter, as was the style of the time.
On the voyage, she had played piano as accompaniment to her husband's bass viol. The musical interludes were conducted when the boxing champion, able to weather the worst blows his opponents could muster, succumbed to seasickness. "I am a bad sailor," he acknowledged once safely on dry land.
Johnson sought a room at the nearby St. Francis Hotel, housed in a new fireproof building with a panoramic view of the harbour with a French chef on staff. The city's famous guest was turned away. He tried the Hotel Irving, which boasted an electric elevator. They also had no rooms available -- for him. At Cordova and Abbott Streets, Johnson asked at the Metropole, where $2 got a room with steam heat, electric lights and running water. He again was turned away. The result was the same at the Rainier and the Astor. The heavyweight champion of the world, a man whose abundant cash was green but whose skin was black, was forced to stay at the home of George Paris, a jazz drummer and sports trainer who had experienced similar indignities.
Tomorrow part two: Johnson fights 'The Colorado Giant'
Tyee regular contributor Tom Hawthorn is a Victoria sports reporter who prefers yesterday's stories to today's scores.
comments powered by

Disqus