High Winds Thwart Northwest Passage Journeyers, For Now
An update from rowers tackling the legendary Arctic route.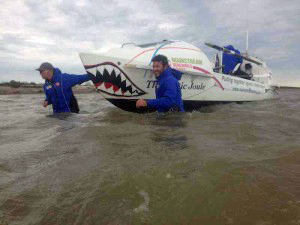 [Editor's note: A few weekends back The Tyee introduced a team of rowers attempting to cross the Northwest Passage this summer. The four Vancouver-based adventurers plan to be the first people to row this legendary route: a 3,000-kilometre journey through one of the harshest climates on the planet, in an effort to draw attention to the climate-changing north.]
A strange spate of gale-force winds impeded the first few days of a rowboat's voyage to the Northwest Passage.
The four crewmembers have been making their way up the Mackenzie River in the Northwest Territories to get to Tuktoyaktuk, where their journey through the passage will begin.
"The first day and a half were great, and then it all turned crazy," said crewmember Kevin Vallely in an interview by satellite phone.
The 7.5-metre boat -- a customized ocean vessel built to withstand ice and high swells called the Arctic Joule -- does not fare well in strong headwinds or in shallow water. The boat has frequently gotten stuck on sandbars in water as low as two feet deep. To compensate, the crewmembers jumped into the river to push the 1,125-kilogram boat.
At times the winds have gotten so bad they've simply had to bunker down and take shelter behind low-lying grassy hills. The crew kills time by playing Risk on an iPad, drinking coffee, and reading.
"Things are just really erratic," says Vallely. "That's the reality."
But their spirits have been buoyed by the beauty of the environment. "It's very fragile," added Vallely.
A different looking north
Along the way, they've met with elders that have told them the northeasterly winds are highly unusual at this time of year. The weather has also been cooler than normal, at times dropping down to -1 C.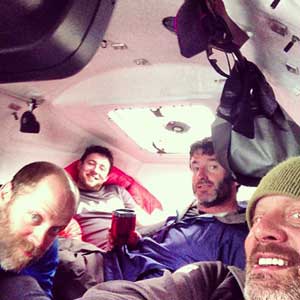 "It's not a question of global warming," says Vallely. "It's climate change."
Elders have also told them about animals like orcas, wolves and bears seen much further north than they normally would be.
Despite the challenges, the team is still in high spirits. Whether or not they reach their endpoint, they're confident of attaining their greater goal of making people aware of climate change.
Theirs is the first voyage of a human-powered vessel through the Northwest Passage. Until recently only large icebreaker ships would have been able to fare the journey. But warmer temperatures in recent years have made it possible for smaller boats to make it through the channel.
A live updated trip tracker is available on their blog, Mainstream Last First.
comments powered by

Disqus