How to Kill a Heritage River
Inside the fight to save Alberta's pristine Clearwater from massive 'industrial withdrawal'.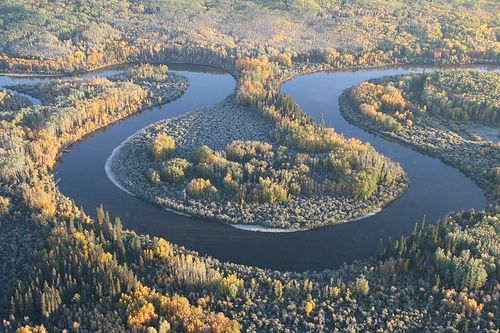 When John Beaton first heard about Opti-Nexen's proposals to withdraw 17,000 cubic meters of water a day from the fabled Clearwater River last year, the oil sands mechanic just shook his head.
"That's a Heritage River. The government will never allow it," thought the 41-year-old Fort McMurray resident. Beaton and his wife even signed a petition against the scheme along with nearly 2,000 other residents.
To the Beatons and their two daughters Alysa and Kaela the river is one of the region's greatest treasures and best kept secrets. During the summer folks simply drive downtown, put in their boats and within minutes quickly enter "a whole another world."
But when Opti-Nexen, the largest steam plant operator in the oil sands, persisted with the water taking proposal, Beaton, a native of Cape Breton Island, decided to do something.
"No one wants to hurt the hand that feds us," says Beaton. "And Fort McMurray has given my wife and I a great life. But the Clearwater is really important. And they can't mess with that."
In fact the self-effacing oil sands worker now finds himself in the middle of an alarming water controversy in the world's largest energy project. At stake is a 195 kilometre long pristine river that empties into the Athabasca River, as well as future business models for the water hungry steam plant producers in the region.
'Every company will want to do it'
"If Nexen can target a Heritage River for industrial withdrawal," notes one regional expert, "than every company along the river will want to do it. And if Nexen is having trouble getting water for its operations than all the Steam Assisted Gravity Drainage (SAGD) projects will be having troubles too."
The river, which achieved Canadian Heritage River status in Saskatchewan in 1987 and in Alberta in 2004 after a lengthy community-based negotiations, is largely untouched and richly historic. At one time it was at the centre of the fur trade and transported adventurers and explorers as famous as Peter Pond and Sir John Franklin.
In fact locals prize the river so highly for its quiet, clarity and beauty that the oil sands industry loosely promised not to touch the river nearly a decade ago. But with few exceptions almost every steam plant or SAGD producer (nearly 100 projects) now has concerns about the availability of water from aquifers or surface supplies for bitumen production.
Opti-Nexen's designs on the Clearwater
Opti-Nexen leads the pack. In 2003 the Calgary-based energy company now plagued with debt, got approval to build the $6-billion Long Lake project 40 k.m. south of Fort McMurray. Nexen then touted its steam plant facility and accompanying upgrader as a cleaner and better way to make bitumen.
Unlike big mining projects that suck up vast amounts of water from the Athabasca River, the steam plant builder vowed to use mostly brackish groundwater to melt deep asphalt-like reservoirs in order to produce up to 72,000 barrels of bitumen a day.
A letter from Mike Burt of OPTI-Canada to the Pembina Institute in 2003 even confirmed that the company was "now prepared to commit to include McMurray brackish water as a source, in addition to fresh water supplies, for the base project design."
But immature steaming technology combined with water-laden and impoverished bitumen deposits have given the Long Lake project unending headaches and steady financial losses.
The company initially reckoned it would take 2.4 barrels of water to produce one barrel of bitumen. But that figure climbed to an average of six barrels. Moreover, production never reached 72,000 barrels but got stuck at 27,000 barrels and is now declining due to persistent operational problems.
Opti Canada, which owns 35 per cent of the project and is now teetering on bankruptcy, predicted in its 2008 financial statement that the steam technology was subject to "uncertainty." If steam demands rose above three barrels per one barrel of bitumen the report concluded that costs would go up while production declined, placing the whole project at risk.
At the same time Nexen's annual Sustainability Reports noted that the company's freshwater and saline groundwater diversions at Long Lake increased from 735,000 cubic metres in 2007 to an astounding 2,239,000 cubic metres in 2009.
Shortly afterwards the water troubled company announced that it would target the Clearwater River as a future source of water for its bitumen upgrading facility.
No environmental 'implications' says company
Company spokesman Pierre Alvarez, the former director of the Canadian Association for Petroleum Producers, recently told the CBC Radio that the Heritage River offered the smallest environmental impact. Building a long pipeline to the Athabasca River or drilling more groundwater wells throughout the forest would disturb more land, said Alvarez.
"We don't think there will be any implications from this."
But Beaton and many long-term residents of Fort McMurray disagree. For starters, the application calls for between 17,000 to 25,000 cubic metres a day with room for expansion. A proposed pump house will have the capacity for 77,000 cubic metres. "That's a helluva lot of water," says Beaton.
And with the exception of small withdrawals for a local ski hill and nursery, the river now remains untapped by industry. "It's the last ribbon of green around up here when you look at all the land leases up here," adds Beaton. "It's vital to keep it healthy because it's all we have left."
So last year Beaton built a six by eight-foot billboard and mounted it on the back of his half-ton truck. It reads: "Wood Buffalo: Please Save Our Clearwater River From Industry."
Letter to the premier
Last February the bold sign caught the attention of Premier Ed Stelmach during a Fort McMurray visit. The Premier even encouraged Beaton to write him a letter about the matter. Beaton dutifully obliged.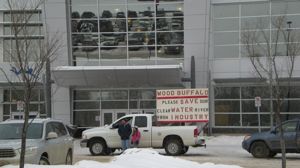 Beaton's earnest letter explained why the river meant so much to his neighbours and fellow workers in the bitumen city. The Clearwater, he said, was simply the place where his daughters "experienced catching their first fish, camping in a tent, playing on a sandbar, skipping rocks, swimming against the current of the river. . . picking wild blueberries. . . The Clearwater has taught them to respect and appreciate Mother Nature."
Added the letter: "My daughters just don't get it -- they don't understand why oil is more important than the place they love most -- I don't get it either, it actually breaks my heart. The Borealis forest has made a great sacrifice in order to fuel the oilsands. Why not bring that one little green ribbon that brings so much pleasure to so many lives?"
The Premier replied with a short note that said "our policy is minimize or eliminate the use of fresh water where there are possible alternatives." He also encouraged Beaton to contact Patick Marriott, acting regional approvals manager for the Alberta environment ministry.
Beaton rang him up but admits that he didn't have much of a conversation with the water bureaucrat. "He couldn't tell me much." Nor could Beaton find any transparent disclosure on the application process on a government website.
'I'll talk to anyone'
After being profiled by the local radio station and Fort McMurray Today, Beaton has now set his sights on city council and Mayor Melissa Blake. In fact "I'll talk to anyone who will listen."
Beaton is not alone. The Clearwater River Heritage River Society, a non profit group made of trappers, kayakers and snowmobilers, is 100 per cent behind the Nova Scotia native.
Even Tory MP Brian Jean, who represents the region, has opposed the application on the grounds that a Heritage River designation means that "the river will be managed to conserve its outstanding natural, cultural and/or recreational values." Last year Jean penned a blunt letter to the Premier too:
"I strongly believe that to approve this application would set a dangerous and undesirable precedent for the future. . . Taking surface water for use directly in the SAGD process must be strictly prohibited in defense of Alberta's long-term sustainable future."
In fact the Council of Canadian Academies concluded in a 2009 groundwater report that steam plants in the Wood Buffalo region could ultimately use more water than the mining operations. It also raised serious concerns about the sustainability of current groundwater withdrawals given the lack of groundwater mapping.
To date Beaton remains undaunted. "We have a gold mine here. We just have to use it right. You'd think though that we would have learned from past experiences with fisheries and forests. Why should we have to take water from a Heritage River? I'd like Nexen to get water for its upgrader but there has to be another way to do it."
He says he's got another question for the federal government too: "Are Canadians going to stoop to a new low and sacrifice a Heritage River in the name of progress?"
It's a query on the minds of more and more oil sands workers in the country's biggest boom town.
comments powered by

Disqus