Foreign Workers Seek Legal Grand Slam against Denny's
$10 million class action suit says contract terms weren't respected, a claim management denies.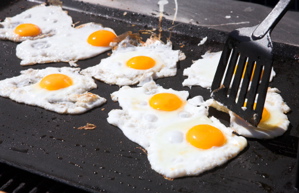 Denny's Restaurants, the iconic North American all night diner famous for its Grand Slam breakfast, is at the centre of a multi-million dollar class action suit filed in Vancouver earlier this month on behalf of more than 50 foreign workers brought to Canada from the Philippines.
The suit alleges that recruitment agents acting for the Canadian firm Northland Property Corporation (which is the exclusive western Canadian franchisee for the U.S.-based Denny's Corporation) charged workers up to $6,000 each for placing them in the Canadian jobs and required them to pay for their own transportation costs to and from the Philippines. Both expenses, the suit claims, should have been borne by the employer.
The workers also say they have not always received the 40 hours of paid work each week they were promised. On the other hand, the filing claims, when these workers are required to put in overtime, they are not paid the legally required higher rate. The class action document also claims that Denny's workers who complained about paying recruitment and travel fees or who questioned why they were not receiving the full weekly shifts and proper overtime pay they had been promised were threatened with punitive job loss and being sent back home.
The class action document also says that Denny's ("on their own behalf on through their agents,") coached employees to lie to investigators from the provincial Employment Standards Branch during a 2010 probe into the restaurant's labour practices.
None of these claims have yet been tested in court, and Denny's spokespeople denied any wrongdoing by the firm in an interview with the Tyee.
Temp workers 'highly vulnerable': lawyer
Charles Gordon, one of the Vancouver lawyers acting for the Filipino workers, told The Tyee that he believes this is a very important case, not just for Denny's employees but for all temporary foreign workers in Canada.
"The Temporary Foreign Worker Program has created a highly vulnerable group of employees, who, up to now have had no real way of enforcing the terms of the program. The federal government expects workers to enforce the law on their own. A 'do it yourself approach' is not adequate when it comes to workers rights," he said.
In 2009, Canada admitted 178,640 temporary foreign workers, with 14,484 of these admissions from the Philippines, according to Citizenship and Immigration Canada. Over 44,000 foreign workers were admitted to B.C. that year.
No one coached to lie: Denny's CEO
Asked about the allegation that workers had been coached to lie to Employment Standards Branch investigators, Bobby Naicker, CEO of Denny's operations in Canada, adamantly rejected the claim.
"Quite the contrary," he said in an email. "We asked the employees (through the management teams of the restaurants) to fully co-operate with the officers of the Employment Standards Branch."
Naicker issued a press release on January 18 laying out the company's combative response to the class action suit and its claims of worker rights abuse. In the release the CEO insists:
"These employees are a valuable part of our team and the suggestion we have treated them unfairly is not correct," said Naicker. "We look forward to responding to these allegations in court."
Alleged $6,000 fee hard to pay: organizer
According to Jane Ordinario, a member of the grassroots advocacy group Migrante, which is assisting the Philippine workers in their class action suit, over 50,000 of the approximately 250,000 temporary foreign workers now residing in Canada are from the Philippines. Ordinario, who came to Canada herself from the Philippines in 1990 as a live-in caretaker, the workers who come from overseas to do restaurant work are even more vulnerable than the women like her who come to do live in care work for Canadian children and seniors.
The Gaglardi Connection
Northland Properties Corporation, parent company of Denny's in Canada and named in a $10 million suit by foreign temporary workers, was founded in 1963 by Bob Gaglardi, son of Phil Gaglardi who was highways minister in the B.C. Socred government from 1952 to 1968.
"Flying Phil" as Gaglardi was nicknamed for his fast driving and frequent flying ways, was driven from office by a scandal involving family use of a government jet.
Northland Properties Corporation is a privately held company, still controlled by the Gaglardi family, whose $1.31 billion wealth in 2010 made it the fourth largest family fortune in BC and the thirty-ninth largest in all of Canada. Northland holdings include the Sandman Hotel chain and Moxie's Classic Grill restaurants and Shark Club sports bars as well as 37 Denny's franchises across western Canada and a newly opened Denny's in Newcastle, England.
In 2007 and 2008, Tom Gaglardi, Phil's grandson and Northland's current CEO, was a key figure in a high profile court case involving ownership of the Vancouver Canucks. His hockey involvement continues with his role in the ownership group for the Kamloops Blazers.
The Vancouver Sun's Vaughn Palmer reported on January 22 that Tom Gaglardi is a member of the "20/20" group, a team of prominent business figures backing Kevin Falcon's run for leader of the provincial Liberal party. The group is chaired by Ryan Beedie, Gaglardi's partner in the thwarted attempt to acquire control of the Canucks. -- T.S.
"We think that anyone who comes to Canada to work should be eligible to apply for permanent resident status," Ordinario told The Tyee. "Temporary foreign workers contribute to EI and to the CPP but never get to collect any benefits. In 2008, for example, temporary foreign workers contributed $303 million to the EI fund."
Ordinario said that the $6,000 recruitment fees allegedly exacted from Denny's workers represented a huge amount of money for workers who could expect, in Manila, to make an average wage of $4.35 a day.
The Denny's class action seeks $10 million in lost wages, recruitment and travel costs and punitive damages for the foreign workers, who were brought to Canada under the controversial Temporary Foreign Workers Program. This federal program, which critics say leaves the workers imported into Canada highly vulnerable to employer abuse, allows employers to import workers from overseas, binds the workers to the importing employer, restricts the amount of time a foreign worker can remain in Canada and prevents all but a few of those brought in under the program from applying to remain as permanent residents.
'Shocked by suit': Denny's CEO
Denny's CEO Bobby Naicker is confident that the class action suit will not be successful.
"We were shocked and concerned when we learned of the class action suit," he told The Tyee. "It caught us off guard. But we are comfortable we have done the right thing."
Naicker said that Denny's had a 95 per cent renewal rate among temporary foreign workers who chose to renew their employment with the firm when their original contract ran out. He pointed to the existence of a Denny's staff member whose job responsibilities include helping foreign workers settling into Canadian employment.
"We help them get accommodations, social insurance numbers and health care," he said. "We're not obligated to do all this stuff, but we do it. We even help new arrivals find churches and ethnic grocery stores."
Naicker said that the average wage for Denny's employees, none of whom are unionized, is $11.50 an hour in B.C.
Deborah Gagnon, vice president of operations for Denny's Canada was on speaker phone when The Tyee spoke with Naicker. Gagnon is named in the class action suit documents as the Denny's management figure who fired temporary foreign worker Alfredo Sales for asking about overtime pay and travel expenses. But Gagnon told The Tyee that she did not recognize the name and denied that she had ever fired a worker for making such inquiries.
Alfredo Sales, reached by phone in the Philippines, said he remembers Gagnon very well. He told The Tyee that he had come to Canada as a contract worker under the temporary foreign worker program in November of 2008, working as a supervisor at the Broadway Denny's in Vancouver.
'I had big dreams'
"I had big dreams when I came to Canada," said Sales. "I wanted to work and share my skills. I thought Denny's would be part of those dreams, but Denny's has integrity issues. Once I learned that I shouldn't have been charged $6,000.00 to get my job, and once I saw how sometimes I wouldn't get a full 40-hour week, and once the people at Service Canada and the Employment Standards Branch told me I should get the money I paid for travel back, I sent an email to Ms. Gagnon in June of 2010. She booked an appointment with me on August 10 and I thought she was going to accommodate me. But instead she fired me."
Sales said that Gagnon told him "the company didn't need my services any more, even though I had a contract until November. I was devastated, crying and praying. So I want to make a stand. The company tried to terminate me so other foreign workers wouldn't stand up to them."
Sales said he then spoke with the provincial Employment Standards branch.
"I was informed of ESA sec. 83 that an employer may not terminate an employee who is pursuing his right under the employment act. Deborah acted on behalf of the company for a breach of contract to my understanding," he told The Tyee in an email.
Sales said that after intervention by the provincial Employment Standards Branch, Denny's did pay for his return air fare and dealt with the issue of unpaid overtime, but the company has not paid him for the money he would have made if he had been allowed to work out the term of his contract, or for the $6,000.00 he was improperly required to pay the employment agency in the Philippines.
"Deborah was offering $2,600 as settlement for the breach of contract which I refused and didn't accepted for the very reason that it was way below than the remaining three and a half months pay of the duration of my two-years contract," Sales said in his email.
Denny's has brought 200 workers to Canada
The Denny's management team told The Tyee that their firm had been participating in the Temporary Foreign Worker program since 2006, and had brought in approximately 200 workers from offshore during that time, 50 of whom worked in B.C. restaurants. Denny's Canada currently employs about 2,600 workers across western Canada, they said. Naicker said that Denny's had paid air travel expenses for four temporary foreign workers to return to the Philippines so far.
The labour attaché for the Philippines Consulate in Vancouver, Bernardino Julve, told The Tyee that he had not been following the Denny's case. He confirmed that under existing inter-government agreements and local law, temporary foreign workers should not be required to pay recruitment fees to get a Canadian job, and should have their travel costs paid for return Philippines/Canada travel.
"We don't have jurisdiction in B.C.," Julve said, "but if companies in the Philippines aren't following policy, we could take steps. We have not been approached about this matter."
comments powered by

Disqus