Push to Get More Female Content on the Radio
'FemCon' regulations proposed.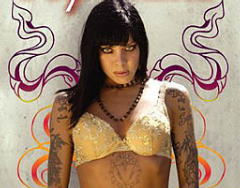 The radio dial of the future could contain 30 percent female musical content if a new proposal in the campus and community radio sector is widely accepted.
If enough campus and community radio stations support it, FemCon (female content) could follow in the footsteps of the 35 percent CanCon (Canadian content) regulation.
Inspired by a study conducted by Status of Women Canada and created by the campus and community radio collective Women's Hands and Voices, FemCon is an attempt to address a lack of balance between the sexes on Canada's campus and community stations. According to a resolution by the National Campus and Community Radio Association (NRCA), "FemCon is defined as music which meets two of the following categories: music, artists, lyrics and production by women." The NCRA represents 35 campus and community radio stations across Canada.
Modeled on CanCon rules
In the 1980s, the government broadcasting regulatory department, the CRTC (Canadian Radio-television and Telecommunications Commission), adopted and built upon the NCRA policy of playing at least 30 percent Canadian musical content.
Today, with the help of the campus and community radio sector, much of both public and commercial radio and television currently adhere to a minimum 35 percent Canadian content rule as a requirement for a broadcasting license.
"CanCon is the model FemCon is based on," says Art Ladd, 35-year-old program director at CKUW Winnipeg.
However, for some on the online NCRA list-serve, FemCon is not such a good idea for broadcasters. "I can't think of a single woman musician I know who would appreciate this," posts Helen Spitzer, Music Coordinator of CFRU in Guelph, to the general NCRA e-mail list-serve.
Jared McKetiak, Station Manager at CJUM in Winnipeg, added the comment, "Why not FrenchCon or AboriginalCon or some other Con?"
According to the numerous e-mail posts sent out on the list-serve, most campus community stations either claim their music already adheres to FemCon requirements or are simply refusing to recognize FemCon altogether. To date, there has been no definitive study on the percentage of female-produced music on Canadian radio waves.
Vancouver station signs on
Since its inception, individual campus and community radio stations have been left to decide how they want to implement FemCon. To date, only a handful of stations are actively pursuing the FemCon proposal. Vancouver's CiTR has decided to support FemCon. Other stations like CJSF (also in Vancouver) have been tracking female content for a few years and are considering the FemCon policy. For CiTR, FemCon is in its testing stages.
President of the NCRA and CiTR Station Manager Lydia Masemola doesn't agree with her colleagues. According to Masemola, FemCon flows from the mandate of campus and community radio. It naturally follows CanCon regulations because it helps represent under-represented groups, an aspect that is integral to specialized programming. "These programs don't exist in a vacuum," says Masemola. "You have to have policies that consistently encourage this kind of diversity."
Others, like 21-year-old CiTR student executive Alison Benjamin, advocates FemCon, but think the proposal needs some work. "I personally really support FemCon, but it has its problems," say Benjamin. The UBC undergraduate sees problems with the way women are defined. She wonders where transgendered people fit into the proposal as well as to what extent marginalized groups should get support via policy.
One thing everyone can agree on is that FemCon will certainly be one of the most watched agenda items at this year's NCRA conference to be held in June in Ottawa.
Robert W. Willis is a graduate student in the University of British Columbia School of Journalism.
comments powered by

Disqus