'Bad News From Around the World + Tales of Redemption'
Matthew Good shares his must-read blogs.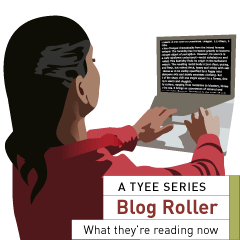 [Editor's note: Canadian singer-songwriter Matthew Good started posting short fiction on his band site a decade ago. Then in 2001, when he started blogging about political and social issues at MatthewGood.org, the site quickly became a forum for debate. The tagline is "Bad news from around the world + tales of redemption," and the blog, which gets over 12,000 unique readers a day, focuses mainly on U.S. foreign and covert policy, human rights, militarism, history and, at times, music. Sometimes he still runs prose and poetry. And recently, he chronicled his battles with bipolar disorder.
The blog says, in the last 10 years, "the face and name of this website has changed, content has come and gone, and it has even been altogether removed with adamant promises that it would never return. But for some reason it always does, primarily because of the interest and support of its readership." A few months ago, he brought in several contributors, turning his blog into a kind of co-op. The blog won "Best Progressive Blog" in this year's Canadian Blog Awards, and Good is a voting Academy member for the Webby Awards -- the equivalent of the Oscars for the blog world. What follows are his must-reads.]
Lauren White: One of the most difficult things to do as a blogger is maintain a consistent level of interesting content, one that draws readers back time and again. While blogging has become vastly popular, there have been few that have been able to sustain their blogs more than a year or two without succumbing to fatigue, and most simply lack the ability to continually produce quality content. This is where the skills of quality diarists come into play, and in my opinion there is none finer than Lauren White, known to most as Raymi The Minx.
Over the seven years that Lauren has been writing, she has been able to maintain not only a consistent standard of interesting, quirky and, at times, crazed content, but has also transcended the format and turned it into an art form that, to me, parallels at times the likes of Bukowski.
Don't get me wrong, she certainly has her detractors, most of whom are unable to grasp what she is doing and the thought processes that are attached to each offering, which to me is a sign that an artist is doing something right rather than wrong. In a word, she is original. In fact, she is so original that her style has been copied by literally thousands of others.
Informed Comment: Juan Cole is president of the Global Americana Institute and a professor of history at the University of Michigan whose field of expertise is in Middle Eastern affairs. Over the last five years he has provided a thorough examination of events in the region that obviously far exceeds what most of us are accustomed to. Of all the regularly updated academic blogs, and Cole's is on a daily basis, his is easily one of the most articulate and well-researched of them all.
Raed Jarrar: Over the years I have been lucky enough to have a few discussions with Raed Jarrar, who is best known for being one of the voices of Where Is Raed?, which, like Baghdad Burning, was one of the few Iraqi blogs that provided an Iraqi perspective during the 2003 Anglo-American invasion of Iraq. Raed's passion about the occupation of his country eventually led him to the United States, where he has been active in the anti-war movement. Given his travels and schedule, there are times when his blog isn't updated for periods of time, but his perspectives on events in the Middle East are always interesting and brimming with passionate resolve. It is, like Baghdad Burning, a must read.
Tony Pierce: Chicago Cubs fanatic, music disciple, Los Angelino, photographer, wanderer, blog fanatic and the editor of the LAist. When it comes to blogging, there are a million and one things that can said about Tony. But being that I've known him for years I have to admit that, at the moment, I am struggling to remember what the million and first thing is -- but, it'll come to me.
Tony is a purist in the realm of stream-of-consciousness blogging. His blog can neither be categorized by a specific content type, nor could it be claimed that it is without focus. He is, at times, argumentative, brash, and full fisted, while at other times pensive, humorous, reflective, and purposely out to lunch.
Over the years we have podcasted, talked for hours about a multitude of happenings, and even spent time basking poolside in the comfortable California sun. What that last tidbit has to do with blogging I'm not sure, but if there's one person one the planet that could make it applicable, it would be him.
Miss 604: Over the last half year I have become friendly with Rebecca Bollwitt and her husband John. Rebecca's blog is, in my opinion, one of the few truly Vancouver-specific blogs out there, that lacks the sort of pomp and upper-crust pitfalls that plague many of the city's self proclaimed Vancouver-specific blogs. Her genuine approach, coverage of the Canucks, contributions to Metroblogging Vancouver, and down-to-earth nature make her blog a daily pleasure to visit.
comments powered by

Disqus