Canadian Idle
Why hopefuls audition for a show that won't make them stars.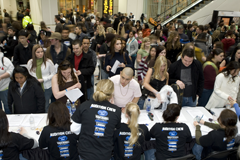 Hell, thy name is Metrotown. In this inferno, there are shops of every stripe that stretch out ad infinitum; floor upon floor of displays of naked capitalism; gaggles of sullen teenagers; and a tangerine-coloured Ben Mulroney, human semaphore for the twin evils of free trade and baseless celebrity. Today is Day 2 of the Canadian Idol "Easy Access Tour," a cross-country cattle call for aspiring singers who hope to make their break on the popular reality show. It is miserable outside, but inside, the grand gallery of the behemoth Burnaby mall is packed not so much with people but with hopes and dreams: kids between the ages of 16 and 28 who hope to get a sip of elusive fame. But, amidst all the chaos and hype lurks a dark secret. And those hoping to conquer the world might be better off Skytraining it back home to practice than waiting for hours to be judged.
This will be the fifth season of Canadian Idol, a franchise of the international Pop Idol phenomenon, which saw its start in the UK and spread across the pond, becoming a breakaway hit in the U.S. and, to a much lesser extent, here in the Hinterland. For those unfamiliar to the format (are there any of you left?), the premise is simple: aspiring singers audition in cities across the country, then progress through a phalanx of producers and judges. The cream of the crop ends up on the broadcast program. And there, audiences vote for their favourites, and ultimately eliminate all but one "idol."
Last year, Canadians cast some 36,354,969 votes throughout the whole season, eventually crowning Gatineau, Quebec's Eva Avila as the winner. It's hardly worth pointing out that viewers cast more votes than there are citizens of Canada (there are 32,821,340 according to the population counter at Statistics Canada), and cast more votes than in the last federal election. That sounds impressive, until you consider that, in the U.S., some 64 million votes were cast in one night alone to choose last year's winner, Taylor Hicks.
Mall rats or megastars?
With all that in mind, the mood at the auditions is surprisingly toned-down. Though nervous faces mill around, and numbered tags cover stomachs almost certainly full of butterflies, contestants are largely just wandering around the mall: in Purdy's enjoying a conciliatory ice cream; in Zara, finding just the right tarty audition outfit; in the House of Knives, contemplating hari kari. The hysteria is just not the same on the American or U.K. versions. This year, auditioners are allowed to accompany themselves with instruments, and this rule change seems to have attracted a new breed of musician: the seasoned music vet. Now, it's more of a "What the hell, I'll give it a shot" gambit for exposure. They sit like urchins outside of lingerie shops gently plucking guitars and singing under their breaths. Alongside this, travelling mall minstrels are traditional hopefuls -- sweet, dressed-beyond-their-years teenage girls, mostly -- but no one here seems to be shouting "I'm the next Canadian Idol" as they do on the U.S. and U.K. versions. In fact, ask around and, despite the lineups, no one here really seems to think that Canadian Idol means fame.
Seventeen year-old Vicki Edmiston is here with a group of her high school friends, along with her supportive and personable parents. She's pleased because yesterday, she was invited back for a second audition (there are three in total, the last audition being in front of the "celebrity" judges). The group is waiting on a bench for Vicky to be called into one of the trailers outside the mall. Like most media-savvy teenagers, Vicky and her friends don't really rate Canadian Idol as a kingmaker.
"I've always wanted to be a singer, so I figure this is a really easy opportunity to try to be one...It's one way to get famous. If it works, it works," says Edmiston simply.
Celebrity reservations
Pressed further, Edmiston and her three friends admit they don't really watch the program themselves. "I don't think [the show] is successful at all," says one friend, laughing. "I watched the first season, but that's about it."
"We don't have as much hype here," says Edmiston "In the States, its all about who's living where and who's hitting it big. And here, we're just like, 'Okay, you're famous.' We don't have celebrities here, really. They all go to the States, I think."
Most other Idol hopefuls at the mall say they feel much the same way. Cracking the Canadian market is small potatoes, unlike the U.S., where Idol consistently trounces all other TV competitions, and winners and finalists go on to get Oscar noms and Grammys.
In the "second tier" holding room (where auditioners who have made it through the second round are held), handsome and camera-ready Rob is similarly dubious about the show's success. "I'm here because I want to entertain," he says, when asked if he thinks the show will make him a star. "But Canada tends to promote stuff after America has made it famous."
Fame, anyone?
And with those words, the 21-year-old bartender has pointed out the hole in the Canadian Idol premise. Outside of Quebec, Canada has no internal star system of its own. While we're certainly willing to stamp the Canuck flag on someone who's gone double platinum stateside, we have no yardstick of success for homegrown success. Whether it's due to a sheer numbers game (or lack thereof) or something endemic in Canada's perpetual over-earnestness, you're nobody until somebody (else) loves you.
A dozen hopefuls in a trailer await their last audition of the day, and are nonplussed by how far they've made it. When asked if anyone thinks they're going to win, the room falls strangely silent. "I'm think I'm gonna pop your soul off!" says one young chanteuse hopefully. But overall, the question seems to float in the air for just a second, and then fall flat to the ground. For the most part, it seems agreed that Canadian Idol will not make anyone a star.
"I'm just doing it for the experience, to meet people," says Arlo, a 16-year-old high-school soul singer, adding that he would prefer to pays his dues and make it in the music biz the old-fashioned way. "I won't be upset if I don't make it."
"I wouldn't have come here before. I'm doing it as a present for my wife. I vowed I'd never try out, but she made me.," says Luke, a guitarist and singer, who at 28, perhaps understands more than young Arlo how difficult making it in the industry the old-fashioned way can be. "I used to play in bands, and I never thought I would do this...Even if you don't make it, though, going through all these auditions exposes you to a lot of people."
The other contestants concur. Idol Canada is all about exposure to the industry, and not about winning. To that end, while I imagined I'd find hysteria at an audition like this, there is nothing but sheer practicality and quiet determination. Indeed, I kind of feel bad for these kids: with instant fame and celebrity in the U.S. so tantalizingly close, rinky-dink Canadian Idol standing is, at best, a ticket to ride south.
"It'd be nice to win," says 18-year-old Rebecca, after a moment of awkwardness in the room when the contestants are asked to name all the previous year's winners. "But coming in second, or just finishing near the top, that'd be ideal."
Heart set on coming in second? This girl's got Canadian Idol written all over her.
Related Tyee stories:
comments powered by

Disqus