Gimme Jackie
They make blue-eyed pop with a classic twist, they're from White Rock, and they're going to be huge. Meet Jackie Valentine.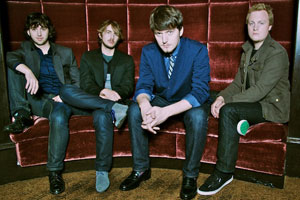 Because it was the company that Nickelback built, Vancouver's 604 Records faced a mountain of prejudice when it introduced itself to the public in 2002. There's still an unreasonable amount of hostility directed towards the label. If the initial charge was that 604 might be the headquarters for a bunch of post-grunge sound-a-likes, label heads Chad Kroeger and Jonathan Simkin promptly pulled the rug out by partnering with Mint Records and signing The Organ -- one of Vancouver's key hipster bands at the time.
Since then, the label hasn't hewed to any one type of music, with the cabaret electropop of Jakalope sitting beside Daniel Wesley's breezy, beachside reggae, Thornley's testicular, gearhead rock and the new country of Aaron Pritchett. And that's just a small cross-section. Nobody's required to think all or even any of it is good, but in fairness to the label, 604 is known to indulge its bands in the studio in ways that would give your classic A&R bozo a coronary. Plus, much of it is actually very good.
604 is also a shamelessly populist venture. There's a portion of its roster -- Carly Rae Jepson, Faber Drive -- aimed stealthily at the tween market, so anybody still intent on bashing it has a pretty wide angle right there. On the other hand, there's a scale and ambition behind the Marianas Trench album Masterpiece Theatre that you wouldn't glean from the routine and uninformed drubbing the band has taken from pretty much anybody that isn't glued to MuchMusic.
The label's newest rave, Jackie Valentine, will probably get the same kind of kneejerk treatment. And it's tragic, because 604 is sitting on a phenomenally talented band -- from White Rock, no less, and fronted by a singer-songwriter named Kieran Mercer who's all of 22. That Jackie Valentine is making digitally buffed, modern pop music is irrelevant; debut album Building Walls and Burning Bridges is so stunning in its range and confidence that it simply doesn't matter what genre the band slots into. But guess what? You'll just have to take my word for it, since it isn't released until the Spring. But the first single "Brand New Car" is available for your listening pleasure here. And guess what, again? I've been spinning Building Walls non-stop for over a week and I think "Brand New Car" -- as good as it is -- is also probably the least striking track on the album.
You'll get a better sense of Jackie Valentine's scope if you head to its Myspace and check out the Jackson-shaped neo-soul and pop hybrid "Someone to Go Home With" or the blue-eyed Maroon 5 dimensions explored on "Giving It Up to Me." As for the rest of Building Walls, skeptics need to give a fair hearing to the fiendish syncopation of the title track -- which at the very least demonstrates how well these little bastards can play -- and they should lend an ear to the more classical influences wafting around elsewhere, whether its ELO ("Keep it Going"), Fleetwood Mac ("On My Way"), McCartney ("Lay Low," "On the Phone"), or Cheap Trick ("Caged Down Here").
Of course, if you happen to be militantly opposed to commercial pop music marketed to kids, no matter how smart and brilliantly constructed it is, then I wouldn't bother. But it's a position I've never been interested in myself. Same goes for Simkin over at 604, who signed Jackie Valentine based on a demo he heard on Mercer's Myspace. If the 604 head has been on the trail of another world-devouring golden egg, Jackie Valentine might very well be it.
comments powered by

Disqus