Open Data Geeks to the Rescue
Invited to a 'hackathon' by the BC gov't, they turn digital info into usable tools for citizens.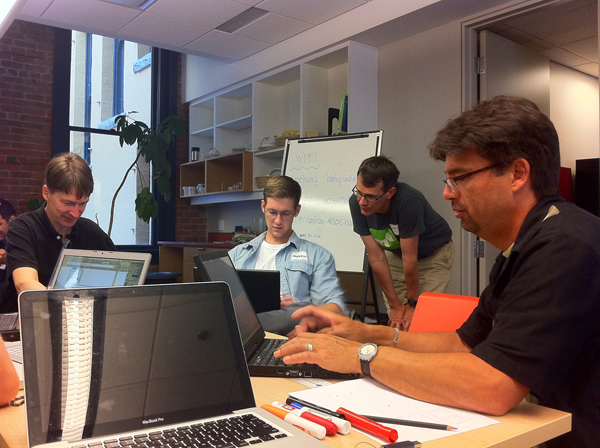 Call it the open data movement. Led by a volunteer group of independent computer programmers, data management experts and analysts, and motivated by caffeine and citizen engagement alone, they can turn raw numbers into usable tools.
And at the OpenDataBC hackathon on Saturday, they accomplished projects in a few hours that the B.C. government has been working on for months, Bowen Moran said, who wrote his twitter name (@bxmx) on his name tag. 
Take VanShelter, an app (still in progress) that displays which shelters in the Downtown Eastside have available beds, in real time. The idea is that the shelters update the numbers on twitter, and if you are a subscriber to the service, get free text messages on your phone.  
"People in the Ministry of Social Development are going to freak out -- but in a good way," said David Hume about the app, who is executive director of citizen engagement for the provincial government. "There are some big problems that have gotten solved today," he added.
On July 19, the province created the department Data BC and released 2,500 sets of data into the public domain. After retyping PDFs onto machine-readable formats, and clearing copyright restrictions, the flood gates were open, said David Wrate, who is part of Data BC. Now they add about one data set a day.
By releasing the data, the provincial government officials hope to spur social and commercial innovation. They also hope to create projects that can serve the public good. 
That's where the OpenDataBC hackathon comes in. There's a lot of public information out there, but it's not very user friendly.
Most of the data so far comes from the Ministries of Health, Environment and Education, with information ranging from vital health statistics to caribou herd locations to B.C. schools' Grade 10 exam results.
Stephanie Cadieux, minister of Labour, Citizens' Services and Open Government, said that she hopes this event will help improve the data that the province is collecting and releasing. "If we don't have the data to answer a certain question, then we need to know that so that we can go get it."
"That's the whole point of opening up government," she said, "it's up to society and to British Columbians to have a say in what we want from the Province."
The next hackathon event has yet to be announced, but organizers say expect at least three more this year. 
comments powered by

Disqus