The Rise of the Lego Video
'Brickfilms' are the latest in low-fi vids made with high-tech tools. What's the appeal?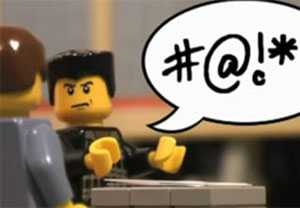 You are never too old for Lego -- at least, not if you live on YouTube.
All over the web, adults are playing with the colourful bricks, and posting their cinematic creations. The vids, sometimes called "brickfilms," feature Lego or similar toys, sometimes brought to life with computer animation software, but more often featured in tiny and meticulous stop-motion animations. This brickfilm might not be new, but I think it's the best.
Brickfilming is a bigger deal than you might imagine. Practitioners hang out on several big message boards, enter contests, and even hold their own film festivals, like this one hosted earlier this summer in Germany.
The genre predates YouTube by quite a bit -- Wikipedia suggests that the first brickfilm was completed in 1989. Along with all kinds of stop-motion animation, though, brickfilming has gotten a big boost from viral video. Inspired by clips and instructional videos on YouTube, new animators have taken up the craft. At the same time, YouTube has given these directors access to a much larger audiences than your average short film festival.
Previously in The Tyee's video column, I've featured at least two other stop motion films -- a music video that later went viral, and some brilliantly animated post-it notes. Audiences can't get enough of these clips. But the funny thing about stop motion is that it should be obsolete. With computer animation technology more widely available than ever, there's no need to spend hours repositioning Lego, post-it notes, or yourself to get the perfect shot. In fact, many Lego animators use fancy software to add special effects to their low-tech creations. It all begs the question: In this hi-fi world, what is the appeal of lo-fi art?
It might be that we find the manual labour involved even more impressive now that most of it is unnecessary. Or is it just that imposed restrictions promote creativity in a way that the blank slate of a 3D animation program can't? I'm leaning towards a simpler explanation. The best stop-motion films, especially those made of Lego, are playful in a way that other mediums can't replicate -- and we all want a bit of child-like delight in our day.
comments powered by

Disqus