Charting the Vote for Incumbents
Four or five will lose their jobs, if this election is true to form.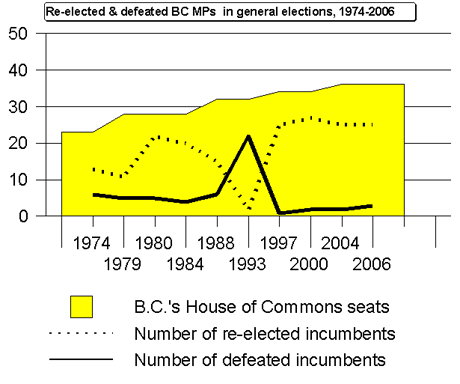 [Editor's note: This is the latest of a new feature on The Tyee through election day: Charting the Votes. In charts and prose, veteran political analyst Will McMartin breaks down the important factors in key B.C. races.]
If the past is a reliable guide, four or five of B.C.'s incumbent MPs will be defeated on Oct. 14. I'll share the math that suggests so further down. But first, who might be those unfortunate souls?
Currently the Conservatives have a significant lead in provincial polls, but Nina Grewal (in Fleetwood-Port Kells) and Gary Lunn (Saanich-Gulf Islands) look to be in tough contests. The New Democrats also enjoy growing popular support, but Catherine Bell (Vancouver Island North) and Alex Atamanenko (B.C. Southern Interior) must do their best to win re-election.
The Liberals at present seem to be losing altitude in B.C. polls, so Sukh Dhaliwal (Newton-North Delta), Keith Martin (Esquimalt-Juan de Fuca), Raymond Chan (Richmond) and Don Bell (North Vancouver) will be hard-pressed to persevere.
Blair Wilson, who won West Vancouver-Sunshine Coast-Sea to Sky Country in 2006 as a Liberal, left the party caucus amid allegations of improper election spending and now represents the Green Party. He appears doomed.
History's equations
Canada has had 10 federal general elections since 1972. In B.C. over those 10 contests, sitting members of parliament have offered themselves for re-election a total of 241 times.
And in those 241 contests, incumbents retained their seats 185 times -- or 76.7 per cent of the total.
On average, then, each B.C. MP seeking re-election has about a three-in-four chance of doing so.
(This analysis considers only those MPs who won their seat in the preceding federal general election and therefore served a full term in office; it does not include those who served only for a brief period in Ottawa after winning a mid-term byelection.)
Actually, the odds look to be even better than three-in-four. Of the 56 drubbings administered to sitting MPs by B.C. voters through the last 10 federal general elections, a whopping 22 occurred in a single year -- 1993. That was when the insurgent Reform Party made a stunning breakthrough to capture 24 of the province's 32 House of Commons seats.
As illustrated by the chart above, that year stands out as exceptional. Of two-dozen incumbents who re-offered themselves to voters, just two won re-election; the remainder were unceremoniously tossed out of office.
If 1993 is removed from our calculations, the number of incumbent MPs who were triumphant in recent decades is 183 out of 217 -- or 84.3 per cent.
Generally, then, a B.C. member of Parliament who seeks to hold his or her seat has a better than four-in-five chance of doing so.
Interestingly, each of the last 10 federal general elections has seen the defeat of at least one sitting B.C. MP. A single incumbent lost in 1997; two failed to hold their seats in each of the 2000 and 2004 contests; three were rejected in 2006; four felt the voters' wrath in 1984; five were kicked to the curb in 1979 and 1980; and six underwent a public firing in both 1974 and 1988.
Currently, 32 B.C. MPs who were victorious in 2006 are running to retain their seats in the 2008 federal general election. Four others opted for voluntary retirement.
The retirees include Betty Hinton, a Conservative from Kamloops; Penny Priddy, a New Democrat in Surrey North; and David Emerson, who after winning election as a Liberal in Vancouver-Kingsway, decided to keep his chauffeur-driven limousine and other ministerial prerequisites by joining the Conservative government.
The fourth is Stephen Owen, the former Liberal MP in Vancouver Quadra, who resigned his office in 2007. He was succeeded in a byelection by Joyce Murray, also a Liberal, six months ago.
Thus, if past elections are a guide to the future, we should expect that about 15 per cent of B.C.'s 32 incumbents -- that is, approximately four or five -- to be defeated on Oct. 14.
When British Columbians were twice as mad
A footnote: B.C. voters were doubly grieved in 1993. Most were angry with the federal Progressive Conservatives after nine years under Prime Minister Brian Mulroney (and a few extra months under Kim Campbell). Many more were fed up with the provincial government led by New Democratic Party Premier Mike Harcourt.
The federal general election that year saw all seven Tory MPs from B.C. who were seeking re-election go down in defeat: Ross Belsher, Campbell, Mary Collins, Al Horning, Tom Siddon, Stan Wilbee and Dave Worthy.
A stunning 15 of 17 NDP incumbents were rejected by B.C. voters: Dave Barrett, Dawn Black, John Brewin, Brian Gardiner, Lynn Hunter, Jim Karpoff, Joy Langan, Lyle MacWilliam, Margaret Mitchell, Sid Parker, Bob Skelly, Ray Skelly, Dave Stupich, Ian Waddell and Jack Whittaker.
The two B.C. incumbents who held their seats in 1993 were New Democrats Nelson Riis and Svend Robinson.
comments powered by

Disqus