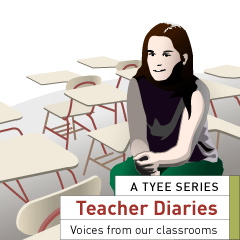 Every so often, B.C.'s Ministry of Education has to de-authorize courses that have remained on the books but which are no longer considered relevant to students. Times change and we move on.
Technical and Professional Communications 12, first offered in 1997, has vanished from the list of ministry-approved courses as of this school term. When a course's enrollment drops to 20 students, for the whole province, as it did for TPC 12, putting the thing out of its misery seems like a charitable action.
TPC 12 once met the English language requirement for graduation, making it the equivalent of English 12 in most regards. Despite this noble pedigree, it led its short life without fame or fanfare, eking out a meager existence at correspondence and online schools and adult learning centres. As far as I have been able to find, it was never offered as a face-to-face course at any B.C. high school.
Admittedly, it had an attitude problem from the get-go. Here is how it threatened the status quo: It counted as an English course, but aimed to teach students how to "prepare and present proposals on technical and business topics, as well as learn communication skills used in professions such as medicine, law and engineering," according to a Ministry of Education newsletter. It required students to read articles written by scientists rather than award-winning authors of fiction. It taught them how to write research papers, backing up their ideas on topics related to media, technology and finances, but never asked anyone to compose a poem or to define metonymy.
As a veteran high school English teacher, I find its failure interesting; it brings into focus a flawed assumption in our thinking about the role of communication and literacy skills to a high school education.
Bombing prevention
We place the highest value on English 12, which teaches composition in response to literature, when, in fact, TPC 12, which teaches literacy and communications across disciplines, looks better designed to give students a solid foundation for life after high school.
This is a hefty oversight. We march our best and brightest straight off to university only to have them bomb their first assignments because they have not yet learned how to write an essay.
When I spoke to Vera Lowe, manager of the Writing Centre at UBC, she confirmed that this "is indeed a problem." Though most of her centre's clients are international students, many are graduates of B.C.'s high schools. Since a high mark in English 12 allows students to skip the language proficiency test that others must take, they can slip through the system unnoticed. She tells me that the largest concerns her staff deals with are grammar and composition.
This is the crux. High school English courses emphasize response to literature, which results in students who can, in a freeform manner, express how a particular poem makes them feel. Lowe confirms, "They have no problem with that." Secondary English courses require students to memorize literary terms. By Grade 12, most students can select the correct example of synecdoche from the four choices provided on a multiple-choice test. What they tend to lack is the ability to structure their ideas and to systematically back them up. She laments that many first-year students need to learn "how to construct an essay."
In defence of TPC 12
Lowe explains that the Writing Centre has developed Writing 098, a course that gives students the skills to succeed in an academic environment. Here they learn about purpose and audience, paragraph unity, coherence and development and how to format a research essay. She reveals that this year, UBC has developed Arts Studies 150, a new writing course for humanities students, that will teach how to "bridge the academic and workplace environments."
By its very design, TPC 12 appears to be in much better position to address these issues than English 12 will ever be. I have taught English 12 many times over the years, and I will stand behind it as my favourite course to teach. There is no better place to teach students how to think clearly about why things are the way they are and why people do the things they do. In keeping with the outcomes the ministry has prescribed, I cover a lot of literature, but not a lot of writing.
Since I have never taught TPC 12, I call Ken Buis, a teacher at the Main Street Education Centre in Vancouver. Buis, who works in adult education, has likely put more students through the course than anyone else. He explains that English 12 is great for those entering the humanities, but that all others would be better prepared for their first year of post-secondary by taking TPC 12. Over the phone, he tells me that "this course was designed to teach students to be able to write concisely and in an objective manner."
By the time students completed Buis's course, they not only knew how to write an essay, but how to pitch a business proposal, deal with copyright issues, conduct research, critique a webpage, present a scientific report and communicate in an online environment. His students never asked why they had to learn what he was teaching, but immediately saw the relevance of the skills that they were developing. While most of my English 12 students enjoy the novels and plays we study, they often question why we study conventions of Elizabethan theatre or learn to distinguish between three types of irony and five types of conflict.
"Cancelling this course is an amazing disservice to our students," Buis spells out. This coming year, he will run a locally developed course based on TPC 12. "Business English 12," will be offered as an elective in addition to English 12. Despite seeing its relevance, many students will not have the time to take both courses.
Universities said no
When the Ministry of Education introduced TPC 12 in 1997, they expected all post-secondary institutions to recognize it as being different from, but equal to, English 12. According to the aforementioned ministry newsletter, the applied academics, of which TPC was one, allows students to "acquire academic qualifications for entry into post-secondary programs at B.C. colleges, universities, and technical institutions."
Most schools were on board, but the major universities were not. Instead, they treated it as being on par with Communications 12, a course that allowed one to graduate, but which was designed for those going into trades or into the workforce, and as such, was a decidedly non-academic option.
When I spoke to Marguerite Day, the manager at the Ministry of Education responsible for withdrawing TPC 12 based on low enrollment, she pointed to the non-recognition of the universities as the key element that brought down the course. "If universities are not prepared to accept it as part of their entrance requirements, then students will be reluctant to take it," she explains. "We are not doing kids a very good service here," she tells me, "but if that is what the post-secondary requires, then that is what the kids are taking."
She tells me that the ministry is petitioning the universities to consider A students in math A students no matter the academic level of the course they take. "We know from studies that they will continue to be successful." She admits that this should be the same for language arts courses such as TPC 12, but that it has "not hit the radar."
With universities now in the hot seat, I got back on the phone to UBC to see if anyone cared to defend their position. I was told that it was the responsibility of the English department, then the admissions office, and finally the faculty senate, "based on the recommendation of the senate admissions committee," according to Deborah Robinson of admissions.
I never was able to find out if anyone in the senate had ever heard of TPC 12, but I doubt that anyone was losing sleep over its demise.
Death through neglect
The other agent who let this course perish through neglect is the high schools, particularly the English departments which inevitably were saddled with the responsibility of teaching yet one more course -- one which wasn't really up their alley.
I thought back to 1997, when my principal attended our English department meeting to tell us about this new course. Myself and one other teacher found what she had to say interesting, while the rest of the department decided that this was not a "real English course." After the principal left, our department head announced that since none of us was interested in teaching TPC 12, "Business ed can have it."
I realize now that no one there, myself included, had the background to do this course justice. We all held degrees in English literature. We could explain why Shakespeare's rougher characters speak in prose while his aristocrats carry on their dialogues in blank verse. We could teach essay composition, in response to poetry or short stories, of course. Yet, no one had taken a course in technical writing or even read a scientific report, never mind written one.
There must have been some qualified teachers somewhere, but if there was, no effort to organize them in any large-scale way was ever undertaken.
School counselors advised all capable students to take English 12, as it kept their options open. TPC 12, a more challenging course than Communications 12, closed all of the same doors. They could have been the agents to get it offered in schools, but they were given no reason to do so.
Why one little course matters
Although I have no hope of TPC 12 being resurrected, I still view its demise as one setback in the context of a larger shift. Technological changes of the past few decades have broadened our definition of literacy in a profound way. Camera phones and social networking sites are just a couple of the tools that have changed the way that we relate to one another.
I will propose two solutions to our current problem. The first is what I see as the best option for our students, while the second is a healthy compromise.
All B.C. secondary schools should be required to create a communications department independent of the English department. This department will be responsible for teaching Communications 10, 11, and 12. There will be two versions of communications at each grade level, one for those who intend to go into the workforce and into trades, and another for those who plan to go on to post-secondary academic environments such as business, the sciences, law or engineering. Qualified teachers will have a bachelor of arts in communications. English 8 and 9 will be required but English 10, 11 and 12 will be offered as electives.
Otherwise, the Ministry of Education could update the English 11 and 12 curricula so that they more accurately reflect current needs. They could do this by incorporating much of what was known as TPC 12 over those two courses. This might entail dropping a novel or a play so that students can study articles from National Geographic, learning how journalists craft stories drawn from life and how photographs and other visuals can be best used to enrich the accompanying writing. Senior English teachers would require training in technical and scientific, and business writing and would have to demonstrate advanced skills in digital communication tools. The English 12 provincial exam would have to reflect this shift.
Unfortunately, there is no money at this time to develop new courses or to update old ones, I have been told by Marguerite Day at the ministry, so for the time being we are going to see the status quo. And here is the only upside I see to this. As long as it is business as usual in B.C.'s schools, Vera Lowe and her staff at the Writing Centre can be assured of gainful employment for a while to come.
Are you an educator who would like to contribute an essay to The Tyee's occasional series 'The Teacher Diaries'? If so, send an email to editor@thetyee.ca with the subject line: Teacher Diaries.