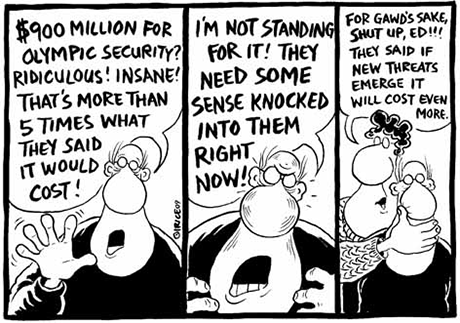 The Gordon Campbell government is in trouble where it least expected -- fiscal responsibility -- and are reduced to suspect bookkeeping with cheery monetary pronouncements attached.
I will predict with absolute certainty that if the Liberals are re-elected, we'll have a new "fudge-it budget" that will make the NDP version pale into insignificance. The budget Colin Hansen brought down will be re-tooled with dramatically updated bad news and will be explained by the minister solemnly intoning that things were changing so fast blah, blah, blah...
I have always found budgets themselves hard to deal with. The response of both government and opposition are so very predictable. Indeed, having been through these monetary moments myself in political days of yesteryear, I can recite the spin long before governments and oppositions give it, right down to the government's smarmy assurances and the opposition sneers. Plus ça change, plus c'est la même chose.
Budgets are highly political documents. ("Wow Rafe! I didn't know that!" rings throughout the province.) And this one for 2009 is more political than most because of the times we're in. In good times, the W.A.C. Bennett formula adjusted to a four-year term worked thusly: hit 'em hard in year one, ease up in year two then fill all the stockings to overflowing in the election year.
Well, that was then and this is now.
No money to bribe the public
There is no overflowing this election year so it's useful to imagine the process Colin Hansen, the premier and advisors mulled over. The fundamental question was, how the Hell do we get out of this with our government intact? The economy is going to get a Hell of a lot worse so there's nothing in the purse for bribes.
The Liberals found the answer: declare what would for mild students of Keynesian philosophy be an appropriate deficit and promise it will be down next year and before you know it, all will be well. They know it won't be but to lay reality before the people would lose them votes.
Let me pause here and ask a question of this government. Why didn't the minister of finance and his highly paid advisors see this terrible economic mess coming? This is not Monday morning quarterbacking because it wasn't that the information wasn't there; it was there in abundance. The U.S. was running huge trade deficits, huge budgetary losses with the national debt then at about $8 trillion -- yes that many trillions of dollars. It now stands at just under $11 trillion and is authorized to go to $14 trillion. To paraphrase the late American senator Everett Dirksen, a trillion here, a trillion there and pretty soon you're talking real money!
The stock market had seen the savings and loans scandals, it had seen Enron, and could see that what we all thought were the safest investments in the world like GM were swimming in red ink.
Everyone knew about the subpar mortgages and all of the highly dangerous hedge funds, derivatives, and other pea under the shell concoctions of your friendly stockbroker.
It didn't take genius to see that the over-heated, to put it mildly, house market was going to "correct" or "slump" before long. Surely it occurred to someone in the Finance Ministry that a forest industry already in a slump would be hit a near fatal blow if housing starts in the U.S. vanished, something that was bound to happen when the sub par mortgages started to default. It's a sad saga of which there is plenty more.
What finance ministers are paid to know
I hate to say this but if my wife and I could see this in 2005 and say "goodbye stock market, hello bank," how the hell couldn't those paid to watch and analyze these things not see it? Are Finance Minister Colin Hansen and the premier saying "Gee whiz, it all looked OK to us"?
I fully understand how most people would rely on their brokers or financial advisers who have seemed to be so right for so long. My questions are to those we pay to monitor the economy, make periodic sober assessments and be bright enough to look with a skilled eye at the information that only they have practical access to.
Finance ministers and their advisors haven't always been that dumb. In my last year in the B.C. cabinet, 1980, Finance Minister Hugh Curtis came to a cabinet meeting with his senior advisors and told us that troubled times were ahead. Much to the annoyance of senior ministers like me, the government passed legislation so that, except for very modest amounts, nothing could be paid without Treasury Board clearance. Discretionary funds, even if budgeted and passed by the legislature, were taboo. All ministerial trips had to be cleared with the minister of finance which was irksome because it didn't seem that this applied to the minister of finance's office.
The long and the short of it was that with far fainter evidence than we've seen, in 1980 and thereafter, then-premier Bill Bennett and his finance minister saw the black clouds, took action and consequently B.C. came out of the time of "stagflation" far better than the rest of the country did.
Demonizing New Dems
The Campbell government is reminding us all with carefully crafted ads that the NDP government of Glen Clark blew nearly $200 million on the "fast ferries" fiasco.
What it doesn't tell us is that overrun on the Liberals' Vancouver Convention Centre is double that!
There's nary a TV or radio ad telling voters of the shambles in the Olympics financing (where B.C. must pay all the overruns).
One hears very little about the crash of the government's partner for the Port Mann twinning boondoggle.
There's never a mention of how Campbell's energy policy is sending future hydroelectric profits to shareholders of large companies instead of to the B.C. treasury.
Premier Campbell doesn't explain how, when he decided to expand Deltaport, he evidently didn't know that the Panama Canal will be doubled in capacity by 2015, that the fabled Northwest Passage will soon be taking freighters and that Prince Rupert is a day and a half to two days closer to the main markets. Against all common sense, Campbell & Co are putting a mere $120 million into Prince Rupert while it's spending a billion on Deltaport while savaging ALR protected lands and sensitive wildlife preserves. Could that be because people in Prince Rupert don't vote right?
Examining the Liberal government and their past record causes me to conclude that for an NDP government to make more of a mess of fiscal matters will be a considerable undertaking indeed.
I confess to being a bit of a militant Scot whose gram, Jenny Macdonald, used to tell me about 1692, at Glencoe, when members of Clan Campbell, violating Highland hospitality (to say the least) slaughtered the Macdonalds in their sleep, then turned the women and children out into the wintry snows.
"I never met a Campbell I trusted," she would say.
Maybe gram was onto something.
Related Tyee stories: