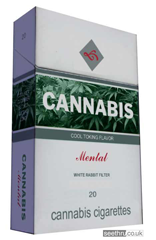 "The War on drugs fails, and is doomed to perpetual failure, because it is directed not against the root causes of drug addiction and of the international black market in drugs, but only against some drug producers, traffickers and users... the War is doomed because neither the methods of war nor the war idiom itself is appropriate to a complex social problem that calls for compassion, self-searching insight and factually researched scientific understanding."
-- Dr. Gabor Mate, well known Vancouver physician and author of In the Realm of Hungry Ghosts.
In the early 1930s, The United States was moving towards repealing Prohibition.
In the New Yorker appeared a cartoon that showed a large truck, obviously laden with contraband booze, sailing down the highway with a bumper sticker that said "DON'T REPEAL, ENFORCE." The booze criminals obviously had more reason to see alcohol prohibited than did the Women's Christian Temperance Union, who started it all back in the mid 1800s when Carry Nation busted up saloons with her trusty axe.
During the period of Prohibition, more liquor was sold than ever before. Smuggling liquor became an art form that made several Vancouver men rich, vaulting them to the top of the social ladder.
I have now been on this planet a remarkable number of years considering how I spent my youth and early manhood and thus have watched the drug scene since the 1940s. Then, the byword was "enforce." As, lamentably, it's been ever since.
In all those years, the only thing that hasn't been tried has been legalization or decriminalization.
Besotted hypocrites
Our society is, of course, as hypocritical as hell as it peddles well-advertised alcohol, the most dangerous of all drugs. The cost of alcohol to society is in the billions and even then things like broken homes, single parent families, costs to business operations and so on make it impossible to even come up with an educated guess at the real cost of booze to society. Yet no one seriously says we should go back to Prohibition and bring back the illegal stills, bootleggers, rum runners and dives or speakeasies that do so well when their product is illegal.
Logically, the legalization or, at least, decriminalization of drugs makes sense. The beneficiaries of our present system are criminals, the same criminals in large measure who are responsible for the ubiquitous shootings in Vancouver reminiscent of Chicago of the 1920s. The cost of enforcing drug laws, according to research, is mind boggling.
Federally, 11 departments and agencies spend approximately $500 million annually to address illicit drug use in Canada.
Since 1997, most of the government's legislative changes related to illicit drugs have focused on supply reduction (enforcement), not demand reduction.
While estimates vary, the United Nations believes that the annual global sales of illicit drugs are between $450 billion and $750 billion. In Canada, the government's estimates of sales range from $7 billion to $18 billion.
For the roughly 50,000 persons charged, 90 per cent of the charges related to cannabis and cocaine. Cannabis accounted for more than two thirds of the charges, and about half of all charges were for possession.
An estimated 125,000 people in Canada inject drugs. The economic costs, including health care (for example, HIV/AIDS and hepatitis), lost productivity, property crime and enforcement, are estimated to exceed $5 billion annually.
Let me pause here and say that hard numbers are difficult to assess but I quote the above to give readers some idea of what we're spending in public money.
No 'cure' for this disease
If, then, we take the profit motive out of drugs, have we solved our problems?
Of course not. Addiction, whether to alcohol or so-called hard and soft drugs, will always plague society. What it will do is vastly reduce crime. That is certainly the experience in Holland. Studies across the EU since 2000 show that The Netherlands ranks seventh in the use of marijuana -- after Cyprus Spain, the U.K., France, Germany and Italy. The prevalence is similar for other types of drugs.
There is another cost being ignored and it probably can't be quantified using precise figures as they would include the death, maiming and psychological damage to our soldiers. The main cash crop for Afghanistan, Burma, Colombia and other countries is drugs. The Taliban/al Qaeda forces in Afghanistan, who kill our soldiers, are, ironically, partly funded by drug sellers and users in Canada. If the United States, the EU and Canada decriminalized drugs, those exports would cease.
As I mentioned, Canadians have a thing about drugs and are pretty blasé about alcohol. I have trouble with the thought that it's perfectly legal for one to drink themselves into a stupor yet illegal to use any other drug. If we were really concerned about alcohol and cigarettes, we'd treat them as we do cocaine and heroin but we don't because we know that banning these substances would increase the supply because the public demand would increase. Since we know prohibition of "legal drugs" would increase smuggling, crime costs and health-related costs, then why do we think that prohibiting other drugs would be any different?
Rethinking addiction
To embark on a program to decriminalize drugs by taking the profit out requires a plan that deals with health, welfare and education. It would also take government commitment, a change in law enforcement culture and popular understanding of the solutions proposed and why it would improve our health and reduce gangs and shootings.
I don't believe for a moment that if you decriminalized drugs that there would be a massive march into the Downtown Eastside of Vancouver by people wanting to try them, which is the image the enforcers display. I hate to say this but could it be that the large "drug enforcement profession" don't want their jobs threatened by taking away their "clients"?
Considering the abject failure, over decades, of enforcement standing alone surely we should try a new approach as Holland has done.
It could hardly make things any worse.
Related Tyee stories: