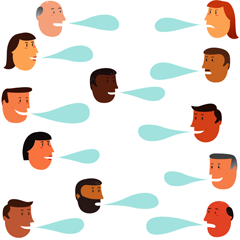 [Editor's note: On Thursday night, just as the debate was coming to a close, we unexpectedly hit the upper limit of the allowable comments. This meant that the system would accept comments but not display them. This is now fixed, and all comments submitted since then now display. Thanks for your patience.]
Political pundits for The Tyee and 24 Hours Vancouver will blog the debate here tonight as it unfolds, and you are invited participate. Join the "mass blogging" by posting a comment to the thread below this story, starting at 5:45 p.m. as the debaters are clearing their throats.
Feel free to react to what's being said by the party leaders, but also what's not being broached. May I humbly toss out three critical issues that I don't think are getting nearly enough serious media coverage or attention from party leaders?
1. Fusing our economy with America's. Given the U.S. financial sector meltdown, should our business and political leaders continue with their hush-hush negotiations to further merge the Canadian and U.S. economies and regulatory regimes?
2. The tar sands. Given the consensus of the world's top scientists that there may be less than a decade to reverse global warming before it spins out of control, what is the case for exploiting the oil sands, which will produce one fifth of Canada's greenhouse gasses?
3. Democratizing media. In this era of huge challenges and high stakes, will we citizens be able to make the best democratic decisions if the Internet is "throttled" by corporate control, cultural funding shrinks, and a few mega-firms own more and more of the media most Canadians consume? You may not be aware of it, but regulators are on the verge of remaking how you get your information.
Okay, I'm off the soap box, but hopefully that got the juices going. We look forward to your comments, and thanks for looking in on tonight's experiment in real time, mass blogging!