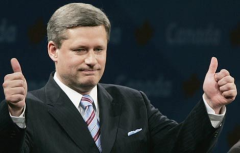 Elections national, provincial and U.S. Let's talk raw politics about all three.
Harper's gambit
There has been a lot of gup said and printed about Stephen Harper going to the polls. We're told that Canadians don't want an election. Why not? Is that walk to the church hall too long a distance for you?
The ones who say we don't want a vote are invariably the political parties who don't expect to win, namely, all three Opposition parties.
There is a political reality here. With a couple of exceptions (Diefenbaker in 1958 and Trudeau in 1968), there never is a good time to call an election in this country. We are invariably divided region by region so that whoever wins will have huge majorities in Ontario and/or Quebec with the rest of the country sucking wind. One of the advantages of minority governments is that the MP votes count for a bit more because the prime minister must at listen to them, even if he does nothing.
The political reality is that if Harper wins a minority government, he's in for two or three years with no party daring to bring him down. Elections exhaust supporters and the party treasury and as long as the supporters remain exhausted, the money stays at home. Harper knows that his opponents will be Dion, Layton and Duceppe, and this suits him fine. In a word, Harper knows that, subject to the vagaries of election campaigns, he will be either prime minister for two years, or three… or four.
He'd be bonkers not to call an election.
On the assumption that political columnists ought to declare their colours, I hereby disclose that I will vote Green. Under the Elections Act, the Greens will get $1.75 per vote cast and that, to me, is a better election return that anything the others promise.
James' chances
A recent poll in B.C. puts Carole James and the NDP ahead of the Autocrat and his Liberal toadies. This has come as a great surprise to many, and the NDP, while hardly cranking out the champagne, have a new buoyancy in their step. Those who have watched polls for an eon or two know that there is a very dangerous pitfall here into which the NDP could easily fall.
These pre-election polls, because they are pre-election, don't tell us whom people will vote for but what pisses them off at the moment, and at this moment it's Gordon Campbell. Carole James knows that when the Autocrat starts dumping hundreds of millions of dollars into key constituencies next year that these numbers could change dramatically.
What James must do is occupy the "no man's land" (all right, dammit, "no person's land") and soon.
Quite to the surprise of the Liberals, the environment is a big issue (and will get much bigger if I have anything to do with it), and the Liberals are in deep doo-doo all around the province. If James thinks she can ride to power assuming that people will vote for her just because they don't like Campbell, she is making a classic error for which there are examples too numerous to recite.
Where does James stand on the following issues: The sweetheart deal with Alcan allowing them to sell power to the detriment of their plant in Kitimat? Fish farms? Gateway (several issues)? The transmission lines in Tsawwassen? And, my main issue, the Liberals' energy plan, which will see our environment trashed, all power profits going to offshore corporations instead of the British Columbia treasury, and BC Hydro assassinated?
In the past, most environmental issues were local and the government could divide and conquer. That's not going to be the case in 2009.
There are, of course, many social issues to beat the Autocrat over the head with but, sadly, the great swath of swing voters doesn't care much about these matters except in the abstract. And to the extent James emotes on such matters, she'll be speaking to the converted who would vote NDP no matter what.
This poll, then, must goad Carole James into action on the one issue that crosses party lines: the environment.
(I again state my interest -- I'm spokesperson for Save Our Rivers Society, which strongly opposes Campbell's energy plan and, in the absence of a sea change in the Liberals' position, will be campaigning against them.)
McCain's crazy choice
Finally, let's look below the line as the presidential campaign eases from first gear to second. John McCain has made a calamitous decision to have Sarah Palin as his vice-presidential running mate. I couldn't care less about her daughter's pregnancy out of wedlock -- so far -- but McCain isn't after my vote.
There are two overriding elements in selecting a presidential running mate. The selection must appeal to a segment of the voters where the leader needs help and must bring electoral votes. Palin may indeed make the right wing happy because she's a woman opposed to abortion, but the right wing was going to vote Republican anyway.
The advantage for McCain is that these hot button issues will be left to Palin.
The trouble is that there are many in the swing vote area who will be appalled at Palin's hardcore opposition to abortion.
On the hard numbers side of U.S. politics, Palin brings the grand total of three electoral votes and can't even say that other western states, Washington, Oregon and California will go Republican because of her.
What about the fact she's a woman?
That will resonate with many but this issue has matured in many ways thanks to Hillary Clinton. It's true that the glass ceiling is still there but the cracks are getting bigger and it's doubtful that women voters, in large enough numbers, will be saying "I'm for McCain because he has a female running mate." While women acutely feel the gender discrimination that exists, they also see that things are improving. Moreover, speaking politically, many male voters who are sexists, open or covert, have votes too.
There is, of course, a far more serious issue not only for America but the rest of the world. What if the 72-year-old McCain is elected and hops the twig whilst in office? Do the American people and indeed the rest of the world want to have Sarah Palin as the commander-in-chief of the United States?
Palin, 44, served two terms on the Wasilla, Alaska, city council from 1992 to 1996, then won two terms as mayor from 1996 to 2002. In December 2006, Palin was sworn in as the governor of Alaska.
Hands up all who have ever heard of Wasilla, Alaska. Even Spiro Agnew and Dan Quayle had more experience than that. A key question, which will be raised again and again by the Democrats, will deal with Palin's fitness for the presidency should McCain die in office.
I should tell you that, by and large, I've pulled for the Democratic Party and my prejudices lie there.
There we have it, a three-fer. Harper can't lose, James could win, and McCain made a terrible choice.
Related Tyee stories: