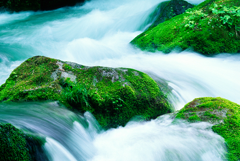 We are faced with a threat few of us have considered. We've been distracted, and deliberately, by governments, most particularly by the Campbell government, into ignoring the real environmental issues that face us.
No one, least of all me, would deny the problems of greenhouse gases which, for everywhere but Vancouver it seems, are accompanied by global warming. But this has become, so to speak, a smokescreen behind which massive rape of our environment is not only permitted but encouraged.
Throughout this province we see a massive environmental degradation started and cheered on by the Campbell government.
It's called, with Orwellian Newspeak, "run of the rivers."
Heedless of precautions
The precautionary principle sensibly says before you mess with the environment, the onus is upon you to show you will do no harm. That's been turned on its head.
Fish farmers don't have to demonstrate that they can operate safely. Courageous people like salmon researcher Alexandra Morton must risk prison and slander from both governments as she demonstrates the obvious harm being done.
Citizens in Tsawwassen must prove that transmission wires, which cause radios to scream with static and literally make hair stand up, might be dangerous.
Lovers of Burns Bog and nearby wildlife preserves must prove that the new adjacent highway will be harmful by hugely increasing and making more proximate traffic.
And lovers of the environment must demonstrate that private power plants, reducing river flows by 95 per cent in some cases, will hurt fish both resident and migratory. They must also demonstrate that dirt roads into streams will hurt wildlife and that clear cutting huge swaths of trees to permit transmission lines is bad for wildernesses. They must demonstrate that when you destroy a river you destroy its valley and all the flora and fauna that depend upon it.
What is notable about these massive environmental intrusions is that there have been no meaningful consultations before the decisions have been taken.
Public protest after public protest is occurring with the notable absence of Liberal MLAs and ministers. People must, apparently, accept that powerhouses, roads, tunnels many kilometres long and clear cutting for power lines are an improvement on nature.
The need is unproven
If one is to justify changing the environment, two things must be done.
First it must be shown that there is a compelling public need for it.
And second it must be done in a manner so as to do as little harm as possible.
The so-called "run of rivers" policy has no redeeming features whatever.
To begin with, the government has not established any need now or in the foreseeable future for drastic action to produce power. In keeping with this government's economical use of the truth, we're told that it's either a new mega dam on the Peace River at what's called Site C, or "run of the rivers" development. This is an old debating trick called the false dichotomy. That is not the issue for there's no need for Site C or a new era of "run of rivers" private power development. If you care to see the reality, have a look at John Calvert's book Liquid Gold or Google Dr. Marvin Schaffer for a number of excellent presentations.
These proposed run of river projects are environmental catastrophes and I invite you to go to www.saveourrivers.ca and look at the video Powerplay and others by Damien Gillis to see what they really look like.
The Campbell government constantly denies that hundreds of rivers and streams are at risk. It tells those who oppose the premier's plans that we are wrong when we say that "applications" are "licenses." In fact they are de facto licenses for this very simple reason. Once the application for a run of river operation is filed, all the applicant must then do is undergo an environmental assessment process -- which is a sham. The Environment Ministry has no power to stop any project and can only recommend "mitigation" -- the worst of many weasel words in "governmentese." Moreover, if the project is for less than 50 megawatts, no environmental process is required at all!
Power to the USA!
Let me just conclude on one point that has not been emphasized and must be.
Once our power is no longer created and sold by a vertically integrated public power company, BC Hydro, we become subject to the "proportionality" clause of NAFTA, which, simply put, says that if we wish to reduce our power exports to the United States, we must reduce our own use by the same amount. If we find in B.C. that because of low water or any number or reasons we need to reduce exports and use the power for our own needs, we cannot do it.
But here's the worst part. Once we start damming, weiring or tunneling our rivers, and providing private power to the United States, we change who profits.
We take the money that BC Hydro now earns and puts into the provincial treasury for hospitals, schools and the like and we give it instead to shareholders in companies like Ledcor and Westinghouse.
That's right, folks, we take our environment, our power, and our money and send it to shareholders (mostly American) in large international corporations! But it gets even worse than that. For once we start, how do we stop? We will have American governments declining to risk their own environments for power. Why should they when B.C. is delighted to bugger up its rivers for them?
Hydro down the drain?
Forgive me for spoiling your digestion with this final thought to chew on. BC Hydro, the jewel of our Crown corporations, is living, barely, under a death sentence that is being executed in three stages.
Stage one was selling the bureaucracy to Accenture, the bastard child of Arthur Anderson Consulting of the Enron scandal.
Stage two was stripping BC Hydro of its transmission lines and placing them in a different Crown crporation, British Columbia Transmission Corporation (BCTC), the very same outfit caught spying on the citizens of Tsawwassen.
Stage three sees Hydro left with its dams and Burrard Thermal and a $7 billion debt they will no longer have the money to service.
If Campbell wins the next election, BCTC will be privatized, BC Hydro will default on its bonds and the premier known so well for crocodile tear TV presentations will sadly tell us that since the province had guaranteed Hydro's bonds and must pay them, well golly gee whiz, while we sure didn't want to do it, we must sell BC Hydro's assets to the highest acceptable bidder.
Looking for an election issue?
The Independent Power Projects (IPPS) called "run of the river," are a ghastly mistake however you look at them. They will destroy the province's streams, rivers and the ecology of their valleys. The destruction will be permanent. The private power companies will be rich beyond description. We will lose the revenue from Hydro and Hydro along with it, leaving us with but one more giveaway left -- sell the water to the U.S. as well. After all, if the fish are all gone, why not?
All this because Gordon Campbell believes that all public enterprise is evil and that all private enterprise right. He clearly believes that having the best power policy in North America, the envy of all, must be sacrificed to the barren ideology of Margaret Thatcher, Ronald Reagan, Milton Friedman, the Fraser Institute and George W. Bush.
And the polls tell us he will do this with our blessing.
Whom the gods wish to destroy they first make mad -- or terminally naïve.
Related Tyee stories: