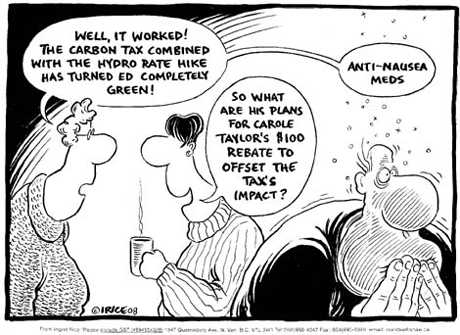 Hubris: exaggerated pride or self-confidence.
Can Gordon Campbell be beaten in May of 2009? The situation was probably covered by Damon Runyan when he said "The race is not necessarily to the swift nor the contest to the strong -- but that's the way to bet."
But sure things have turned into losers before. In 1972, W.A.C. Bennett had been premier for 20 years. Just three years before he had won a landslide victory against my old classmate and then NDP leader, Tom Berger. Those were good times -- what could possibly go wrong?
The Socreds were smug. They ignored the people. They lost the common touch. They just rested on their laurels and for their pains got slaughtered by Dave Barrett and the NDP. It wasn't one thing especially, just a lot of piss-offs with citizens and groups of citizens haughtily given the back of the hand. Hubris.
Hubris redux: Barrett's New Dems
Barrett and the NDP, in 40 months, managed against all the odds to become an old government before they even got started. They had waited so long for power that they couldn't wait to alter the political and economic landscape of the country. They acted as if the people, who gave them 39 per cent of the popular vote, had mandated the expunging of all vestiges of the past governments.
Yes, they did some lasting things that remain unchanged: ICBC and the Agricultural Land Reserve, for example. But that was more than offset by an endless list of goofy things, none of which in themselves brought them down but which cumulatively hurt badly.
They bought the town of Ocean Falls, which became a ghost town after the mill went bankrupt. They bought (God only knows why) a restaurant in Victoria, immediately dubbed Barrett's beanery. They bought a poultry business called Panco Poultry which became known as Pinko Panco, producing, said the wags, left wings and assholes. They bought up God only knows how much so-called B.C. art, most of which is still in the bowels of the legislature somewhere.
Based upon on a letter from Safeway that said "if you make good potato chips we might buy some from you" the NDP set up Swan Lake Potato Chips, poured money into it, and never sold a chip to Safeway or anyone else for that matter.
Best of intentions
Then there was the famous mineral royalty that was ruinous to miners, causing unions to be just as angry as management because they could see their jobs vanishing.
Good deeds, intended good deeds, catastrophes, and an attitude that, being socialists, they were doing God's work, pervaded government offices. Then, irony of all ironies, they thoroughly alienated the unions with ill thought out, more than faintly condescending back to work legislation which the government thought would be a good decision to call an election on! Great thinking! Get the entire electorate, including basic support pissed off, then call an election!
Strange things happen in politics. With 39 per cent of the vote Barrett won in a near landslide in 1972 and with the same popular vote in 1975 lost a near landslide to Bill Bennett and his re-born Socreds. The word jumps out at us: hubris -- hubris displayed in record time.
Unbeatable Gord?
Gordon Campbell is unbeatable in 2009 we're told. The bad old NDP years are still fresh in the minds of the voters, it's said. NDP leader Carole James is trying to apply the politics of a school board to provincial politics and just isn't making an impact, at least not a positive one, on voters. Times are good with incomes up and unemployment low. The Winter Olympics are coming and voters will want to express their thanks to Campbell at the polls. Maybe. But maybe not, too.
Let's look at the record.
Campbell gets nailed for drunk driving, his picture all over the front pages of Canadian newspapers. But although he was Mr. Clean as opposition leader, demanding the highest standards of the NDP government, he refuses to resign. By way of contrast, when one of his ministers sent a rude letter to a constituent on minister's letterhead he was fired by Campbell, never to be seen again.
The Campbell government is embarrassed, and a minister resigns, when it comes to light that a Prince George car dealer under investigation for fraud is given control of a $3 million budget intended to help people in community living arrangements.
All aboard?
BC Rail, the railway W.A.C. Bennett bought to be an engine driving the northern economy, was sold to CN Rail, now an American company. The government's power to help remote places prosper was sold to the Americans. Whoopsy daisy and oh, dear me, I forgot it was "leased" not sold but as a wag (me) pointed out, the lease is for so long that if you looked the same time backwards you'd be in the reign of Ethelred the Unready.
The fish farm issue which is an environmental disgrace and is wiping out run after run of wild fish, has been day after day, month after month, year after year supported by the Campbell government. Even today when there is enormous evidence of harm done by fish farms to the wild salmon, evidence the public now understands and deplores, Campbell continues to support the fish farm industry. He is apparently un-swayed by this statement by John Fredriksen, owner of Marine Harvest, one of the biggest salmon farming companies, both globally and in Canada:
"I am concerned about the future for wild salmon. Fish farming should not be allowed in fjords with salmon rivers." Quoted from the Norwegian newspaper Altaposten, July 19, 2007.
We see a government that does its environmental investigation after the decision is made using the Environmental Assessment Act, which is run not by an independent public servant but by a cabinet, which is to say Campbell appointment. We see, in the Eagleridge Bluffs case, two elderly women who dared protest thrown in jail with one of them dying a few days after she was released from imprisonment.
Current controversy
Now we have a new environmental disaster in B.C. unfolding through a plan called the Run of Rivers project, which will, pardon the scientific term, bugger up hundreds of streams and rivers in this province. Independent power companies will make hundreds of millions of dollars for using our rivers and, by transmission lines and roads into each power site, destroy the remaining wilderness in our beloved province. All this not to deal with our own power needs but to help export power -- and our environment along with it -- to the United States!
Then there is the uncaring destruction of business along Cambie Street due to the RAV line, now with the freshly laundered name of Canada Line. There's the never ending spiraling cost of the new Convention Centre. There's the new South Coast British Columbia Transportation Authority, formerly Translink, stuffed with friends of the government usurping the power of local governments. The mayors and councils will pay the money and get the political heat for decisions made by friends of the Campbell government.
And, of course, there is the unbelievable case of Ken Dobell being paid big fees to advise Vancouver how to deal with the government and big fees from the government advising it how to deal with Vancouver! What takes the breath away isn't so much Mr. Dobell's apparent conflict of interest but it not being recognized to be a serious matter by Gordon Campbell's Liberal government.
Hubris: exaggerated pride or self-confidence. Don't bet the piggy bank on it taking its toll in May of 2009, but remember that hubris has defeated "sure thing" governments before.
Related Tyee stories: