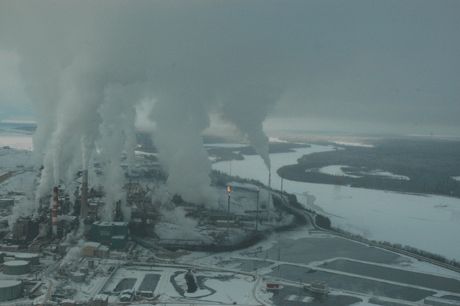 As Canada's premiers gather in Vancouver this coming Monday for the Council of the Federation meeting, the future of Canada is again at stake. But this time the threat isn't Quebec nationalism so much as it's global warming pollution from the Alberta tar sands.
And Western Canada's traditional complaint is bang on: it's Ottawa's fault.
Stephen Harper refuses to show leadership and put hard caps on Canada's global warming emissions -- all so the tar sands can keep growing. No matter how much Canadians clamor to join the global fight against climate change, we are being held hostage by the tar sands.
The tar sands have quickly grown to become the most destructive project on Earth. Their greenhouse gas emissions are the main reason Canada's emissions keep rising, the main reason we cannot live up to international agreements, the main reason we are becoming an international pariah on the most important issue facing humanity.
By refusing to act aggressively on global warming, Stephen Harper has ceded the field to the provinces. Some, like B.C. and Quebec have stepped into this vacuum and given Canadians the action they want. But Alberta has taken advantage of the vacuum to stomp on the gas pedal, with exploding emissions from the tar sands being the result.
Alberta as 'major villain'
The former premier of Alberta, Peter Lougheed, was the first to identify the looming battle for Canada by saying that the tar sands will trigger national tensions "10 times greater" than those of the past. Unlike the National Energy Program when Alberta claimed the victim label, Lougheed rightly points out that this time out Alberta will emerge as "the major villain in all of this in the eyes of the public across Canada."
Premier Stelmach refuses to admit there is a problem. Last week he was in Washington, D.C. to offer Dick Cheney and others energy security, but instead was confronted by protests about "dirty oil." Stelmach called these accusations a "myth," yet when he got home admitted that more needs to be done -- just not yet.
Lougheed is more honest. He sees the world's most destructive project taking place in his home province as "wrong in my judgment, a major wrong . . . . So it is a major, major federal and provincial issue."
The mounting backlash
Looking at the numbers, the Pembina Institute calculates that the tar sands already spew 40 million tonnes of greenhouse gasses a year, with projections that this could grow to 142 million by 2020 if left unchecked. To put that in context, B.C.'s emissions for the whole province are currently at about 65 million tonnes a year, and we're shooting to shave 35 million tonnes by 2020.
The federal government refuses to show leadership and put hard caps on emissions. The feds claim that their weak "intensity" targets would let tar sands emissions grow to only 75 million tonnes by 2020, but there is huge skepticism about these claims given that there is no actual cap on emissions in this system. The Alberta government is likewise pursuing an intensity based system to give the tar sands the loophole needed to increase production.
Other provinces are showing some signs of fighting back. Ontario Premier Dalton McGuinty has already prodded Alberta to accept real caps on emissions. Recently, B.C. and Ontario followed California and other states with a commitment to a low carbon fuel standard to reduce the carbon content of transportation fuels on a life cycle basis. This penalizes tar sands oil because its production requires three times the emissions per barrel as regular crude. And what about those pipelines? Why should other provinces go along with helping Alberta get its oil to western ports or eastern US states if it wipes out everyone else's progress on emissions reductions?
Where's federal leadership?
Ultimately strong federal leadership will be needed to rein in Alberta and avoid a crisis in the federation. Business groups have already been complaining about the emergence of the patchwork of standards for industry, cars and carbon taxes that is emerging across Canada because of provinces filling the global warming policy vacuum. This will continue until Ottawa gets serious and clamps down on the tar sands.
In the meantime, the premiers will put a diplomatic face on their growing global warming divergence. The upcoming Vancouver meeting will try to shift the focus to climate adaptation as less controversial ground than the emissions mitigation battle. It's doubtful that even the water crisis unfolding in southern Alberta will convince Stelmach to clean up the tar sands.
Once other provinces reduce their emissions, they may want to send the massive bills for beetle kill, flooding, and storm damage to the Alberta Government -- to pay for out of their tar sands riches.
Related Tyee stories: