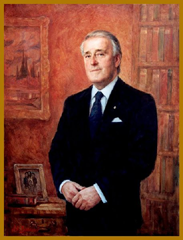 Probe: "A penetrating or critical investigation."
Is this what Prime Minister Harper intends as he orders a "probe" into the business affairs of Brian Mulroney? Or will it be confined to a bit of a look-see into the $300,000 in cash the former PM received from the Airbus Mr. Fix-it, Karl-Heinz Schreiber? If the latter, neither the Canadian public nor, if he's innocent, Mr. Mulroney, will be well served.
The issue is a serious one indeed. In 1988, while Mr. Mulroney was Prime Minister, Airbus sold 34 A-320 jets for $1.8 billion to Air Canada, then a federal crown corporation. Karl-Heinz Schreiber was the de facto owner of a Liechtenstein company called IAL which brokered the deal. Contrary to what Mr. Mulroney said under oath in 1998 (of which more later), he knew Schreiber well, had received financial help from him in his 1983 campaign to unseat PC leader Joe Clark, and in fact had pressured Schreiber, upon completion of the Airbus deal, to pay a fat commission to Mulroney's crony, the late Frank Moores.
Mr. Mulroney doesn't deny receiving this money from Mr. Schreiber, a fugitive from German justice who has engaged in a hugely expensive fight to avoid extradition.
These questions about the $300,000 cash payments arise.
Were these payments negotiated with Mr. Mulroney while he was still in office? Karl-Heinz Schreiber says they were.
Given the continually changing versions, what, in fact, was this money for?
Was this a legal retainer? If so, do Mr. Mulroney and the huge law firm in which he's a partner customarily take their retainers in payments of large amounts of cash in shopping bags?
If these payments were eventually made to Mr. Mulroney's law firm Ogilvy Renault, was there a receipt given by the firm? And what did they do with all this cash, bearing in mind that banks will only take deposits of $10,000 in cash?
If the payments were to Mulroney, and they were for legal fees, surely he had to report this to his law firm or be guilty of breach of trust. In legal partnerships members of the firm generally can't do legal work on the side.
This raises another question:
Has anyone demanded an accounting by Ogilvy Renault as to whether they got the money and if they did, how they dealt with the cash?
These questions must be taken in the context of a National Post article published Friday, Nov. 9, 2007, which reports: "Businessman Karlheinz Schreiber alleges in an affidavit filed in court yesterday that an advisor to former prime minister Brian Mulroney requested a transfer of funds to Mr. Mulroney's lawyer in Geneva related to the Airbus deal."
More questions:
Mulroney claims he paid income tax on this money but says the details are "nobodies God damn business." In order to clear his name, shouldn't Brian Mulroney make his tax returns public at least insofar as they deal with these cash exchanges?
If this money was paid to Mr. Mulroney directly for his prospective legal fees, did he deposit the funds into a trust account as required by law of all lawyers?
On this matter, CBC reports the following: "Former Prime Minister Brian Mulroney, who received $300,000 in cash from German-Canadian deal maker Karlheinz Schreiber in 1993 and 1994, did not pay taxes on the payments in the years he received the money." The CBC claims: "The former prime minister filed a voluntary tax disclosure some time later. The Globe and Mail and CBC's Fifth Estate have learned that he took advantage of an option that the Canada Revenue Agency offers for people who have previously filed inaccurate returns and subsequently decide to correct the record."
Which spurs another question:
Why, then, didn't Mulroney file his tax returns honestly when they were due? Are we to understand that when the taxes were due, these payments slipped his mind?
And the questions hardly stop there:
There is the overriding question, where did Schreiber get $300,000 in cash, a daunting task indeed?
Given the fact that Mulroney sued the federal government because the RCMP, in order to get information from Swiss Banks, had to state that they had grounds to do so, and got $2.1 million for his pains, why didn't Mulroney sue the CBC "Fifth Estate" broadcast Feb. 8, 2006, for aired comments, which if not true, were clearly libelous?
According to an interview given by Schreiber to Fifth Estate, Brian Mulroney visited Zurich on Feb. 2, 1998 to "re-assure himself" that there wouldn't be any evidence that he received any money from a certain bank -- which raises this obvious question. In light of the fact that this was after he'd received $300,000 from Schreiber, was Mulroney trying to make sure that these payments would be kept confidential and if so, why?
Considering Mulroney's present story that the money came from Schreiber as a legal retainer, why would he feel it necessary to do this?
Throughout this saga, a Swiss bank account named BRITAN keeps popping up and Schreiber claims it was from this account he paid Mulroney.
Is BRITAN a codeword for BRIAN?
Did, or does, Mulroney have any money in any bank account in Switzerland and if so, was it from Karl-Heinz Schrieber? Did, or does it, bear any relationship to the Airbus deal?
What was the true relationship between Mulroney and Schreiber?
In 1996, being questioned under oath on his libel case against the RCMP, Mulroney denied a friendship with Schreiber claiming he was just an acquaintance with whom he had a couple of cups of coffee. In light of the fact that this evidence came long after Mulroney received the $300,000 from Schreiber, was Mulroney's testimony not perjury?
If he had answered honestly, would that not have automatically prompted the question, "Have you had any business dealings with Schreiber?"
Would not Mulroney then have been faced with either disclosing the details of the $300,000 deal or committing perjury? Does this amount to untrue testimony that took the RCMP away from their investigations while at the same time suppressing the $300,000 matter?
If these are valid questions, what has the Solicitor-General's office done about it?
I've commented extensively on the reluctance of Canada's "old boy" media to investigate this entire matter but have not raised this matter of great importance to Canadians: The RCMP has, throughout, behaved as if they act or don't act depending on how tight their political masters hold the leash.
Is this because the commissioner of the RCMP, long independent of government, is now a deputy minister to the Solicitor-General and thus subject to political direction?
Which leads to:
Were the activities of the RCMP, in this entire matter, directed, in whole or in part, by their political masters?
This is not a matter of a political vendetta against former prime minister Mulroney but rather an attempt to raise issues which must be dealt with. The facts as we know them, and the questions they have prompted, raise serious concerns about Mr. Mulroney's actions while in office. The questions are not difficult to understand though they may be difficult to deal with. If they are not satisfactorily answered, many Canadians will believe that Brian Mulroney, in Stevie Cameron's famous phrase, was On the Take.
If Mr. Mulroney is innocent of any wrongdoing, it's in his interest to have this entire affair thoroughly examined.
Whether he's innocent or not, Canadians have the right to know what the real story is.
Related Tyee stories: