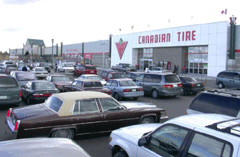 The stated object of Mayor Sullivan's EcoDensity initiative is to reduce Vancouver's "eco-footprint" by cutting energy use and waste, while improving livability and housing affordability.
These goals are laudable, but will EcoDensity actually live up to its billing?
The apparent willingness of the mayor and some councillors to significantly expand big box development in South Vancouver is clearly at odds with EcoDensity.
The environmental and social benefits of density are due to economies of location, mainly achieved through growth of neighbourhood centres with diverse functions.
In sharp contrast, big box retail exploits economies of scale, relying on a widely dispersed customer base, public subsidies for car owners, and plenty of cheap parking.
"Green" building design of a box store does not alter its fundamental dependency on cars and fossil fuels.
And while multi-chain big box plantations can be cost-effective and convenient for car-owning consumers, it's always at the expense of commercial diversity and stability in central and neighbourhood business districts. Retailers in our pedestrian-oriented centres pay premium rents for their location, often with limited or pricey parking. Big box retailers compete unfairly by converting lower-cost industrial land to retail use, while asking us all to suffer the consequences of car dependency.
Canadian Tire's massive ambitions
The question before Vancouver City Council is an application by Canadian Tire for a 255,000 square-foot "big box" retail development that is expected to generate up to 11,000 car trips per day on heavily congested Marine Drive. The site is within a part of the Marine Drive Industrial Area that the city, in a controversial decision, designated as appropriate for "highway-oriented retail." It is bordered on the north by a low density residential neighbourhood.
There are a number of fundamental problems with this proposal, but I will point to just one: A few years ago rooftop parking was accepted as a cost-effective alternative to underground parking for large-format retail in an urban context. Now it is correctly viewed as waste of a prime surface which, on top of levels serving housing, offices, manufacturing etc., could be used for energy and food production, or recreational space, including gardens.
This is indicative of the shift from an anti-city/pro-suburban paradigm to a sustainable city paradigm, and which coincides with a shift in emphasis from consumption to conservation. These corrective changes are not optional; the stability of Earth's ecosystems and the survival of our civilization are at stake.
Not just about labour practices
In 2005, when council rejected expanding highway-oriented retail on South Marine Drive, Coun. Sullivan inferred that opposition to the proposed developments stemmed chiefly from objections to the labour practices of one of the applicants (Wal-Mart). It is unfortunate that this red herring has clouded debate. Corporate citizenship, while important, is a separate topic. This is a question of civic responsibility. Does a vast big box zone in South Vancouver meet contemporary public health standards and community planning practices? The answer is a clear and emphatic No.
An almost identical proposal by Canadian Tire was rejected at that time because, like the Wal-Mart proposal, it did not meet Vancouver's development objectives. In the interim the bar of sustainability has been raised considerably.
If it is clear that, overall, a huge big box mall would expand our eco-footprint, why not have instead a truly sustainable community which could reduce it?
A different vision for South Vancouver
Here we have an opportunity to grow that community. Let's call it "South Vancouver Sustainable Community" (SVSC).
What makes this area so appropriate for greater diversity, intensity and density is its accessibility to the midtown and downtown business districts, as well as Richmond Centre and the airport, via the Canada Line and the Main Street Showcase bus service.
Transit helps facilitate diversity, which in turn distributes ridership throughout the day, not just at peak travel times. This means that spaces are not only more densely occupied, but used more diversely and intensively, as in a healthy, abundant ecosystem.
High density is no panacea; without diversity and intensity it becomes a burden, not a benefit.
If we allow ourselves to think outside the big industrial box and the big retail box, and instead consider our city's most pressing needs, it becomes clear that here is a golden opportunity to build affordable housing,
Why not affordable housing?
Not many years ago, under the old "anti-city" paradigm, it would be unthinkable to integrate housing with industrial uses (even warehousing); but successful real-world examples, here and elsewhere, demonstrate that with reasonably benign performances and appropriate infrastructure, a variety of uses are not only compatible, but symbiotic.
It is essential that we promote and support walking, cycling and transit as the principal means of getting around. SVSC would make it feasible to integrate the costs of transit and land development through a C-pass (for community), similar in concept to the U-pass that has already proved successful in reducing car dependency at UBC and SFU.
With affordable and effective public transit as the dominant mode, a co-op featuring low or no-emission vehicles will be a convenient, cost-effective alternative to private cars.
Retail is a vital component of this alternative future, and a diverse, densely populated neighbourhood with excellent transit service should be able to support some relatively large outlets, adding moderate economies of scale to the environmentally friendly economies of location.
Vancouver has already demonstrated this by judiciously integrating sizeable retail outlets into existing districts without disrupting neighbourhood fabric or human scale -- an example being the second-storey Future Shop, with smaller stores at street level, on West Broadway.
SVSC would also be an excellent location for cultural amenities, of which there are currently few in South Vancouver, and a good fit for the north side of Marine Drive where moderate-scale densification is supported in the Community Vision.
Big box = EcoDensity?
SVSC is no dreamed-up utopia. It is based on sound practices in planning and economics. That said, it is an idea that will require public discussion, analysis, modification, and fleshing out, as well as negotiations with the principal landowners before an area plan is produced.
But it is something that many people -- including families with children -- would be very excited about helping to create and inhabit. Vancouver is the right city to pioneer this kind of development. South Marine Drive is the right place to build it.
Big box EcoDensity is an oxymoron. What we need now is a public process to determine a mix and scale of development for South Marine Drive that is socially, environmentally and economically sustainable.
Related Tyee stories: