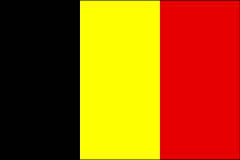 Who-da-thunk-it? Belgium splitting into two, perhaps three separate countries? Wasn't this the country that proved that people of different cultures could live together in peace and harmony? That's certainly how most people saw it.
There are remarkable similarities between Belgium and Canada. Belgium, like Canada, came together not as a love match but to avoid being something else -- in our case the United States, in their case the Netherlands to the North, France to the South. Belgium and Canada started about the same time -- Canada's union of Upper and Lower Canada coming in 1841, while Belgium united into one country in 1831.
Both countries have two official languages; in Belgium it's French and Dutch with a small group having German as its main language.
The Belgians have done what Brian Mulroney wanted to do in Canada -- build an asymmetrical federation meaning that our federation would no longer be made up of provinces equal before the law but one where one province was special.
Belgium's mosaic of cultures
Belgium's two largest regions are Dutch-speaking Flanders in the north, with 58 per cent of the population, and the French-speaking southern region of Wallonia, inhabited by 32 per cent. The Brussels-Capital Region is an officially bilingual enclave with 10 per cent of the population. A small German-speaking community exists in eastern Wallonia. Belgium's linguistic diversity and related political and cultural conflicts are reflected in the political history and a complex system of government, which is geared to give the minority French speaking Walloons equality with the Dutch speaking Flemish. Sound familiar?
In Canada Quebec is now, politically, a special place where less than 25 per cent of the overall population can veto any constitutional changes and whose citizens, being more likely to be bilingual, have favoured treatment in the federal civil service and the armed forces. It's now politically obligatory for a prime minister to be bilingual.
Canada's main problem isn't with what was done in 1867 at the time of Confederation but how that "constitution" (The British North America Act of 1867) has been interpreted by politicians since.
'Two Founding Nations'
Canada was not a union of "Two Founding Nations." Indeed, the Quebec force behind Confederation, Sir George (he used the English spelling) Etienne Cartier spoke in eloquent terms about the new Canadian citizenship. The notion of "two founding nations" is a political notion, not a historical fact and, as has happened in Belgium, this attempt to give special status to a minority largely living in one region has been a prescription for disaster, however long it is postponed.
Canada parts company with the Belgian scenario on the overall makeup of its peoples. While Belgium is French and Dutch with a small German area, Canada has as many types of people as can be provided by the world. These minorities, some of them very large, are, naturally, becoming influences on their own and demonstrate both the agony and ecstasy of Canada; agony because immigrant communities raise so many other issues than French and English and ecstasy to Quebec who sees the importation of French speaking people as a way to make up for their falling birth rate.
It is, however, the phony "two founding nations" notion that's brought us to the point where a break-up -- in due course -- seems inevitable. I say "in due course" because Quebec separatism, like poison ivy, is a recurring phenomenon.
Belgium's lessons
What should we learn from the Belgian experience?
Ethnicity and accompanying separatism never dies and will rear its ugly head more often as time passes.
Attempts to make two unequal populations equal in political and governmental functions are doomed to fail. Whatever is done will always be too much for the majority and not nearly enough for the minority.
While it's uncertain just how a country tries to deal with this problem, clearly muddling through and hoping for the best is not a winning strategy.
When you have a constitution of vetoes, planning for change is nearly impossible. In Canada five regions have, in effect, a veto over constitutional change which works dramatically for those who resist change (Ontario and Quebec) and is, it hardly needs saying, anathema to provinces like British Columbia who want change – for one example in the makeup of the Senate.
What the Belgian situation ought to be is a wake-up call for Canadians who want the great Canadian experiment to work. When component parts of a federation have a veto there is no incentive to talk about change. Why waste one's breath talking about that which can never happen?
Pierre Trudeau was right both with the Meech Lake constitutional proposals and those in the Charlottetown Accord. It was his view that to give Quebec extra political powers would mean that Canada would go out not with a bang but a whimper.
What should we do?
Damned if I know but surely Belgium tells us it's time to talk
Related Tyee stories: