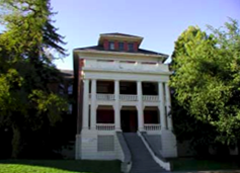 For many people in the Lower Mainland, Riverview is just the space they have to drive past to get from the Trans-Canada to Coquitlam via Highway 7. But many others know that Riverview is an extraordinary place, a paradise suddenly under the real threat of being paved by the provincial government.
Late in July, Housing Minister Rich Coleman announced a plan to build over 7,000 residences on the Riverview site. They would be a mix of market housing, social housing and residences for the mentally ill.
Reaction was prompt and mostly negative. Coquitlam city councillors objected to the lack of consultation. Vancouver Mayor Sam Sullivan supported the idea, seeing it as a way to house the Downtown Eastside's homeless.
But largely ignored in the debate was the site itself, a century-old psychiatric hospital that includes both superb architecture and one of the greatest tree collections in North America.
Growing health
When the provincial government created Riverview in 1904, it had two goals: first, to create a treatment facility for the mentally ill; and second, to establish a B.C. provincial botanical garden. Victoria set aside 1000 acres (400 hectares) for these purposes, and began construction of the hospital facilities -- originally called Essondale.
The botanical garden started in 1911, moving in 1916 to UBC, but Riverview's nursery continued to produce trees and shrubs for B.C. government properties -- including the grounds of the legislature in Victoria.
More importantly, provincial botanist John Davidson began the arboretum, a collection of trees from all the world's temperate zones. His successors carried on, and Riverview now has an estimated 1,900 trees, including at least 163 species and 113 varieties. Apart from their stunning beauty, the trees are also a valuable gene pool. A recent assessment put the trees' individual worth at over $50 million, but as a collection the arboretum is worth far more than that.
Money grows on trees
The original thousand acres soon began to shrink. About half the site was dedicated to what became Colony Farm, east of Highway 7; it's now a GVRD park. In the 1980s, without public consultation, another 250 acres to the west were removed from the site and turned into the Riverview Heights housing development. A 25-acre sliver was turned into Riverview Forest Park.
So the modern Riverview is only 244 acres (98 hectares), but its value doesn't lie only in its trees. The buildings on the site date from 1913 to 1955, and many deserve heritage designation as examples of 20th-century B.C. architecture. They range from stately multi-storey hospital facilities to cottages originally designed as staff housing. Set amid broad lawns and groves of gigantic trees, the buildings form a tranquil campus.
Some parts have a cheerfully improvised quality. Finnie's Garden was the creation of Art Finnie, a nurse who in 1951 encouraged patients to make it something of their own. After years of neglect, volunteers are now renewing the garden.
Home for wildlife
Riverview has also become a home for wildlife. Black-tailed deer, black bears, bobcats, coyotes, raccoons and beaver have all been seen on the site. Birdwatchers have identified over 80 species of birds, including three species of owls.
Local residents have long known the value of the site. The Riverview Horticultural Centre Society leads "tree tours" on Sundays, and takes a leading part in the yearly Treefest. This year's event will be on Sunday, Sept. 23, from 11 a.m to 4 p.m.
The Burke Mountain Naturalists have been advocates for Riverview, and in 2004 produced a superb report on the site and its future http://www.bmn.bc.ca/doc/Riverview2004.pdf.
The city of Coquitlam has also supported the site, and in 2003 published its own report, "For the Future of Riverview." On Monday night, Coquitlam Council unanimously reaffirmed its 2003 resolution calling for preservation of the site.
All these groups understand Riverview, and they also understand how attractive it must be to politicians and land developers. The site's supporters want Riverview to remain a publicly owned site for the care of the mentally ill, but with public recognition and protection of its trees, buildings and ecosystem.
If it must be further "developed," they would welcome an interpretive centre, a museum, a facility for horticultural training and research, an arts centre, and facilities for retreats and conferences.
But to anyone who has walked under the great trees of Riverview, it is sickening to think of cutting them all down to make room for just another patch of tickytacky suburban sprawl.
Related Tyee stories: