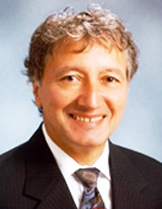 "Listen to what I say and not what people say I say," Brian Day, president and CEO of Cambie Surgeries Corporation, said at his first news conference last August after being elected as the next president of the Canadian Medical Association (CMA), a position he assumes this August.
Unfortunately, Day, whose claims about Canada's health care system have been widely reported in the media, says different things to different audiences. So no matter how closely one listens to his words, one is left in some confusion as to his real agenda. In his capacity as president-elect of the CMA, Day spends a lot of time speaking behind closed doors to private health insurance companies.
On March 28, for example, he addressed the Los Angeles Association of Health Underwriters, a trade organization of over 500 health underwriters in California.
An ad for the conference went as follows: "Day will discuss at length the disadvantages of providing and receiving care in a government-run delivery system," in what was slated to be a "frank" discussion.
"Day refers to his election as evidence that doctors there are ready to give private health care a bigger role in the Canadian system," the ad continued.
'Profit, profit, profit'
Here's what Day says that interests private health insurance corporations. It is posted on the San Mateo Medical Association's web site in California: "The coming changes will create a massive new industry and enable the Canadian health industry and its workers to enter the international health market and participate in the $2 trillion American health economy. On the basis of extrapolations from other countries, we may see $40 billion a year added to the Canadian health system."
Clearly, in Day's view, there is a lot of money to be made by wrecking Canada's single-payer public health care system. Day estimates $40 billion a year in additional health care spending in Canada.
Why open a private surgical facility? To quote Larry Teuber, founding partner of Black Hills Surgery Center addressing the American Neurological Surgeons Annual Meeting in 2000, "Profit, profit, profit."
Slashed taxes
But wait a minute. Day also claims -- on the same California web site -- that Canada's current level of health care spending is unsustainable: "Health care is approaching 50 per cent of all spending in the provinces," he writes.
This claim is misleading because tax cuts have reduced government revenue and so inevitably public health care spending is rising as a percentage of provincial budgets, but not rising as a percentage of the economy and therefore is sustainable.
So why would someone concerned about rising health care costs give the impression to an American audience that driving up Canada's health care spending to U.S. levels -- Canada's health care spending as a percentage of GDP is 55 percent that of the US -- is a good thing? And why would he deny to the Canadian public that he is advocating the adoption of a U.S.-style system? After all, he stated, "No doctor in Canada I know wants a U.S. system."
Money trumps need
Canadians should not be fooled by Day's double-speak. He is bringing the U.S. model of investor-owned health care to Canada, while convincing people that this is the only way to remedy wait times and other problems in our health care system. Every informed health care analyst has reached the opposite conclusion: we have some serious problems in Canada with our health care system but every one of these problems would be aggravated rather than cured if we were to move towards an American for-profit system of health care.
Remember, every doctor who leaves the public system to work at Day's for-profit clinic makes waiting times longer for those who seek care in public clinics and hospitals. Peer-reviewed evidence shows this seriously compromises access to care in the public system by taking badly needed surgeons, nurses, technicians, and other scarce resources out of public hospitals. Poaching publicly educated and trained health care professionals out of the public system does not add capacity to deliver more health care.
As Shirley Douglas, daughter of Canadian medicare visionary Tommy Douglas, reminds us: "You either want a single-payer system in this country or you want an American-style system. And don't kid yourself that there's anything in between." This is especially true because of the trade agreements Canada signed with the United States and other initiatives to integrate our economies. Advocates of U.S.-style minimal tax rates can't expect European-style deluxe public health care.
Day also claims that Canadian governments can't keep their promise of equal access to health care for everyone. Addressing the annual meeting of the Canadian Science Writers' Association in June 2007, Day said: "We can't make it equal, but we can make it good for people." This claim -- that we can't make it equal -- gets to the heart of Day's values. Roy Romanow called it a perversion of Canadian values to accept a system where money, rather than need, determines who gets access to care.
On the record
The context for Day's conviction that we should forget about equal access is found in his submission to the Romanow Commission in 2002. He called for the repeal of the Canada Health Act, increased privatization and contracting out, the introduction of user fees, and the de-insurance of services. Day also intervened in the Chaoulli case before the Supreme Court of Canada calling for Quebec's health insurance and hospital legislation to be struck down.
Day knows a lot about for-profit, investor-owned health care as president and CEO of Cambie Surgeries Corporation in Vancouver and past-president of the Canadian Independent Medical Clinics Association. Peer-reviewed evidence shows that for-profit investor-owned facilities have a strong tendency to skimp on staff. As a result, patients' lives and health are put at risk. According to Day, at his Cambie clinic, "We spend only 30 per cent of our gross revenue on wages and salaries, compared with 70 per cent in the public hospitals, yet we pay our nurses more." So where is the rest of Cambie's revenue going? Profits?
The American Hospital Association explains why private, for-profit surgical clinics and limited-service hospitals are so profitable. They avoid emergency and complicated cases, focus on patients in good overall health, focus on well-reimbursed procedures, and focus on patients with good insurance coverage. In other words, they cream off the easy cases leaving the difficult ones for the public system.
You too can make pots of money as a physician if you select your patients with a view to maximizing your profit!
Broken trust
The CMA has elected as its new president a corporate CEO whose claims about the merits of private for-profit health care are not supported by the evidence. Brian Day's corporate duties and responsibilities make it impossible for him to represent the merits of the case against for-profit health care. This is known in ethics as a financial conflict of interest.
By blocking major changes needed to solve the problems in Canada's public health system (e.g. team-based care, home, continuing, and preventive care, and accountability for appropriateness, outcomes and quality of care) the CMA appears determined to "drive it South" and put their own financial interests ahead of fixing the problems.
Canadians can no longer trust the CMA to represent the interests of the public health-care system. Canadians should not heed the advice of the CMA and its new leader, Dr. Brian Day, to rely upon the miraculous powers of the market and private insurance. If we do, we will pay dearly for our gullibility.
More dubious claims
Here are other claims made by Brian Day, along with responses made in consultation with physician members of Canadian Doctors for Medicare:
Claim: "The Canadian health system has been ranked 30th in the world by the WHO."
Fact: The 2000 World Health Organization study presented a misleading representation of health care systems, including Canada's. The WHO abandoned this ranking system because of seriously flawed methodology.
Claim: "In Canada 65 per cent of sick children wait a "medically unacceptable" period of time."
Fact: There is no evidence for this claim.
Claim: "At $4,400 per capita [Canada] is the most expensive of all countries that offer 'universal' coverage."
Fact: Canada's per capita spending in 2004 was $3,165 US. It is above the OECD average but below Norway, Switzerland and Luxembourg. The U.S. spent $6100 per capita in 2004.
Claim: "The assertion that our single-payer system is administratively efficient is hogwash."
Fact: Before Canada introduced a single-payer system, spending in Canada and the U.S. was escalating in parallel. After 30 years of single-payer administration, Canada now spends almost fifty percent less than what Americans spend (9.9 per cent of GDP in Canada versus 15.2 per cent in the U.S.) while providing equal or better care. All Canadians are covered while the U.S. has 46 million citizens with no coverage.
Claim: "All other models of universal health care differed from the Canadian model in one fundamental way: They did not exclude competition from the private sector. Canada shared this distinction with just one other country -- North Korea!"
Fact: 30 per cent of what Canadians spend on health care is private expenditure. Canada is below the OECD average on public health care spending. The argument that private for-profit health care does not play a significant role in Canada is false.
Claim: "In our country a dog can get a hip replacement in under a week, but a human may wait two years."
Fact: Access to veterinary care for animals is based on ability to pay. Dogs are put down if their owners can't pay. Access to care should not be based on ability to pay.
Related Tyee stories: