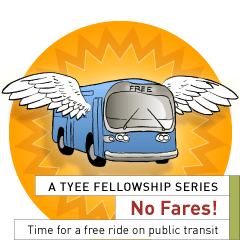 [Editor's note: This is the last in a five-part series funded by you, the readers who donated to a Tyee Fellowship for Solutions-oriented Reporting. To find out more about Tyee Fellowships, click here. To learn more about the series' author, Dave Olsen, go here. Or listen to the audio interview with Olsen by Katherine Gretsinger.]
It's a matter of faith among most transit officials that if you remove the fare, the service becomes worthless.
"Be aware that when one moves the price of something to zero, in addition to challenging capacity, one is stating that the product or service is not an economic good -- that is, that it has NO value," warned one transit official. "Pricing signals value. I would suggest you keep it non-zero."
Perhaps North America's transit planners need to switch jobs with builders of roads and bridges. Those transportation essentials are, after all, usually paid for through taxes or bonds, and we use them without being charged each time we roll over them.
Imagine if a government tried to put a fare box into every car in the province. Every time drivers wanted to make much of a trip, they would have to dig into their pockets to find $4.50 (soon to be $5!) in exact change.
And yet, we force the poorest among us to live this way. For those without well-paying jobs, a bus fare of any amount can be a barrier to finding work, making it to school, visiting friends and relatives or even getting food to eat.
In British Columbia's Lower Mainland, one of the most expensive places to live in North America, a family travelled from Coquitlam to Vancouver by public transit during spring break. It cost the mother and her three sons $26 in day passes. Even with the higher cost of fuel today, taking the bus and SkyTrain is more expensive than driving for most families. In fact, Vancouver fares for kids and students are the highest in Canada – and slated to go up.
Henry Orsini, aged nine in 2004, has been leading a postcard campaign to raise awareness and lower kids' fares for the past three years. Check out this website to see that Vancouver's transit fare for kids is more than six times higher than Toronto's! And it's about to go up 25 per cent more on Jan. 1, 2008.
Let us remind ourselves of what really matters. We don't have much time left to reduce our greenhouse gas emissions before catastrophic climatic changes irreversibly occur. It seems absurd, therefore, to continue to make it more difficult than it already is for people to use the bus and SkyTrain.
Show me the money
Since we are now discussing priorities, let's address the big question most people have when asked to ponder switching to a fare-free transit system. Namely: sounds good, but how do we pay for it?
As we have seen, in Hasselt, Belgium, people actually enjoy giving one per cent of their municipal taxes to transit. But only because their transit service is free to use, very frequent, and saves people significant amounts of money overall.
In Island County in the state of Washington, people pay for their "free" ride on the bus whenever they buy locally. Of their 8.3 per cent sales tax, 6.5 per cent is for the state (like our PST) and 0.6 of one per cent goes to fund their beautiful and friendly, fare-free bus services. That works out to 60¢ for every $100 spent in Island County.
Could a region as large as Vancouver's afford such a bold approach, though? Well, in Seattle and surrounding King County, voters recently approved a sales tax initiative that increased their local sales tax from .8 per cent to .9 per cent. This is similar to Island County's tax ratio for transit. For every $100 people spend in King County, 90¢ is collected for the transit system. According to Jill Krecklow , finance and administrative services manager for King County Metro Transit, the projected annual sales tax in 2008 is $456 million US (or $528 million Canadian), which alone is more than five per cent higher than TransLink's current transit operating budget.
TransLink has created pass programs that mimic these fare-free systems for the lucky folks that have access to them. The U-Pass at UBC costs $22 per month, the U-Pass at SFU costs $24.50/month and the Community Pass at SFU (for half of the condo owners) costs $28/month. (If all of the condo owners were included, it would only cost $14/month.) These passes offer unlimited rides throughout the entire system, just like a fare-free transit system would. And everyone who is part of these communities must buy them, guaranteeing TransLink a monthly income.
But there are many other viable funding options for our transit systems.
Châteauroux, France adds about 0.6 of one percent to the payroll tax for employers to pay for their fare-free system. An easy-to-understand variation would be to charge employers here (businesses, government offices, universities, co-ops, etc.) $1 per employee every day that he or she travels to the workplace. This works out to a one-time "wage increase" of 12.5¢ per hour, which would be an increase of about half of one per cent for the average wage ($20.54) in B.C. In comparison, inflation last year was 2.79 per cent. The amount of money generated by this $1 per day per employee formula would double TransLink's current operating budget.
A 'Community Pass' for all
Another option would be to apply TransLink's current Community Pass (which is only available to a select few condo owners living on Burnaby Mountain near SFU) to the entire GVRD. The cost per month (for those of us who could afford to pay) would be about $12.50 and could be collected in any number of ways: it could be added to healthcare premiums, property taxes, hydro bills, etc. This number is based on the $300 million TransLink currently collects from fares and a population of two million people in the GVRD. In effect, this replaces the inefficient method of using fare boxes and cash, and spreads the cost to everyone living in our region. TransLink uses this approach in calculating the cost of the U-Passes and the Community Passes; they call it "revenue neutral" because, at least in theory, no new revenue is generated for the system.
But TransLink's transit operating budget doesn't include the cost of buying new buses and SkyTrain cars, which as we saw in yesterday's piece, has become a critical problem over the past seven years since ridership has grown while the bus fleet size has stagnated. If the funding formula chosen for the operating budget also included funding for capital expenditures, we could build in a sustainable solution for transit's continual expansion.
One way to do this is to collect $20 per month per GVRD resident to cover the entire transit budget, which would then allow the $500 million plus currently collected by TransLink through other taxes, fees, and levies to be used exclusively for buying more full-size buses and SkyTrain cars. This could buy over 300 new articulated (60 ft) trolleys or over 100 new SkyTrain cars!
Shift priorities
We could also shift spending from auto- and corporate-centric to transit- and people-friendly projects. Examples:
TransLink spends well over $100 million/year on roads and bridges (the equivalent of 215 new buses or 23 SkyTrain cars), as well as paying almost $30 million (60 new buses) for its bloated bureaucracy (at least eight different boards and management staff for one transit system). The newly formed Transit Police adds another $13 million per year (26 new buses)...guns, Tasers and other weapons do not come cheap.

The province's Gateway proposal is projected to cost at least $7 billion. That's more than 14 times TransLink's current operating budget for all transit services. This amount of money could provide superb bus service throughout the region, 24/7. This kind of frequency, combined with being fare-free, would empty the highways and bridges if one lane (each way) of the existing (2 lane) highways and bridges were dedicated to buses and vanpools, resulting in less or even no congestion for those drivers delivering goods and services.

B.C. Ferries' $2.5 billion budget to build new giant car and truck ferries in Germany and retrofit their ramps to accommodate them could instead build (in B.C.!) a fleet of new passenger ferries, along with terminals in every downtown on the south coast. Vancouver, Victoria, Nanaimo, Ganges, Cowichan/Duncan, Parksville, Gibsons, and Sechelt could have hourly service between them, with fast ferries that carried people, bikes, personal baggage, and minimal freight.

The Sea-to-Sky Highway upgrade is destroying ecosystems and undermining a golden opportunity to upgrade an existing rail line with fast, frequent service between North Vancouver, Squamish, Whistler and beyond. The project cost of almost $2 billion could instead have been used to create at least an hourly LRT-type service, which would have dramatically decreased motorized vehicle traffic on that highway, instead of increasing traffic and the resultant injuries and deaths.

Instead of tunnelling under Cambie Street and using expensive SkyTrain technology, we could have reduced car capacity on Cambie (or any other street) by building LRT right on the street (where people live and walk) for one tenth or less of the cost of the RAV/Canada Line. And we'd have about $2 billion left for more buses and better service.
Send a message
Others will have their own suggestions, of course, for what trade-offs might be made if we really wanted to provide fare-free transit in B.C.
I hope this series has caused readers -- and our policy makers -- to take a hard look at the workability and benefits fare-free transit might bring to various regions of the province. I believe the only thing stopping us from building frequent, fare-free transit systems in our communities is political will.
Fare-free transit is not only feasible, it may well be critical for us to survive as a species. Over the past few days, we've seen examples of how it thrives in other locales, how it can save us money at every level, and how it contributes to a much more fair, equitable, and mobile society.
The only thing left to do is to let your transit providers and elected officials know how you feel.
Speak up now -- for our children and for our planet.