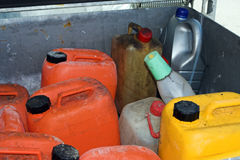 Regulation is a boring topic for most people and if anything, is probably associated in a negative way with "red tape." Canadians just want the job to get done and place their trust in government to ensure public health, protect the environment and make workplaces safe.
The need for regulation only comes up in popular thinking when a major public emergency occurs and government fails in its task: Walkerton, mad cow, tainted blood, or the recall of an approved drug such as Vioxx.
At these moments, especially when death and sickness result, we realize why we need governments to develop and enforce regulations on our behalf.
With some tragic examples fresh in the public mind, it is troubling that one of the most important policy initiatives of the federal government in recent years has been deregulation -- the stripping of these protective measures -- and the harmonization of Canadian regulatory systems with the more deregulated systems of the United States government.
In synch with Bush
Federal deregulation has been an ongoing process for a quarter-century now. Environmental lawyers, health and safety experts, and even the auditor general have criticized the government for putting too many barriers in the way of public interest regulation.
But, like tax cuts, deregulation is never quite finished to the satisfaction of corporate Canada.
The current round of deregulation has been re-branded as "smart regulation" -- since who could object to being smart? But what is "smart" for corporate Canada means greater risks borne by the general public and an abdication of responsibility by Ottawa.
A centrepiece in the federal effort is a new regulatory policy called the Government Directive on Regulating (or GD-R). The new policy will make it even more difficult to get effective regulations passed. Reflecting the government's obsession with "competitiveness," the GD-R frowns on any proposed regulations that might affect trade and commerce. We might just as well ask affected companies if it would be okay to regulate them.
It gets worse. The new screens of the GD-R are to be applied to the whole stock of existing regulations. And those regulations that make the cut will have to periodically justify their existence due to built-in sunset clauses.
Finally, the new policy aims to harmonize regulations with those in the U.S. wherever possible. Given the track record of the Bush regime, which has overseen massive deregulation south of the border, this is deeply troubling.
Toxics rising
Rather than continuing down this deregulation road, Canadians might well ask whether we need stronger protective measures given pressing health and environmental concerns.
Consider the issue of toxic chemicals in the environment. When the Canadian Environmental Protection Act (CEPA) first came out in 1989, some 23,000 chemicals already in the environment were "grandfathered" in. Seventeen years later, the federal government has shortlisted 4,000 chemicals for more detailed safety assessments -- but it will still take a decade or more before any of these chemicals are restricted.
Meanwhile, the Canadian Cancer Society reports that 38 per cent of Canadian women and 44 per cent of Canadian men will develop cancer during their lifetimes, and approximately one out of every four Canadians will die from cancer.
Possible villains include pesticides, chemicals in consumer products including cookware, cleansers and cosmetics, and chemicals released in manufacturing processes -- all of which are suspected of increasing cancer rates, as well as incidences of allergies and other diseases, and problems such as autism, learning disabilities, hyperactivity disorders, low sperm counts, altered thyroid function and Parkinson's disease.
While there is a great deal of scientific research that links toxic chemicals to adverse human health, the chemical industry frequently claims that amounts found in products are too small to have any health consequences. A little apparently goes a long way. In 2002 (the last year for which we have data), over 4 billion kilograms of pollutants were released in Canada, of which 2.7 billion kilograms are considered toxic under the CEPA. Total release of pollutants was up 49 per cent over 1995 levels.
The smart alternative
Rather than shoring up our systems to clean up this mess, Canada is backsliding even more. The result is a regime of regulation that absolves companies from having to demonstrate that their products are safe, and places more and more risk on the shoulders of Canadians. Rather than taking a better-safe-than-sorry approach (the "precautionary principle"), the federal government is moving to a wait-and-see approach, acting only after there is a big enough body count.
There is an alternative. Canada should instead be emulating the precautionary approach of the European Union (EU), which is bringing in new regulations for toxic chemicals through its REACH (Registration, Evaluation and Authorization of Chemicals) legislation, and which, despite the objections of the chemical industry and the Bush administration, will be implemented in 2007.
Marc Lee is senior economist with the B.C. office of the Canadian Centre for Policy Alternatives. Bruce Campbell is the executive director of the Canadian Centre for Policy Alternatives. Their report, "Putting Canadians at Risk: How the federal government's deregulation agenda threatens health and environmental standards," is available at: www.policyalternatives.ca.
Related Tyee stories: