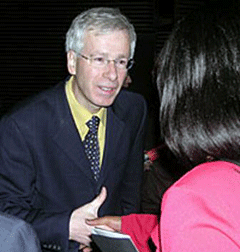 The Liberal leadership race has just turned an important corner, and it's the progressives who are out in front. Wednesday's announcement by Stéphane Dion that he will pursue gender parity in both the Liberal party and in Parliament is the first substantial policy idea that merits discussion. Up until now, it has been all fuzz and bromides as the candidates have recycled the same middling language to cover the usual bases.
A strong, united, prosperous, sustainable and innovative Canada. Okay, check. But what else have you got?
The fear, of course, is that the real answer is "not much." Candidates will say they're in their policy development phase, or busy consulting with Canadians; that now that the deadline to sign-up new party members has passed, everyone can take a breath and get on with the business of fleshing out their platforms.
Let's hope. Most candidates have a practiced way of sounding brave about the importance of new ideas -- and almost all are hosting sprawling policy discussions on their web sites. But the problem with politics more generally of late is that the rising clamour for new ideas seems to be in direct and inverse proportion to the new ideas actually available or being discussed.
Stealing thunder
Dion's decision to fire the first shot with a solid 10-point plan to reach gender parity in Parliament may help reverse this trend. Certainly, this proposal puts him at the front of the pack and sends a signal to his competitors that they'd all better come up with some good ideas fast.
It's not that the idea of gender parity is new. But by seizing it, Dion has positioned himself as a reformer. (He's also not without a sense of humour. His dog, a husky, is named Kyoto.) Such is the secret of politics where you win less for the innovation than for popularizing the right idea at the right moment.
Certainly, Canada's record on gender equity in politics needs work. With women accounting for only slightly more than 20 per cent of all MPs, the Canadian Parliament ranks 45th in the world based on female representation.
Stealing a bit of thunder from the NDP -- and what good Liberal doesn't? -- Dion's proposal demands that his party do better. In fact, it's going to be very difficult for any of his competitors to do anything less than match his commitment. At best they've been left to say "me too." Object or quibble and they'll only look doltish and petty. This is one of the rare occasions when good policy actually makes great politics.
Dion's plan
The plan is straightforward. If elected leader, Dion would ensure that a full third of Liberal candidates are women. This is up from a quarter in the last federal election. From there he'll push towards a full 50 per cent, retaining his power as leader to appoint candidates if necessary. Within the party, Dion would also insist that all provincial campaigns have a female co-chair and that the national campaign committee is gender balanced.
As Prime Minister, Dion promises to go further still by immediately appointing more women to cabinet and ensuring gender parity on nominations to the boards of Crown corporations. Both are moves that would help to change the character and complexion of power in Ottawa.
Beyond that, who knows? But it's possible that a gender-balanced parliament might ultimately choose to follow the example set by Norway and Sweden. Both have introduced legislation extending the principle of gender parity into the private sector. Last year, 600 of Norway's largest publicly-traded companies reached their first deadline to increase the number of women on their corporate boards from 8.4 per cent in 2002 to 40 per cent. Those which fail to meet the target by 2007 could see their boards de-certified -- essentially losing their license to operate in Norway.
Bold stuff, surely, and likely well ahead of public opinion in Canada. But the time may also be right for planting some far-ahead flags, especially when you have a crowded field of candidates, each waiting to make a break from the pack.
Crank up the ideas
Now able only to watch from the opposition benches as the Conservative government rolls back Kyoto, dismantles the provincial child care agreements and mulls over a free vote on same-sex marriage, the Liberals are again learning the first law of political entropy: if you're not moving forward, you'll soon be falling back.
Luckily, if more of the candidates are to make good on their avowed love for big, bold ideas, there are still plenty to choose from. Here's waiting.
Peter MacLeod is a doctoral candidate at the London School of Economics. He writes frequently on public policy and democratic reform.