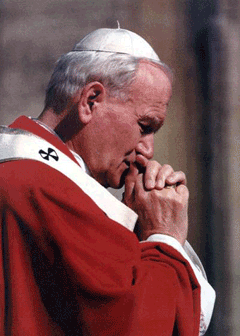 You remember what our moms told us? Never discuss sex, politics or religion, an injunction that ensured that we talked little else. Especially the sex part.
I'm about to, I warn thee, talk about religion.
And I must make it plain that I have nothing against any beliefs people might have about God or the absence of same.
I'm not talking about the religion of God or "God's Church" but the formal structures, churches, we've allowed to have huge political clout. In that regard, amongst the Christian religions the Roman Catholic Church – again I remind you I am not talking about Roman Catholics but their formal religious structure – has the most to answer for. I know that this warning will go unheeded just as when I state that cutting off baby boys' foreskins is barbaric and unjustifiable medically – almost as barbaric as cutting puppies tails off – it's somehow evidence that I'm an anti-Semite.
For starters, it's hard to think of any religion that is as undemocratic as the Catholic Church except my own, the Anglican, whose big boss is selected by the Queen of England on the advice of the British Prime Minister! But I digress.
Heresy?
I suppose it's idle to remember that the number of deaths for heresy in the Christian Churches runs into the millions. That's relevant in this sense – these killings allowed the Catholic Church to solidify its secular power to go along with its considerable clerical power such that, in many countries today, it's difficult to tell one from the other.
It was in the name of God that Central and South America were brutally conquered by Spain.
Both Napoleon and Hitler made formal deals with the Pope.
It was in the name of God that the Inquisition tortured sufficient heresy from its victims to justify burning them at the stake.
Our own Quebec was ruled, until the 1960s, by a subtle understanding between the government and the Church and it wasn't until the 60s with Jean Lesage and the Quiet Revolution that the Church was sent back to its dwindling flock.
But my quarrel with the Roman Catholic Church is not historical, it's generational.
Its formal treatment of women is unacceptable. You can look at the Bible from one end to the other and find no evidence that women are second class citizens thus not entitled to lead a flock.
Its attitude towards homosexuals is based upon the flimsiest of Biblical pronouncements and puts Catholics, most unwillingly I'm sure, in the same pew as George W. Bush.
So many deaths
But serious though those issues are, they pale into insignificance when compared to the Vatican's pronouncements on birth control and the use of condoms to prevent unwanted pregnancies and stop the AIDS/HIV pandemic, especially in Africa. Again, search the scriptures for a biblical injunction against birth control, apart from not spilling your seed on the ground. One gets the impression that papal injunctions against birth control have more to do with creating little Catholics than morality.
One might say that what I've said violates my stated principle of not interfering with religious practices. In fact I'm not. If the impact of Church policy doesn't extend outside the Church, it's none of my business.
I'm talking about the secular impact and consequences of the mid-Victorian, troglodyte notions the Church has on sexual matters. The official Catholic position on the use of condoms to prevent unwanted pregnancies and the spread of sexually transmitted diseases (mostly AIDS/HIV) is that such matters should be dealt with individual morality. If you don't want babies or AIDS, don't have sex.
There are over 40 million AIDS and HIV positives in the world and this increases annually by 5 million! By far the largest incidence of AIDS/HIV is in Africa where the Catholic Church is strong and whose bishops and cardinals won't discuss the matter. (in fairness, neither will Anglican bishops from Africa.)
When Pope John Paul II died I could not believe the torrent of praise heaped upon his memory. Is it going too far to say that Catholic views on birth control and homosexuality have led directly to the death of untold millions? What else can you say unless you parrot the Catholic jargon that it's not the Church, which must always preach morality as they see it, but the naughty behaviour by people, who, if they abided by the law according to John Paul II, would be happy and well?
Miraculous!
There is another bit of unpleasantness to discuss. The Catholic Church's treatment of priestly passions for small boys makes one search for a word stronger than despicable. And the cover-ups were rampant during the reign of John Paul II – a man who is being rushed towards sainthood if only the authorities find a miracle associated with him.
Very well, I'll give you that miracle: it is nothing short of miraculous that the actions of Pope Paul II were not investigated by the press with the same vigor they investigated President Clinton getting the occasional b--- j--- in the Oval Office.
No, I don't give a damn how people worship – unless that affects me as a member of the human race. Then I'm not only entitled to but indeed must blow all whistles necessary to bring public opprobrium to bear upon vile influences and sufferings inflicted in the name of God.
Rafe Mair writes a Monday column for The Tyee. His website is www.rafeonline.com.